Colorado Springs City
Colorado Springs City Hall is located at 107 North Nevada Avenue, Colorado Springs CO 80903.
Phone: 719‑385‑2489.
---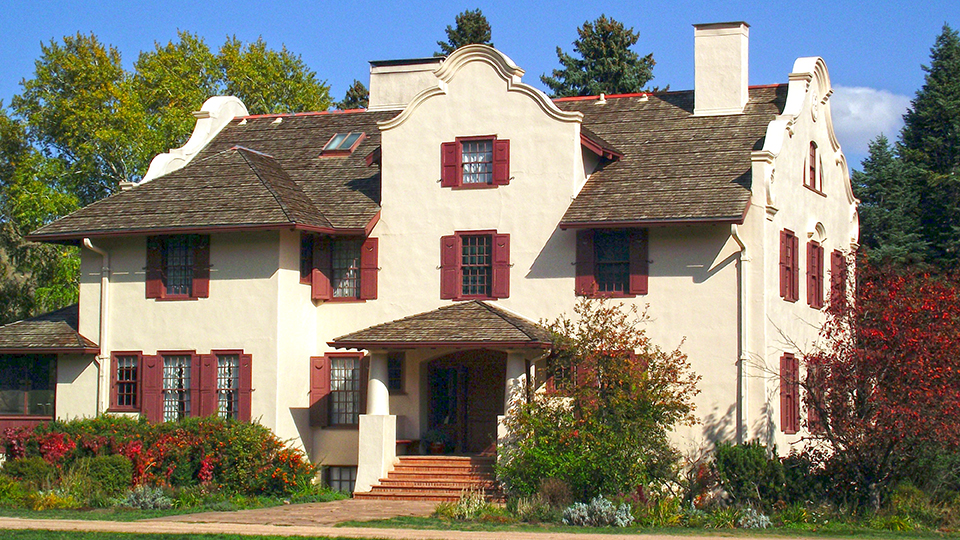 Photo: Chambers Home and Ranch, ca. 1900, 3105 Gateway Road, Colorado Springs. Listed on the National Register of Historic Places in 1979 as Chambers Ranch. Currently (2019) part of the Rock Ledge Ranch Historic Site. Photographed by user:ERoss99 (own work), 2012, [cc-by-3.0], via Wikimedia Commons, accessed May, 2021.
---
Beginnings [1]
Colorado Springs is the county seat of El Paso and is located 75 miles south of Denver. The elevation is 5,878 feet. It is an important railroad center, being entered by 6 different lines.
Neighborhoods
Abert Ridge
Abrahamsons Venetian Village
Academy Corner
Academy East
Academy Hills
Adams
Addisons
Agers
Alpine Acres
Alpine Shadows
Anderosa
Antelope Creek
Antelope Meadows
Apache Woods
Arensdale
Armonia Ranch
Aspen Valley
Audubon Gardens
Audubon Spring
Austin Bluff
Austin Estates
Austin Heights
Autumn Heights
Bakers
Barnstormers Landing
Barrette
Bear Creek
Bellehaven
Belleville
Ben-Mor Terrace
Beuttenmuller
Bison Ridge at Kettle Creek
Black Forest Country Club
Black Forest Estates
Black Forest Reserve
Blodgett Ranch
Bluffs at Rockrimmon
Bonita Village
Bonnyville
Bosch
Botts
Boulder Heights
Bradley Ranch
Brandyglass
Brant Hollow
Brentwood
Briargate
Briarwood Village
Bridle Bit Ranch
Bridle Pass
Bristols
Broadmoor Bluffs Estates
Broadmoor Bluffs Park
Broadmoor Downs
Broadmoor Glen
Broadmoor Heights
Broadmoor Hills
Broadmoor Oaks
Broadmoor Park
Broadmoor Ridge
Broadmoor Spires
Broadmoor Terrace
Broadmoor Valley
Broadmoor View
Broadmoor Village
Broadmoor Vista
Broadview Terraces
Broadway Bluffs
Broadway Heights
Brookhaven
Brookside
Brooktree Village
Brookwood
Calhan
Calvert Heights
Camelback Village
Camelot
Camels Ridge
Campus Bluffs
Campus Commons
Candlewood
Canonwood
Canyon Reserve at Mountain Shadows
Carefree Townhomes
Castlepoint
Cathedral Pines
Cedar Heights
Cedar Ridge
Centennial Glen
Centennial Heights
Centennial Ridge
Century Heights
Chaparral Hills
Chaparral Ridge
Charleston Place
Charter Greens
Chateau at Antelope Ridge
Chelsea Glen
Cherokee Acres
Cherokee Park
Cherry Creek Crossing
Cherry Creek Springs
Chesham Village North
Cheyenne Autumn
Cheyenne Canyon
Cheyenne Creek
Cheyenne Heights
Cheyenne Hills
Cheyenne Meadows
Cheyenne Meadows South
Cheyenne Valley
Cimarron Hills
Cimarron Southridge
Cimarron Westridge
Citywalk Downtown Lofts
Claremont Ranch
Clear View Estates
Cobblestone
Cochran
Cole Heights
College Park
Colonial Park
Colony Hills
Colorado Springs City Ranch
Columbia
Columbine Estates
Comstock Village
Conover
Constitution Heights
Constitution Hills
Contrails
Copper Creek
Cordera
Corona
Cottonwood Creek
Cottonwood Grove
Cottonwood Knolls
Cottonwood Meadows
Country Club Estates
Country Club Heights
Country Club Park
Country Club Village
Country Squire Estates
Country View Estates
Country Village Place
Countryside Estates
Countryside West
County Line Estates
Courtyards at Newport
Courtyards at Quail Lake
Cove at Cottonwood Creek
Coventry
Cragmor Heights
Cragmor Hills
Creekside
Crescent View
Cresta Vista
Crestline Heights
Crestline Village
Crestmoor Park
Crestone Heights
Crestridge Estates
Crestwood Acres
Cripple Creek North
Cross Creek
Crosstrail
Crown Hill
Cuchares Ranch
Cypress Ridge
Dakota Ridge
Dale Street Condos
Dancing Wolf Estates
Daniels Loft Condominiums Fir
Deer Creek at Northgate
Deer Run
Deerfield Hills
Dixon Heights
Donala at Glen Eagle
Dorchester Heights
Dublin Manor
Dublin Terrace
Eagle Villas
Eagle Wing Estates
Eaglecrest
East Colorado City
East Dale
East End Addition
East Hills
East Manitou
Eastborough
Eastcrest
Eastmoreland
Eastridge Townhomes
Eastview Estates
Edwards Add
Eklunds
Elk Creek Ranches
Ellicott
Elm Grove Villa
Enclave at Broadmoor Glen
Erindale Heights
Erindale Park
Esperanza Village
Fairfax Ridge
Fairfax Station
Fairway
Falcon Estates
Falcon Heights
Falcon Hills
Falcon Ridge
Falcon Terrace at Springs Ranch
Falcon View
Falcons Nest
Flintridge Hill Norwood
Flying Horse
Fontmore
Forest Edge Estates
Forest Gate
Forest Meadows
Forest Oaks
Fountain Valley Ranch
Fox Pines
Foxhill
Foxx Springs Ranch
Frantzhurst
Gaharts
Gambel Oak Bluffs
Garden of The Gods
Garden Ranch Estates
Garden View
Gatehouse Village at Briargate
Gateway Vista
Georgetown Square
Gillette
Glen Oaks
Gleneagle
Glover
Gold Hill Condominiums
Gold Hill Mesa
Golden Hills
Golf Club Acres
Grandview Estates
Green Mountain Ranch Estates
Greenbriar Park
Greencrest
Greenhaven
Greyhawk
Hancock
Hanover
Harvest Ridge
Harvest Springs
Hastings
Hathaway
Havenwood
Hawk Ridge
Hawkwoods
Haynes Addition
Hearthwood
Heather Wood Village
Heathercrest
Heritage Park
Hewitts
High Forest Ranch
High Gate Farms
High Meadow at Fox Run
High Meadows at Springs Ranch
High Point Gardens
High Point Place
High Valley Park
Highland Estates
Highland Hills
Highland Meadows
Highland Terrace
Highlands of Turkey Canon Ranch
Hillcrest Acres
Hillsboro at Springs Ranch
Holland Park
Holland Park West
Holland Walk
Holly Hills
Holmes Ridge
Homestead
Horizon
Horseshoe Rancheros
Huckleberry Knoll
Hunters Point
Hunting Meadows
Huntington Heights
Indian Heights
Indian Hills
Indian Mesa
Indian Wells
Indigo Ranch
Indigo Ranch at Stetson Ridge
Indigo Ridge
Iron Horse Villas
Ivywild
Jackson Creek
Jaynes
Jensens
Jessica Heights
Kambridge Point
Kentridge East
Kettle Creek
Kings Manor
Kingswood
Kissing Camels
Kitty Hawk
Knob Hill
Knobhill
La Cresta Vista Grande
La Jolla Park
La Scala
La Vergne
Lake Park
Las Piedras Estates
Legacy Ridge
Lexington Heights
Lexington Manor
Lexington Park
Lexington Village
Liberty Square
Library Plaza
Lindale
Little Turkey Creek
Live Oak Station
Longview
Loraine
Lorson Ranch
Mackenzie Place
Madison Ridge
Maizeland Moors
Maizeland Village
Mandalay Villas
Manitou Springs
Market at Chapel Hills
Marshalls
Marvin Gardens
Mayfair
Mayfield
Meadow Ridge at Briargate
Meridian Ranch
Mesa Heights
Mesa Ridge
Mesa Springs
Mesa Springs
Middle Creek Manor
Midland Greens
Midway Ranches
Mill Street
Millers Crossing
Minnick
Mirage
Misty Meadows
Morning Sun
Mosleys
Mount View Heights
Mount Washington
Mount Woodmen Estates
Mountain Oaks
Mountain Shadows
Mountaindale Equestrian Estates
Murray Heights
Nelsons Place
New Breed Ranch
Newport Heights
North Creek
North Gate Ridge
North Range at Springs Ranch
Northcrest
Northcrest Heights
Northfield Acres
Northgate Estates
Northgate Highlands
Northglen Heights
Northglen Park
Northridge
Northwind
Norwood
Oak Bridge Park
Oak Hills
Oak Valley
Oak Valley Ranch
Oakbridge
Oakhurst Park
Oakridge
Oakview
Ocho Caballos
Old Colorado City
Orchards at Sunset Ridge
Paint Brush Hills
Painted Sky at Waterview
Palmer Heights
Palmer Lake
Palmer Park
Panorama Estates
Paradise Villas
Park Forest Estates
Park Hill
Park Meadows
Park Place Condos
Park Ridge
Park Vista Estates
Parkhaven
Parkside
Parkview
Parkway Village
Parkwood at Wolf Ranch Sub Fi
Pawnee Rancheros
Peaceful Valley Lake Estates
Peak View Villas
Pebble Run
Pebblebrook
Pebblewood
Penhurst Park
Peregrine
Pheasant Run Ranch
Phillips
Piedmont
Pikes Peak
Pikes Peak Park
Pine Cone Acres
Pine Cone Ranch
Pine Creek Estates
Pine Hill
Pine Park Estates
Pine Terrace
Pinecliff
Pinehurst
Pinehurst Station
Pinewoods
Pinnacle
Pinon Bluffs
Pinon Mesa
Pinon Springs
Pinon Sun
Pinon Valley
Pinons of Turkey Canon Ranch
Platte Acres
Pleasant Valley
Pleasant View Estates
Point of The Rocks
Ponderosa at Lorson Ranch
Ponderosa Pines
Portland Heights
Powers Corridor
Prominence
Promontory Point
Pronghorn Meadows
Prospect Lake
Prospect Park
Pulpit Rock
Quail Creek Condos
Quail Meadows
Rainbow Harbour
Raintree
Rampart Meadows
Rangewood
Ranson
Raven Hills
Ravencrest
Red Fox Ridge
Red Rock Valley Estates
Reed Ranch
Regency Park
Regency Ridge
Ridge Condominiums
Ridgeview Acres
Ridgeview at Stetson Hills
Rio Grande Square
Robys
Rock Creek Mesa
Rock Creek Park
Rockrimmon
Rollin Ridge Rancheros
Roswell
Ruskin Square
Rustic Acres
Rustic Hills
Sable Chase
Saddle Ridge
Saddleback Ridge
Saddleback Townhomes
Sagewood
San Francisco Heights
San Juan Villas
San Luis Estates
Sand Creek Commons
Sandpiper
Scottsdale
Seaveys
Settlers Ranch
Shenandoah
Sherman
Shiloh Ranch
Sierra Mesa
Sierra Point
Sierra Ridge
Sierra Springs
Sierra Vista
Silver Hawk
Silver Springs
Skyline
Skyway Heights
Skyway Park
Smartts
Snapfinger Woods
Soaring Eagles
Solar Ridge
Solarvines
South Fork Ranches
South Park at Broadmoor Resort
South Valley
Southborough
Spring Creek
Spring Crest
Spring Grove
Spring Lake
Springs Ranch
Squirrel Creek Estates
St Andrews
Star Ranch
Stardust Mesa
Starlight Acres
Stepping Stones West
Sterling Hills
Stetson Hills
Stetson Ridge Highlands
Stetson Ridge South
Stone Crossing at Middle Creek
Stonecliff
Stonegate Terrace
Stratmoor Heights
Stratmoor Hills
Stratmoor South
Stratmoor Valley
Stratmoor Village
Stratton Forest
Stratton Park
Stratton Pines
Stratton Preserve
Strawberry Fields
Struthers Ranch
Summer Glen
Summerfield
Sun Hills
Sun Mesa
Sunbird Cliffs
Sundance Ranch
Sundown
Sundown North
Sundown Villas
Sunrise Ranchette
Sunrise Ridge
Sunrise Terrace
Sunrise Townhomes
Sunset Mesa
Sunset Ridge
Sunset View
Sunset Village
Sunstone
Sweetwater Ridge
Sylvan Meadows
Table Rock Ranch
Talon Ridge
Templeton Gap Addition
Templeton Heights
Tenneys
Terra Ridge
The Bluffs at Spring Creek
The Cascades at Springs Ranch
The Enclave at Bayfield
The Glen at Sand Creek
The Glen at Widefield
The Heights at Springs Ranch
The Highlands at Springs Ranch
The Knolls at Springs Ranch
The Reserve at Broadmoor Glen
The Ridge at Fox Run
The Vistas at Norwood
Thunderbird Estates
Timber Ridge
Topaz On Academy
Townes at Kettle Creek
Trail Ridge
Trailmark
Tri-Lakes
Trues Mill
Turkey Canon Ranch Estates
Turquoise
Union Bluffs
University Bluffs
University Heights
University Park
University Village
Valerie Acres
Valley at Erindale
Valley Park
Valley Vista
Van Buren Townhomes
Venetian Village
Verona Heights
Victoria Park
Victoria Village
Villa Loma
Villa Mirage
Villa Pourtales
Villa Sierra
Village at Springs Ranch Condos
Village Center
Village Heights
Villages at Sandcreek
Villas at Bear Creek
Villas at Briargate
Villas at Cheyenne Meadows
Virginia Homes
Vista Grande Estates
Vista Grande Terrace
Vista Grande West
Vista Mesa
Vista Ridge at Pinecliff
Wagon Trails
Walden
Walden Preserve
Warren
Wasson
Waterview
Wedgewood
Werner
West Side
West Woods Townhomes
Western Heights
Western Sun
Westlink
Westside Meadows
Westview Estates
Wheelers
Whiteridge
Whitlock
Widefield Country Club Estates
Widefield Country Club Heights
Wild Oak Farms
Wildflower
Wildridge
Wildwood Ranch Estates
Wildwood Ridge
Wildwood Village
Willow Creek
Willow Run
Willow Springs Estates
Willowind at Stetson Hills
Wilshire
Windjammer Point
Windmill Mesa
Windmill Ridge
Windridge Estates
Wissler Ranch
Wolf Ranch
Woodbridge
Woodcrest
Woodland Hills
Woodmen Manor
The place contains smelters and reduction mills, and is the seat of Colorado College (established in 1874). The town was founded in 1871. Since then it has been gradually growing, and from time to time more territory has been annexed. In 1903 it had 21,085 souls; it was 29,078 in population at the time of the census of 1910. Health Resort. Colorado Springs is a tourist town of the first rank. Health advantages as well as scenic attractions make it an ideal residence city. The weather is pleasant the year round, there being scarcely a day without sunshine. But little rain or snow falls from September to March; it is, therefore, a fine winter resort. The average percentage of humidity is 47. The place is well adapted for persons troubled with asthmatic and lung complaints. Referring to dry aseptic air and other conditions favorable to the cure of tuberculosis, Dr. Bellamy (in the Medical News, July 11, 1903) says: " Colorado Springs, a city of 25,000 inhabitants, with an altitude of 6,022 feet, offers, in my opinion, the greatest all-around advantages of any place in the country. Its days of perpetual sunshine, its charming life, its great dryness (and I do not recall now one cloudy day in the spring and summer of 1894), its environs, delightfully hospitable people — everything done for the invalid by those who are now cured — make it stand foremost to my mind as an ideal place." Not far from the corporation limits are a number of sanitariums — the Cragmor, that on Nordrach Ranch, and one on the Ambler Ranch. The latter institution is maintained by Modern Woodmen for consumptives of that order. Other institutions are the Printers' Home and the national home of letter carriers.
Parsons, Eugene, A Guidebook to Colorado, Little, Brown, and Company, Boston, 1911
---