County Government in Connecticut was abolished in 1960. The eight counties continue solely as geographical subdivisions of the state. The Town of Litchfield is the historic county seat.
---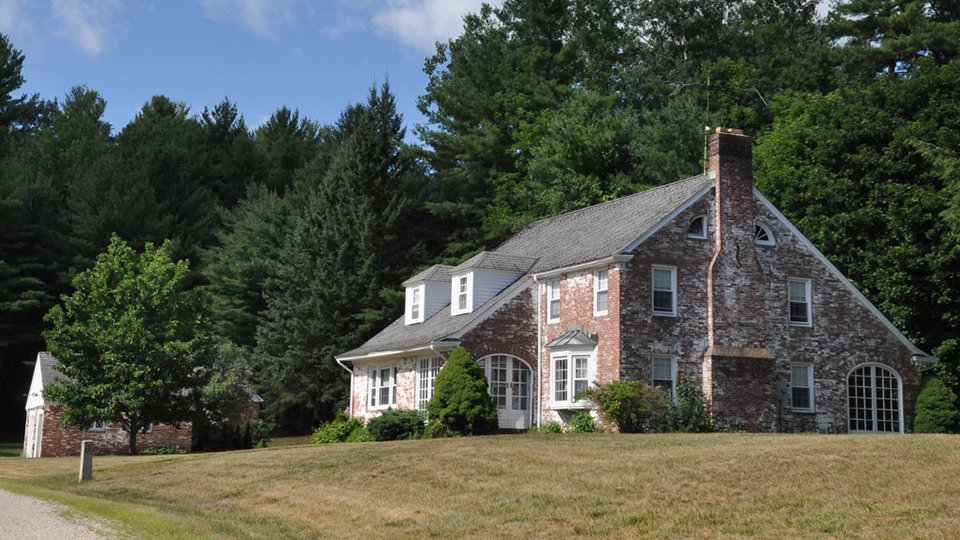 Photo: Mulville House, ca. 1931, Mountain Road, Norfolk, CT. Listed on the National Register of Historic Places in 1984. Photographed by User:Magicpiano (own work), 2016, [cc-3.0] via Wikimedia Commons, accessed June, 2021.
---
TOWNS
Beginnings[1]
The County was organized in 1751 as the fifth county in the State, although it had been settled many years before. Within the bounds of the county are found the highest land, the greatest lake area, the most rugged scenery, and some of the richest agricultural lands of the State. The highest point of land was for a long time a matter of dispute, but that designation is now given to Bear Mountain, in the town of Salisbury. This mountain reaches an elevation of 2355 feet above sea level, and there are a number of other near-by points which come close to the two-thousand mark. While it was at first supposed that Norfolk contained the highest point of land in the county, the topographical surveys made at the instigation of Robbins Battell gave the palm to Bear Mountain. Later Mr. Battell caused to be erected a monument to mark the spot, thus permanently designating the highest point of land in the State.
The earliest settlement in Litchfield County was doubtless in the town of Woodbury. There is a tradition of the coming of these pioneers, that they were ordered by Governor Winthrop to follow the Pomperaug River up eight miles from its junction with the Housatonic. But the Pomperaug looked so small that they thought they must be mistaken and kept on until they came to the Shepaug. This they followed up eight miles to what is now known as Roxbury Valley. As this did not quite agree with the description of the land they were seeking, they crossed over the wilderness and discovered from Good Hill the rich valley which was the object of their search. On this hill they kindled the first recorded home camp-fire, and then in the name of God set up their altars. As an expression of gratitude for their safe arrival on the borders of such a rich valley — their "promised land" — a devout deacon of the party "fell on his knees, leading to prayer the little band of hardy adventurers, invoking the blessing of Heaven upon their enterprise, and praying that their posterity might be an upright and godly people to the land."
Phelps, Charles Shepherd, Rural Life in Litchfield County, The Litchfield County University Club, Norfolk, 1917.
HISTORIC SITES
Alldis, James, House
Bacon, Jabez, House
Barkhamsted Center Historic District
Beardsley, Capt. Philo, House
Bellamy, Joseph, House
Benedict, Francis Jr., House
Bethlehem Green Historic District
Bigelow House
Bissell, Henry B., House
Bridgewater Center Historic District
Bryan, Roderick, House
Burlington-Harmony Hill Roads Historic District
Calhoun-Ives Historic District
Camp, Moses, House
Canaan Village Historic District
Carr House
Catlin, J. Howard, House
Chapin, Philip House
Childs House Wing
Coffing, John C., House
Colebrook Center Historic District
David Welch House
Downtown Torrington Historic District
East Plymouth Historic District
Esperanza
Falls Village District
Farnum House
Flanders Historic District
Forbes, Samuel, Homestead
Gay-Hoyt House
Glebe House
Goshen Historic District
Gould House
Haddock House
Hillside
Hine-Buckingham Farms
Holabird House
Hotchkiss-Fyler House
Hotchkissville Historic District
Lakeville Historic District
Lawrence, Isaac, House
Lime Rock Historic District
Litchfield Historic District
Litchfield-South Roads Historic District
Low House
Ludlow Cottage
Martin, Caleb, House
Migeon Avenue Historic District
Milton Center Historic District
Moore Jr., William, House
Moseley House-Farm
Moss Hill
Mulville House
New Milford Center Historic District
New Preston Hill Historic District
Noble House
Noble, John Glover, House
Norfolk Country Club House
Norfolk Historic District
Oliver Wolcott House
Pardee, James, House
Phelps Farms Historic District
Pine Meadow Historic District
Plymouth Center Historic District
Prentice House
Rectory and Church of the Immaculate Conception
Reeve, Tapping, House and Law School
Rockwell House
Rockwell, Solomon, House
Roxbury Center Historic District
Rubly Carriage House
Rubly
Rye House
Salisbury Center Historic District
Sanford, Frederick S., House
Sedgwick, Maj. Gen. John, House
Sharon Historic District
Sharon Valley Historic District
Shepard, John, House
Sherman, David, House
Skinner, Jason, House
Stoeckel, Robbins, House
Sun Terrace
Sunny Ridge Historic District
Tamarack Lodge Bungalow
Terryville Waterwheel
Thumb, Tom, House
Topsmead
Torringford Street Historic District
Villa Friuli
Washington Green Historic District
Water Street Historic District
Watertown Center Historic District
Weatherstone
West End Commercial District
West Goshen Historic District
Wilson, Cyrus, Farm
Winsted Green Historic District
Woodbury Historic District No. 1
Woodbury Historic District No. 2
---