Frankford Town
Frankford Town Hall is locaed at 5 Main Street, Frankford, DE 19945.
Phone: 302-732-9424.
---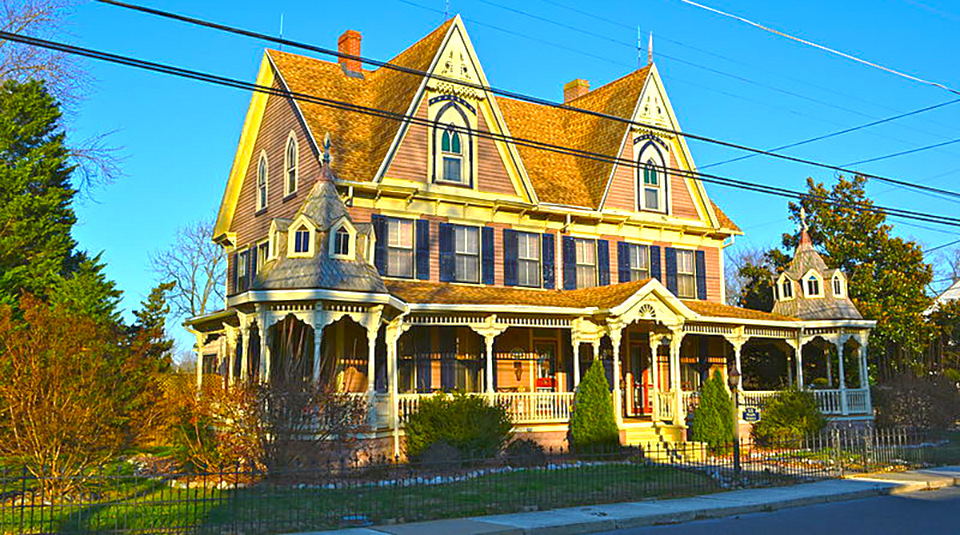 Captain Ebe Chandler House, circa 1880/1918, located at Main and Reed Streets, Frankford. Listed on the National Register of Historic Places in 1979; photo by wikipedia username:smallbones, 2013, own work, creative commons [cc-3.0], accessed August, 2023.
---
Neighborhoods
Apple Arbor
Bay Estates
Beachwood
The Hamlet at Driclson Pond
The Preserve at Jefferson Creek
Waters Run
The Town of Frankford [†] is located in the southeastern portion of Sussex County, along the US 113 corridor. It is approximately 50 miles south of Dover and about five miles north of the Delaware-Maryland border. Vines Creek, a tributary of the Indian River, runs through Frankford. The Town is in the center of a large agricultural region. Frankford is within a two to three-hour drive of several metropolitan areas outside of Delaware, including Washington D.C., Baltimore, and Philadelphia.
The Town of Frankford was established sometime between 1796 and 1820. Research on Frankford's early history shows that the land on which Frankford grew was part of the tract known as Dagsworthy's Conquest. It was resurveyed to General John Dagsworthy under the Penn Title in 1774. The 1791 will of David Long shows this land was once part of his plantation called Forest Flower. After Forest Flower, other names followed, including: Long's Store on Vine's Branch, Gum's Store, and (written in the 1820 store ledger book) Frankford. The Town of Frankford appears for the first time on a Delaware Railroad map circa 1836.
The Town was founded by the Long family. It is believed that the Forest Flower plantation was established by David Long, Sr. around 1750. David Long was born in Worcester, Maryland in 1717. He married Ann Lockwood on May 26, 1735. He subsequently had 10 children. The most prominent of their four sons, all of whom served in the War of 1812, was Lieutenant Colonel Armwell Long, who commanded the Tenth Infantry Regiment of the Delaware State Militia. Armwell Long was born in February 1754 and married Elizabeth Robinson in July 1773. They were active members of the congregation at Prince George's Chapel in Dagsboro. Church records show that Armwell Long was made a vestryman on Easter Monday, April 5, 1790. When David, Sr. died in 1791, Armwell was executor of his will. The Longs owned pew five at the Chapel until at least 1822.
By appointment of the Governor of Delaware, Lieutenant Colonel Long was assigned to the Tenth Regiment on October 5, 1807, just a year and a half after that militia was formed. He was placed in command of the Tenth on April 12, 1813 and two weeks later the Secretary of War sent the regiment to New Castle to report to General Bloomfield, the District Commander. Governor Haslet ordered the Tenth to Lewistown on May 13, 1813, to defend the port from a British naval force. Near the end of the war, on October 15, 1814, Long was re-commissioned as Lieutenant Colonel and re-appointed Commandant of the Tenth Infantry Regiment. The final settlement of Colonel Long's expense account was signed by Governor Daniel Rodney on January 9, 1817. Armwell Long died November 22, 1834. He was buried in Frankford at the Armwell Long Memorial Cemetery.
Isaiah Long, the son of Armwell and Elizabeth R. Long and grandson of David Long, was born at the family's property by Vine's Branch on August 13, 1783. Isaiah married Elizabeth Schofield and they had 12 children. At the time of his death in 1832, Isaiah Long's estate included 2,600 acres of land in Baltimore and Dagsboro Hundreds. With his wife Elizabeth, he founded the store at Thatcher and Main Streets in 1808, which became the anchor around which Frankford was built.
While Frankford was founded by the Longs, the Town's early growth is largely attributed to the Gum family. The first Gum associated with Frankford was John Gum, born on November 17, 1784, a year after Isaiah Long was born. John Gum married Isaiah's cousin, Martha Polly Long, on November 20, 1806. By 1812 the settlement was commonly referred to as Gum's Store, so it is probable that John Gum acquired the store from his Long relatives. John Gum fought with the Delaware Tenth Infantry Regiment at Lewes, under command of his wife's uncle, Armwell Long, in 1813. He served in Company Four, under the command of Captain Isaac Waples. John Gum died on December 16, 1875 at age 91.
John and Martha's son, Manaen Gum, born on February 16, 1808, eventually took over as proprietor of the general store. Manaen Gum kept the store for 33 years. He became the Town's first postmaster in 1848 and most likely operated out of the store, as was the custom. Masaen Gum died June 21, 1886. His wife Mary died on June 2, 1895.
Nearby Towns: Millsboro Town • Selbyville Town •
---