Linn County, Iowa
---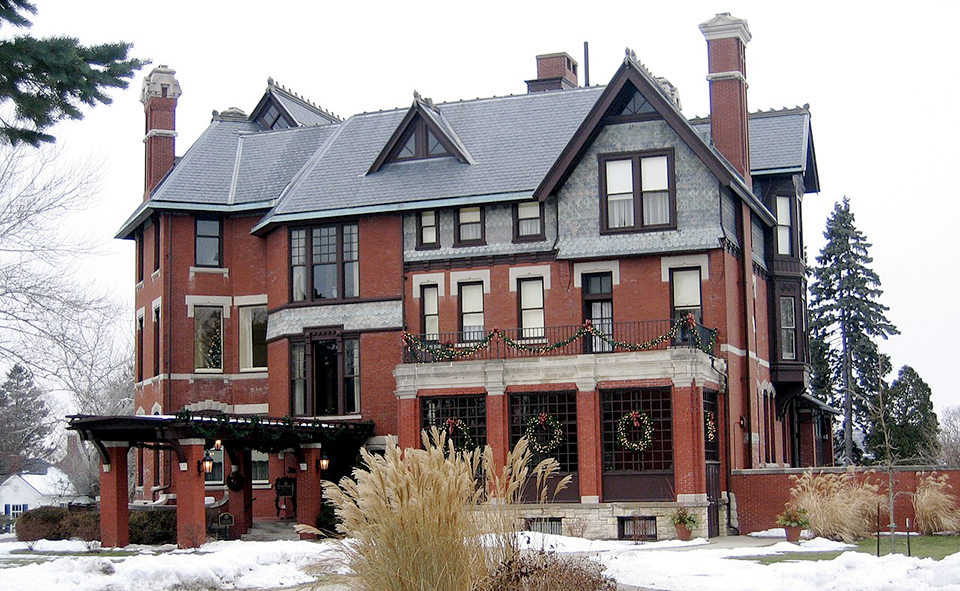 Photo: T.M. Sinclair Mansion, circa 1884-1886, located at 2160 Linden Drive, SE, Cedar Rapids. Listed on the National Register of Historic Places in 1988. Photographed by User:Brettstout (own work), 2005, [public domain], via Wikimedia Commons, accessed March, 2023.
---
TOWNS
Alburnett City
Bertram City
Center Point City
Central City
Coggon City
Ely City
Fairfax City
Hiawatha City
Lisbon City
Mount Vernon City
Palo City
Prairieburg City
Robins City
Springville City
Walker City
Linn County administrative offices are located at 935 2nd Street SW, Cedar Rapids, IA 52404; phone: 319-892-5000.
Linn County was established in 1837 when Iowa was a part of the Wisconsin Territory. The Iowa Territory was established by Congress in 1838. It was named for Louis F. Linn [1796-1843], a U.S. Senator from Missouri.
HISTORIC SITES
Armstrong, Robert and Esther, House
Ash Park Historic District
Averill, A. T., House
Bohemian Commercial Historic District
Bowman, James W. and Ida G., House
Braska House
Brewer, Luther A. and Elinore T., House
Calder Houses
Central City Commercial Historic District
Cornell College-Mount Vernon Historic District
Damour, William and Sue, House
Douglas, George B., House
Dows Street Historic District
Ely School House
Granger House
Grant Wood's "Fall Plowing" Rural Historic Landscape District
Grant, Douglas and Charlotte, House
Horecky, Henek and Mary, Log Cabin
Janko, Jan F. and Antonie, Farmstead District
Lane, Samuel M., House
Lesinger Block
Lustron Home #02102
May's Island Historic District
Mentzer, Joseph P., House
Minor, Josias L. and Elizabeth A., Farmstead District
Mittvatsky House
Moorhead, Joseph and Clara Amanda H., House
Mosher, Orrin, House
Mount Vernon Commercial Historic District
Perkins, Charles W. and Nellie, House
Podhajsky-Jansa Farmstead District
Pucker Street Historic District
Pyle, Glenn O. and Lucy O., House
Redmond Park--Grande Avenue Historic District
Second and Third Avenue Historic District
Seminole Valley Farmstead
Sinclair, T. M., Mansion
Stuckslager, Harrison, House
Taylor-Van Note
Terrace Park Historic District
Torrance House
West, Wesley, House
Wolff, Philip A., House and Carriage House
---