Warning: include(/Library/kw/livingplaces.com/menu.html): failed to open stream: No such file or directory in /Library/WebServer/livingplaces.com/IA/Scott_County/Le_Claire_City.html on line 34

Warning: include(): Failed opening '/Library/kw/livingplaces.com/menu.html' for inclusion (include_path='.:') in /Library/WebServer/livingplaces.com/IA/Scott_County/Le_Claire_City.html on line 34

Le Claire City
Le Claire City Hall is located at 325 Wisconsin Street, Le Clare, IA 52753.
Phone: 563‑289‑4242.
---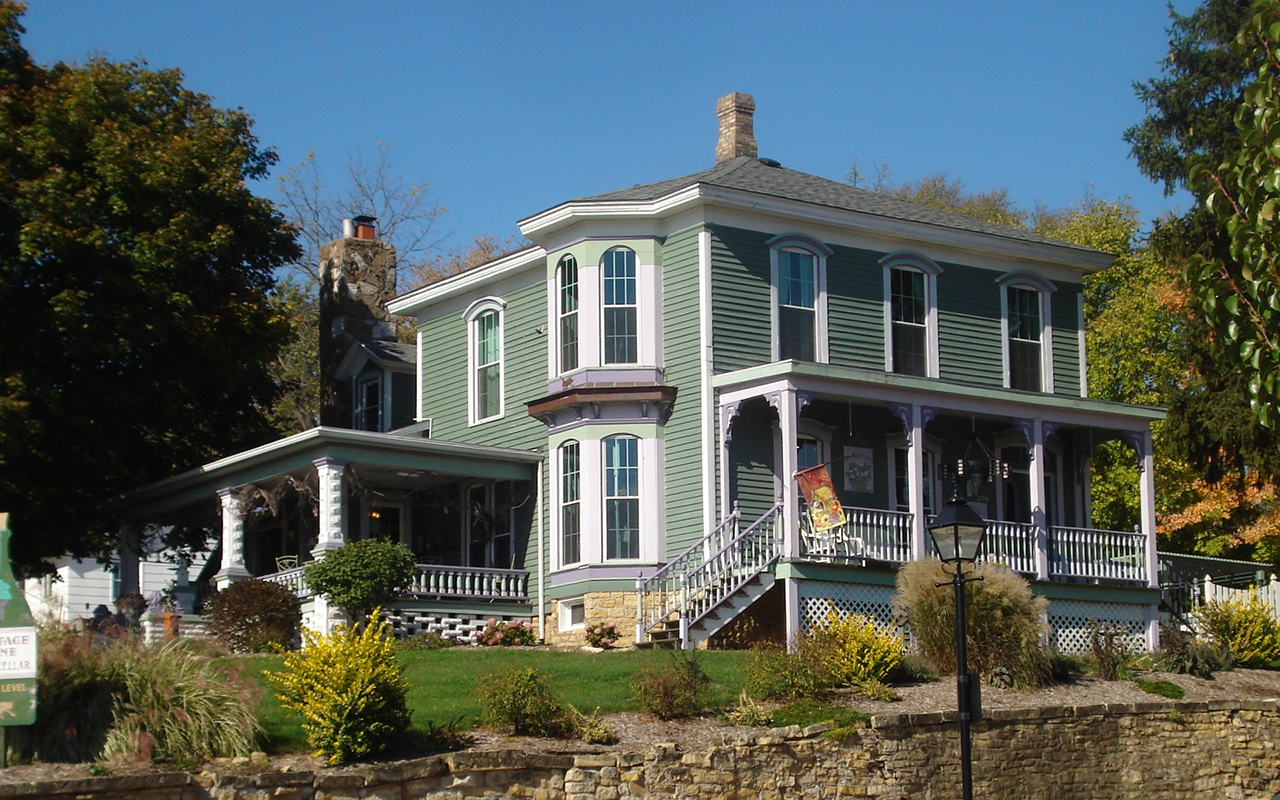 Photo: McCaffrey House, circa 1870, located at 208 North Cody Road. Part of the National Register thematic resource nomination, Houses of Mississippi River Men, 1979. Photographed by User:Kepper66 (own work), 2011, [cc-3.0], via Wikimedia Commons, accessed July, 2021.
---
Neighborhoods
Bluffs at Bridgeview
Codys Hunt
Eagle View Heights
Fletcher Woods
Hollows of River Bend
Napsinekee Heights
River Highlands
Shady Oaks
Sherwood Park
The Bluffs
Walbrier Estates
Wolff Run Estates
Woods and Meadows
Le Claire as described in 1938 [1]
Le Claire was formerly 3 separate villages, Le Claire, Parkersburg and Middletown. All three were incorporated under the name Le Claire, in honor of Antoine Le Claire, pioneer benefactor of the county and founder of Davenport.
Le Claire was the boyhood home of William F. (Buffalo Bull) Cody. Isaac Cody, father of Buffalo Bill, was a pioneer settler of Scott County. William, one of five children, was born February 26, 1846, on what was then known as the John S. Wilson farm, 1-1/2 miles north of Le Claire. Later the Cody family moved to a village house.
Le Claire was also the home of Captain James Buchanan Eads, an engineer, who among other accomplishments, opened the mouth of the Mississippi River to permit vessels to enter, and erected at St. Louis the bridge bearing his name. Captain Ead's father, Thomas Eads, in 1836, built the first frame house in Le Claire. Having invented a diving bell, he formed a partnership in 1843 for salvaging shipping from the river.
Federal Writers' Project of the Works Progress Administration for the State of Iowa, IOWA: A Guide to the Hawkeye State, American Guide Series, The Viking Press, New York, 1938.
Nearby Towns: East Moline City •
---

Warning: include(/Library/kw/livingplaces.com/footer.html): failed to open stream: No such file or directory in /Library/WebServer/livingplaces.com/IA/Scott_County/Le_Claire_City.html on line 102

Warning: include(): Failed opening '/Library/kw/livingplaces.com/footer.html' for inclusion (include_path='.:') in /Library/WebServer/livingplaces.com/IA/Scott_County/Le_Claire_City.html on line 102