Saginaw County administrative offices are located at 111 South Michigan Avenue, Saginaw, MI 48602; phone: 989-790-5200.
---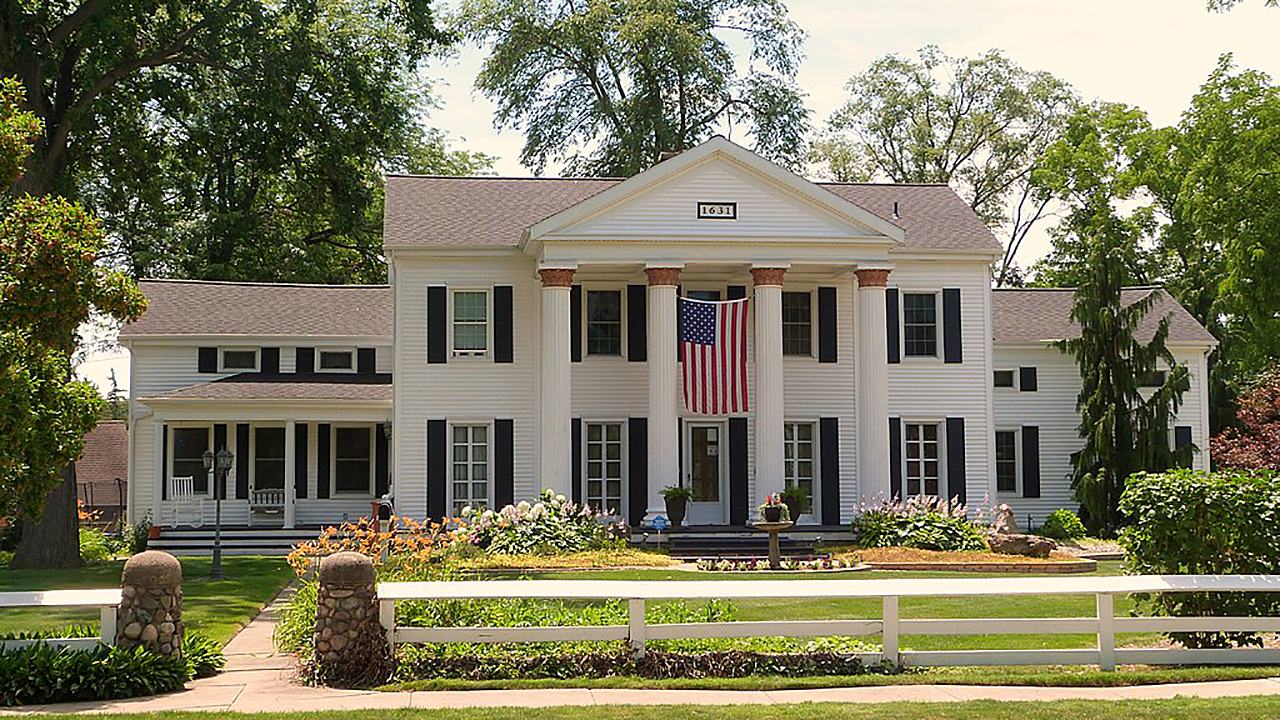 Photo: Abel Brockway House, circa 1864, located at 1631 Brockway Street, Saginaw. Listed on the National Register of Historic Places in 1982. Photographed by User:Ian Poellett (own work), 2014, [cc-4.0], via Wikimedia Commons, accessed September, 2021.
---
TOWNS
Albee Twp
Birch Run Twp
Birch Run Vlg
Blumfield Twp
Brady Twp
Brant Twp
Bridgeport Twp
Buena Vista Twp
Burt
Carrollton Twp
Chapin Twp
Chesaning Twp
Chesaning Vlg
Frankenmuth City
Frankenmuth Twp
Freeland
Fremont Twp
Hemlock
James Twp
Jonesfield Twp
Kochville Twp
Lakefield Twp
Maple Grove Twp
Marion Twp
Merrill Vlg
Oakley Vlg
Richland Twp
Saginaw Twp North
Saginaw Twp South
Shields
Spaulding Twp
St Charles Twp
St Charles Vlg
Taymouth Twp
Thomas Twp
Zilwaukee City
Zilwaukee Twp
In 1829 Lauren Riggs and John Brown, natives of Avon, Livingston County, New York, came to the valley and settled on land one mile above Green Point, on the banks of the Tittabawassee. A son of the former, named John Riggs, was born in November, 1829, and was said to have been the first white boy born in Saginaw County. [1]
James Cooke Mills, History of Saginaw County Michigan, Seemann & Peters, Publishers, Saginaw, 1918.
HISTORIC SITES
Brockway, Abel, House
Cushway, Benjamin, House
Davis Carriage House
East Genesee Historic Business District
Grove, The
House at 1514 N. Michigan Street
North Jefferson Avenue Historic District
North Michigan Avenue Historic District
Passolt House
Peters, Charles, Sr., House
Roethke Houses
Sackett, Russell, House
Saginaw Central City Expansion District
Saginaw Central City Historic Residential District
Saginaw City Historic Business District
South Jefferson Avenue Historic District
South Michigan Avenue Historic District
Wenzel House
West Side Historic Residential District
Wright, Ammi and William, House
---
Home
Whats New
Site Index
LivingPlaces.com © 1997‑2023
Search
Contact
Privacy
Disclaimer