The Pope County Courthouse is located at 130 East Minnesota Avenue, Glenwood, MN 56334; phone: 320-634-5727.
---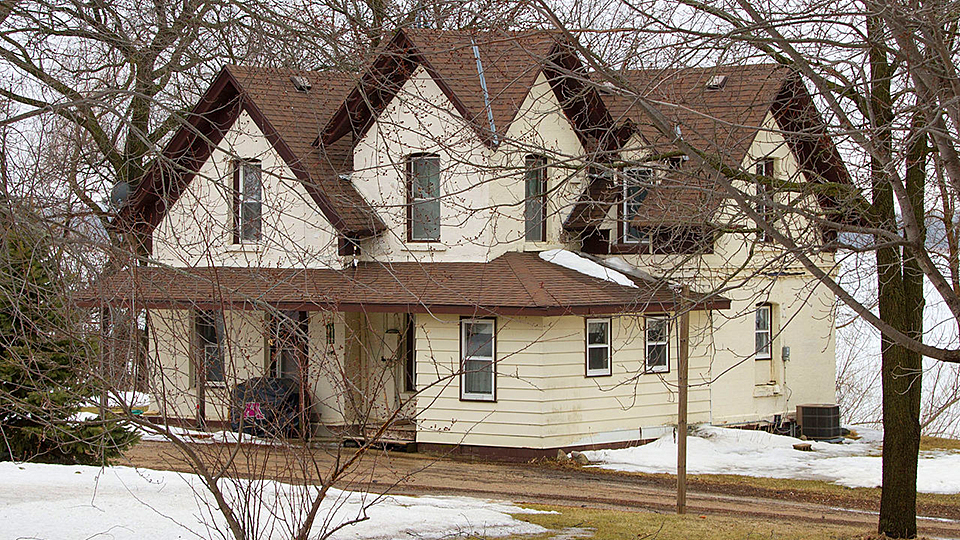 Photo: Daniel Pennie House, circa 1870s, located on COunty Highway 27, Villard vicinity. Listed on the National Register of Historic Places in 1982. Photographed by User:Bobak Ha'Eri (own work), 2013, [cc-3.0, via Wikimedia Commons, accessed March, 2023.
---
TOWNS
Bangor Twp
Barsness Twp
Ben Wade Twp
Blue Mounds Twp
Chippewa Falls Twp
Cyrus City
Farwell City
Gilchrist Twp
Grove Lake Twp
Hoff Twp
Lake Johanna Twp
Langhei Twp
Leven Twp
Long Beach City
Lowry City
Minnewaska Twp
New Prairie Twp
Reno Twp
Rolling Forks Twp
Sedan City
Starbuck City
Villard City
Westport City
The territory comprising Pope County was acquired by the U.S. through the treaty at Traverse des Sioux in 1851. Two segments of the Middle (Plains) Red River Trail, passing through the extreme northwest corner of the county and through the county on a route roughly following present highway 55, carried some St. Cloud-Red River traffic through the county during the 1840s. and 1850s. General John Pope, for whom the county was named, was in the area in 1844 on an exploring expedition. The congressional [1]
Dennis Gimmestead, Suprevisor, Standing Structures Survey, Minnesota Historical Society, Pope County Multiple Resource Area, nomination document, 1980, National Park Service, National Register of Historic Places, Washington, D.C.
HISTORIC SITES
Bickle, Ann, House
Iverson, Urjans, House
Pennie, Daniel, House
Pope County Courthouse
Sunset Beach Hotel
Terrace Historic District
Terrace Mill Historic District
---