Warning: include(/Library/kw/livingplaces.com/menu.html): failed to open stream: No such file or directory in /Library/WebServer/livingplaces.com/NC/Catawba_County/Hickory_City.html on line 34

Warning: include(): Failed opening '/Library/kw/livingplaces.com/menu.html' for inclusion (include_path='.:') in /Library/WebServer/livingplaces.com/NC/Catawba_County/Hickory_City.html on line 34

Hickory City
Hickory City Hall is located at 76 North Center Street, Hickory, NC 28601.
Phone: 828‑323‑7400.
---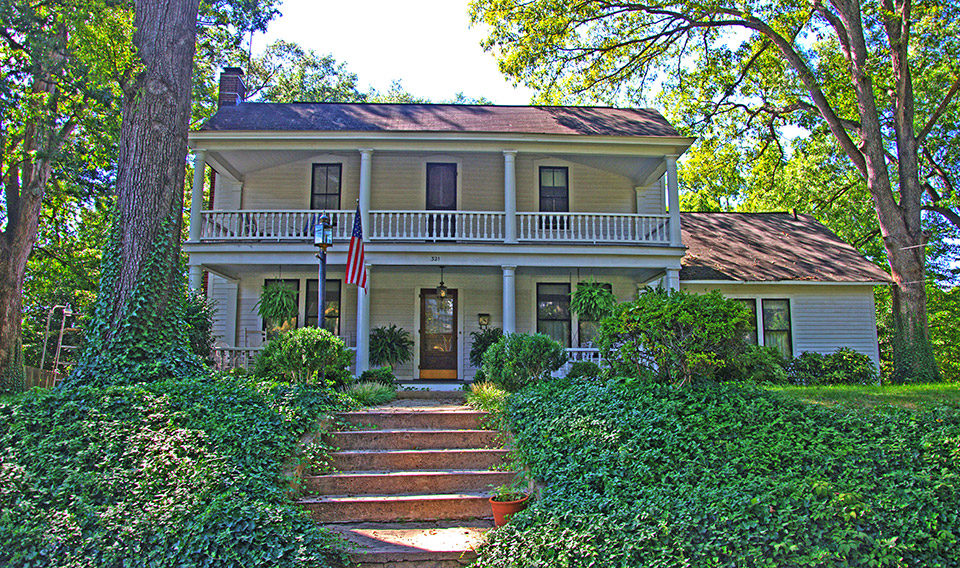 Photo: John A. Lentz House, circa 1890, located at 321 9th St. NW, Hickory. Listedt on the National Register in 1985. Photo by wikipedia Username: Tylerg, [cc-3.0], own work, 2012, via Wikimedia Commons, accessed September, 2022.
---
Neighborhoods
Arrowhead
Berkshire
Brookstone
Cloverdale
Crestmont
Forest Ridge
Governors Harbour
Green Park
High Point
Lake Hickory
Southwest Downtown Historic District
The Waterfront
Beginnings [1]
Hickory is a small city whose various historical and architectural resources collectively reflect its growth and development from a late 19th century trading center situated along the right-of-way of the Western North Carolina Railroad (known as the Southern Railway since 1894) to a thriving 20th century manufacturing center for furniture, hosiery, and textiles.
As was the case throughout the settlement of the piedmont region, the vast majority of Hickory's early settlers were of German or Scotch-Irish descent. Many of their ancestors and perhaps even their immediate families had traversed the "Great Philadelphia Wagon Road" from Pennsylvania through Virginia and into North Carolina. Some, such as the Shuford and McComb brothers, had been farmers in other parts of Catawba County or nearby counties.
In the latter part of the 18th century the geographic area now known as Hickory was the intersection point of three roads. The oldest of the routes was probably the "Forks of the Silver Creek Road" which ran in an east-west direction. Its construction in what is now northern Catawba County had been authorized in 1769.
During its second period of development the small village of Hickory Tavern grew into a thriving center of trade and manufacturing. At the same time its citizens organized religious institutions and built houses of worship. They supported an increasing number of private schools highlighted by the establishment of Claremont Female College, St. Paul's Academy of the Blue Ridge, and Lenoir College, and they took advantage of a growing number of cultural and recreational facilities.
In 1863 the first attempt had been made to incorporate the village of Hickory Tavern when a charter designated corporate limits of one mile square centered on the railroad depot. Ratification of this charter was delayed by the war, and in 1869 the village received a new one. In 1873 a charter for the Town of Hickory was ratified annulling the one for Hickory Tavern and specifying corporate limits which were 1,000 yards in all directions. In 1879 this was changed to one mile and in 1889 Hickory was incorporated as a city.
Kirk F. Mohney, consultant, City of Hickory, Hickory Multiple Resource Area (MRA), Catawba County, N.C., nomination document, 1984, National Park Service, National Register of Historic Places, Washington, D.C.
---

Warning: include(/Library/kw/livingplaces.com/footer.html): failed to open stream: No such file or directory in /Library/WebServer/livingplaces.com/NC/Catawba_County/Hickory_City.html on line 104

Warning: include(): Failed opening '/Library/kw/livingplaces.com/footer.html' for inclusion (include_path='.:') in /Library/WebServer/livingplaces.com/NC/Catawba_County/Hickory_City.html on line 104