Hertford County administrative offices are located at 704 North King Street, Winton, NC 27896; phone: 252-358-7805.
---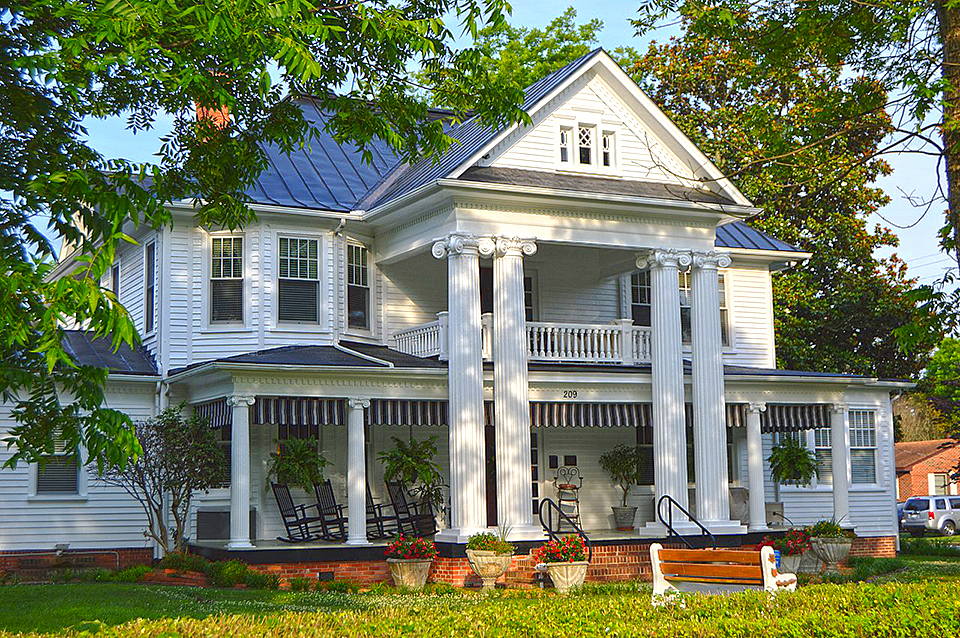 Roberts H. Jernigan House circa 1917-1918, located at 209 South Catherine Creek Road, Ahoskie. Listed on the National Register of Historic Places in 2001. Photographed by wikipedia username: Nyttend. own work, 2018 [public domain], accessed via wikimedia commons, March, 2023.
---
TOWNS
Ahoskie Town
Cofield Vlg
Como Town
Harrellsville Town
Land deeds date the early settlement of the Hertford area to 1710. Originally known as the Parish of Saint Barnabas, the county was established in 1759 and named for Francis S. Conway, the Marquis of Hertford, a British nobleman and parliamentarian.
Hertford County [†], located in northeastern North Carolina, was formed in 1759 from portions of Bertie, Chowan, and Northampton counties. The Chowan River forms its northeastern border, with the navigable Meherrin and Wiccacon rivers also running through the county. At the time of European settlement, the area was inhabited by the Meherrin Native American tribe, which remains one of the state's eight officially recognized tribes with about seven hundred members in Hertford County.
† Adapted from: Heather M. Slane, Architectural Historian and Cheri L. Szcodronski, Architectural Historian, hmwPreservation, Winton Historic District, nomination document, 2019, National Register of Historic Places, Washington, D.C.
HISTORIC SITES
Ahoskie Downtown Historic District
Cedars, The
Columns, The
Cowper-Thompson House
Deane House
Freeman House
Gray Gables
Hare Plantation House
Harrellsville Historic District
Jernigan, Roberts H., House
King-Casper-Ward-Bazemore House
Melrose
Mitchell, William, House
Mulberry Grove
Murfreesboro Historic District
Myrick House
Myrick-Yeates-Vaughan House
Newsome, James, House
Parker, King, House
Rea, William, Store
Riddick House
Roberts-Vaughan House
Vernon Place
Wheeler, John, House
Winton Historic District
---