Warning: include(/Library/kw/livingplaces.com/menu.html): failed to open stream: No such file or directory in /Library/WebServer/livingplaces.com/PA/Franklin_County/Waynesboro_Borough.html on line 36

Warning: include(): Failed opening '/Library/kw/livingplaces.com/menu.html' for inclusion (include_path='.:') in /Library/WebServer/livingplaces.com/PA/Franklin_County/Waynesboro_Borough.html on line 36

Waynesboro Borough
Borough municipal offices are located at 57 East Main Street, Waynesboro PA 17268.
Phone: 717‑762‑2101.
---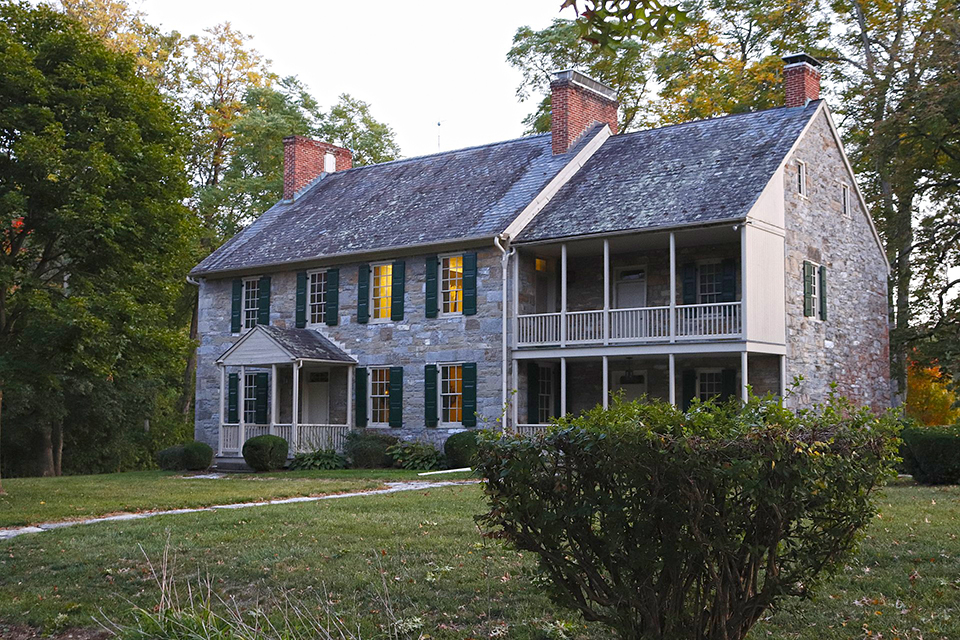 Photo: Henry W. Grady House, circa 1812, located at 1010 East Main Street, Waynesboro. L sted on the National Register of Historic Places in 1976. Photographed by wikipedia username:RLH (own work), 2020, [cc-4.0], via wikimedia commons, accessed October, 2022.
---
The Borough of Waynesboro [1] is located in Franklin County's southeast corner, just three miles from the Pennsylvania/Maryland border. The borough is located within the Cumberland Valley, with the South Mountain range to the east. The total size of the borough is 3.41 square miles, and is situated on the Buchanan Trail (PA-16), with Emmitsburg, Maryland to the east and Greencastle, Pennsylvania to the west. The county seat of Chambersburg is located approximately 15 miles northwest of Waynesboro. Roads out of town lead north toward Chambersburg; east toward Baltimore via Emmitsburg, Maryland; south toward Hagerstown, Maryland; and west toward Greencastle. Waynesboro was founded in 1797, had a population of 1,345 in 1870, and grew to a population of 10,167 by 1930. The borough's population was 10,568 at the census in 2010.
Neighborhoods
Antietam
Antietam Commons
Ashton Heights
Avalon Townhomes
Beartown
Bingamans Mobile Home Park
Blue Ridge Summit
Brimington
Coldspring Estates
Country Club Estates
Cowcrick
Eastland Hills
Edgemont Estates
Edgewood Estates
Farmspring Estates
Forest Hills
Frick Hill
Grandview Estates
Hawkstone
Hidden Valley Estates
Hillandale West
Hillside Orchards
Hooverville
Hunters Ridge
Laymans Ridge
Longview Estates
Majestic Meadows
Mar Pen Estates
Mar Way Estates
Martins Ridge
Meadow Breeze
Millwood Village
Mountain View Terrace
Northside Heights
Oakton
Orchard Estates
Pheasant Run
Polktown
Quincy
Red Run Center
Redbud Court
Renaissance Gardens
Reservior Heights
Rouzerville
Sheffield Manor
Spring Run
Spring Run Estates
Tomstown
Viewpoint
Walnut Knolls
Wayne Gardens
Wayne Heights
Westview Meadows
Westwind Gardens
Woodcrest
Zullinger
Beginnings [2]
Incorporated from Washington Township, December 21, 1818. The village was long known as Mount Vernon. John Wallace was a pioneer settle. His son John Wallace Jr., laid out the village December 29, 1797, when it was named Wallacetown. The name was soon changed to Waynesburg in honor of General "Mad" Anthony Wayne, brilliant offices of the American Revolutionary and Indian Wars, whose death in the previous year was a reminder of the heroic services he had rendered his State and country, and the further fact that John Wallace fought in the Revolutionary War under the direct command of General Wayne. The name was changed to Waynesboro to avoid confustion with Waynesburg, Greene County. The town was raided by Confederate Cavalry under General Jubal A. Early, June 23, 1863, and during the retreat from Gettysburg, General Robert E; Lee's army marched through the borough, July 6th.
Benjamin A. Harvey/Senior Architectural Historian (Inventory/Survey: Carrie Giauque, C&K Historic Consulting), ASC Group, Inc., Waynesboro Historic District, nomination document, 2020, National Register of Historic Places, Washington, D.C.
Godcharles, Frederic A., Litt.D., Chronicles of Central Pennsylvania, 1944, Lewis Historical Publishing, Inc., New York
Nearby Towns: Smithsburg Town •
---

Warning: include(/Library/kw/livingplaces.com/footer.html): failed to open stream: No such file or directory in /Library/WebServer/livingplaces.com/PA/Franklin_County/Waynesboro_Borough.html on line 145

Warning: include(): Failed opening '/Library/kw/livingplaces.com/footer.html' for inclusion (include_path='.:') in /Library/WebServer/livingplaces.com/PA/Franklin_County/Waynesboro_Borough.html on line 145