Warning: include(/Library/kw/livingplaces.com/menu.html): failed to open stream: No such file or directory in /Library/WebServer/livingplaces.com/TN/Davidson_County/Nashville_City.html on line 36

Warning: include(): Failed opening '/Library/kw/livingplaces.com/menu.html' for inclusion (include_path='.:') in /Library/WebServer/livingplaces.com/TN/Davidson_County/Nashville_City.html on line 36

Nashville City
Nashville City Hall is located at 225 Polk Avenue, Nashville‑Davidson TN 37203.
Phone: 615‑862‑6000.
---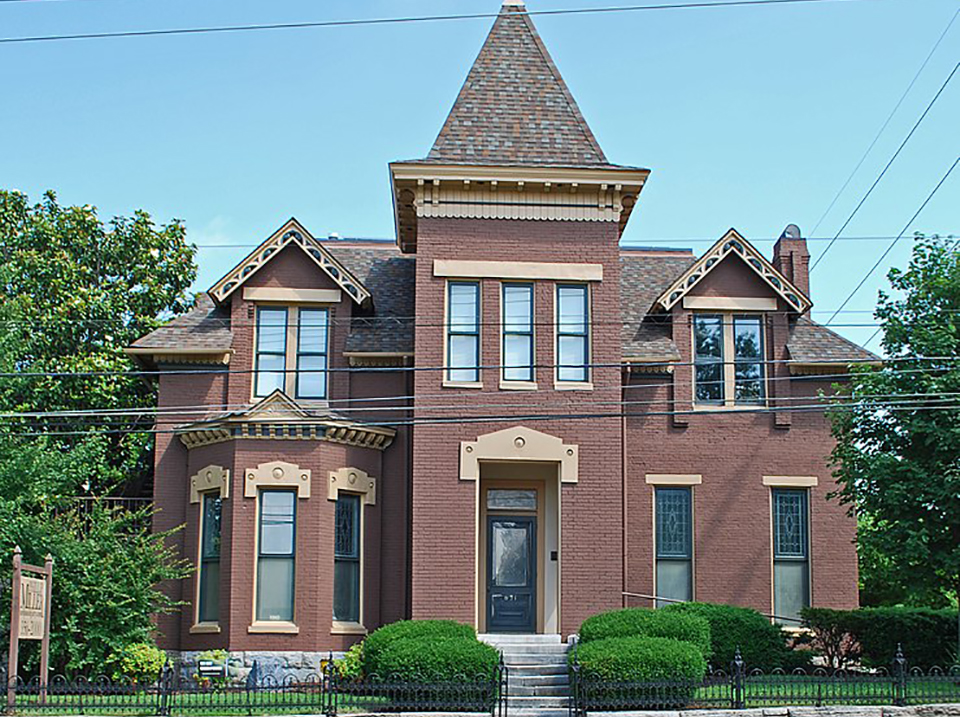 Photo: Miles House, circa 1860, located at 631 Woodward Street. Listed on the National Register of Historic Places in 1979. Photographed by Andrew Jameson (own work), 2010, [cc-3.0], via Wikimedia Commons, accessed July, 2021.
---
Nashville was the first white settlement in both the county and in "Middle Tennessee" which was, at the time (1779) part of North Carolina. It was founded by John Donelson and James Robertson and Samuel Barton as Fort Nashborough. Fort Nashborough was named for Brigadier General Nash, a commander of the North Carolina Regiment who was killed at the Battle of Germantown, 1777.
Neighborhoods
Aarons Cress
Abbingdon Place
Abbington Park
Abbott Martin Estates
Abbottsford
Aberdeen Woods
Abernathy
Acklen Park
Acklen Place Condominiums
Acklen Row
Adelicia
Adelicia
Adkins
Albemarle
Aldrich Heights
Allens Green
Alpine Hills
Amber Hills
Ambrose Condos
Ambrose Lofts
Anderson Road Condos
Antioch
Apache Hills
April Lane
Arbor Crest
Arden Place
Arlington Court Condos
Arrington Heights
Art Avenue Lofts
Arundel
Ashlawn Place Condos
Ashley Green
Ashley Park
Ashley Park Condos
Ashton
Aspen Heights
Avalon Bay
Avondale
Avondale Park
Bancroft
Barkfield Valley Estates
Barnes Bend Estates
Barnes Cove
Barnes Crossing
Barrows Addition
Barton Vale
Battlefield Estates
Battlemont
Battlewood
Baxter Heights
Baypointe
Bayview Estates
Beacon Hill Village
Bedford Commons
Beechtree
Bel Air
Bell Knob
Bella Vista
Belle Acres
Belle Forest
Belle Glen
Belle Meade
Belle Meade Court
Belle Meade Courts
Belle Meade Highlands
Belle Meade Links
Belle Meade Terrace
Belle Meade Tower
Belle Park
Belle Pointe
Bellebrook
Bellevue Commons
Bellevue Highlands
Bellevue Manor
Bellevue Manor
Bellshire Estates
Bellshire Terrace
Bellvue
Bellwood
Belmont
Belmont Lofts
Belmont Park Terrace
Belmont Place
Belmont Terrace
Bennie Dillon Condos
Berry Hill
Berryville
Beverly Heights
Bixler Farms
Blanchard Heights
Blossom Trace
Bluefield Square
Bluefields
Bluffs of Cedarstone
Bonnahurst Drive
Boone Trace
Bordeaux Gardens
Bordeaux Hills
Bowling Square
Bowlingate
Bowood Heights
Boxcroft
Bradford Hills
Brandywine Farms
Brandywine Harbor
Brandywine Place
Brandywine Pointe
Brattlesboro Place
Breckston Park
Brentwood Cove
Brentwood Glen
Brentwood Hall
Brentwood Knoll
Brentwood Meadows
Brentwood Summit
Bret Ridge
Brick Church Pike Estates
Bridgewater
Bridle Downs
Brighton Close
Brighton Court
Brighton Village
Bristol
Broadmoor
Broadway Condos
Brook Meade
Brooke Castle
Brookfield Condos
Brookside
Brookside Courts
Brookside Park
Brookside Woods
Brookview
Brookview Forest
Brownlee
Brownsville
Bryan
Buena Vista Estates
Buena Vista Heights
Burchwood Gardens
Burlington
Burton Hills Estates
Burton Hills Village
Cabin Hill
Caldwell Country Estates
Caldwell Court Condos
Caldwell Court Townhhomes
Caleb Chase
Cambridge
Cambridge Downs
Cambridge Park
Camden Woods
Campbell Grove
Candlestick Farms
Canterbury Condos
Canterbury Hall
Capitol Towers
Capitol View
Carrington Place
Carter Lane Place
Carters Glen
Cassie Bell Estates
Castlegate
Castlewood
Cathey Heights
Cedar Creek
Cedar Crest
Cedarwood Estates
Centennial Row
Chandler Grove
Chapelwood
Charlotte Park
Chase Creek
Chase Pointe
Chateau Valley
Chatham Pointe
Cheekwood at Warner Park
Cheekwood Estates
Cherokee Crossing
Cherokee Hills
Cherokee Park
Chesney Glen
Chesterfield Place
Chestnut Acres
Chickering Estates
Chickering Hills
Chickering Meadows
Chickering Park
Christiansted Valley
Church Street Lofts
Cityview Lofts
Classic Meadows
Claymille Station
Clayton
Cleveland Hall
Cleveland Park
Cliffdale
Clifton Place
Clintondale
Clover Ridge
Cloverdale
Cloverhill
Clovernook
Cobblestone
College Heights
College Hill
College Park
Collins Crest
Colonial Village
Confederate Hill
Conway Court
Coopertown Farms
Copperfield
Corder Heights
Corlew
Coronada
Cottage Place
Cottages at Williams Bend
Country Club Estates
County Line Acres
Craigmeade
Creek Trail
Creekside Meadows
Creekside Trails
Creekwood Estates
Creekwood North
Crest Meade
Crestwood Acres
Crieve Hall Estates
Crievewood
Croleywood
Cross Timbers
Crow
Cumberland Gardens
Cumberland Trace
Curtiswood
Dahlia Gardens
Dalemere
Dalewood
Danbury
Deer Lake Condos
Devon Glen
Devon Highlands
Devon Park
Devon Valley
Devonshire Manor
District Lofts
Dodson Heights
Donelson Heights
Donelson Hills
Donelson Meadows
Doral Country Estates
Downtown
Dozier Place
Drakes Run
Dreamland Estates
Duckworth Addition
Dunaway Woods
Duncan Wood
Dunham Springs
Eagle Ridge
East End
East End
East End Lofts
East Hill
East Nashville
Eastdale Place
Easthaven Townhomes
Eastland Acres
Eastland Oaks
Eastland Park
Eastmoreland Place
Eastwood
Eatons Creek
Echo Valley
Edge O Lake Estates
Edgefield
Edgefield
Edgehill Estates
Edison Park
Elder Place
Elliott Avenue Condos
Elm Hill Acres
Elmington
Elysian Fields
Emery Place Condos
Enchanted Hills
Enclave at Bayveiw
Encore
Exchange Lofts
Fair Oaks
Fairfax Place
Fairfax Square
Fairlane Park
Fairmont Court
Fairsted Park
Fairview
Fairway Pointe
Fairway View Addition
Farley Heights
Farmingham Woods
Fields of Brick Church
Fisk Park
Fisk University
Five Points
Fleetwood
Forest Acres Estates
Forest Cove
Forest Vale
Forge Ridge
Forrest Hills
Forrest Trails
Fortland Park
Four Maples
Four Seasons
Fox Hollow Farms
Fox Hunt Pointe
Fox Run
Foxhall Close
Foxwood
Galecrest
Garry Maxey Farms
Georgetown
Germantown
Germantown Courts
Germantown Lofts
Gibson Heights
Glen Echo
Glencliff Estates
Glencoe Acres
Glencourt
Glendale Condos
Glendale Park
Glengarry Park
Glenmeade
Glenrose Acres
Glenwood Trace
Gloucester Square
Gold Key
Golden Valley Estates
Golf Club Place
Goodman
Gra-Mar Acres
Grande Villa
Grandview Heights
Graymont Park
Green Acres
Green Harbor
Green Hills
Green Meadows
Greenland Estates
Greenway Park Brownstones
Greenwood Hills
Greer Meadows
Hagan Homesites
Hagars Grove
Haileywood Estates
Hampton Hall
Hampton Park
Hampton Place
Happy Acres
Harbor Gate
Harbor Island
Harbor Landing
Harborview
Harbour Town
Harding House
Harding Place Condos
Hargis Heights
Harpeth Acres
Harpeth Crest
Harpeth Estates
Harpeth Glen Condos
Harpeth Park
Harpeth River Estates
Harpeth Trace Estates
Harpeth Valley Park
Harpeth View
Harpeth Woods
Harrison Square
Harvest Grove
Haven West
Hawthorne Square
Haynes Estates
Haynes Heights
Haynes Manor
Haynes Park
Haywood Acres
Haywood Forest
Haywood Heights
Haywood Hills
Hedrick Place
Henderson Gardens
Heritage Hills
Heritage Meadows
Heritage Village
Hermitage Estates
Hermitage Harbor
Hermitage Hills
Hermitage Meadows
Hermitage Spring Estates
Hermitage Woods
Hibbits Road Estates
Hickory Bend
Hickory Hills
Hickory Trail Farms
Hickory Valley
Hickory View
Hickory Villa Estates
Hidden Acres
Hidden Hill
Hidden Springs
Highland Creek
Highland Estates
Highland Park
Highland Trace
Highland View
Highlands of Tulip Grove
Highview Acres
Hill N Dale
Hill Place
Hillbrook
Hillbrook Sub.
Hillhurst Acres
Hillmont
Hillsboro Park
Hillsboro Place
Hillsboro Valley
Hillsboro Village
Hillwood Estates
Hillwood Place Townhomes
Hillwood Terrace
Hobbs House
Hobbs Place
Hodges Estates
Holt Meadows
Holt Woods
Homeland Heights
Hope Gardens
Horseshoe Bend
Hortense Place
Horton Heights
Hounds Run
Hunterdon
Hunters Crossing
Huntington Park
Huntington Ridge
Huntwick Estates
Hurdwood Heights
Hydes Ferry
I A Ford Sub Nichol
Indian Creek
Indian Lake Farms
Inglewood
Iroquois Meadows
Irvington
Jacksonian
Jacksons Grove
Jacksons Landing
Jacksons Retreat
Jacobs Valley
Jefferson Arms Apartments
Jefferson Square
Jordan Ridge
Joy Gardens
Joywood
Joywood Heights
Joywood Sub
Katie Hill
Keeton
Kellow Acres
Kendall Park
Kenilworth Estates
Kenner Manor
Kenwood Estates
King Court
Kingsbridge
Kingswood
Kingswood Park
Kirkwood Hghts
Knobblehurst
Knollview
Kress Lofts
Lake Chateau
Lake Ridge Village
Lakeland
Lakeshore Pointe
Lakeside Meadows
Lakeside Woods Estates
Lakeview Manor
Lakewood
Lakewood Heights
Langford Cove
Langford Farms
Larchwood
Laurel Heights
Laverne Acres
Legion Acres
Lena Court
Lenox Village
Lexington
Lexington Point
Lincoln Court Condos
Lincoya Bay
Lincoya Hills
Lindawood
Links of Belle Meade
Linmar Place
Lions Head
Lipscomb
Little Sixteen
Lockeland Springs
Lockhart
Locust Grove Estates
Locustwood
Lofts at Noel Court
Lofts On Eighth
Lone Oak Park
Longview Condos
Longview Place
Lumsden
Luna Heights
Luree Estates
Lutons Addition
Madison Square
Magnolia Place
Magnolia Shores
Mailan Heights
Maplecrest
Maplewood Heights
Market Street Condos
Marrowbone
Marydale
Maxwell Heights
Maynor Place
Mcarthur Court
Mccrory Heights
Mccrory Trace Estates
McFerrin Park
McGaugheys Haysboro
McGavock Estates
McMurray Court
McMurray Hills
McMurray Meadows
McMurray Place
McMurray Woods
McPherson Place
Meadowdale Acres
Meadows of Seven Points
Meadows of Tulip Grove
Meadowview Acres
Merritt Downs
Merry Oaks
Merrymount
Middleton
Miro Meadows
Monte Carlo
Montgomery Heights
Montgomery Place
Monticello
Montview Condos
Morgan Estates
Morgan Park Place
Morriswood Estates
Morrow
Moss Rose Estates
Moss Rose Heights
Mosswood Heights
Mount Pisgah
Mountain View
Mulberry Downs
Mullen Valley
Music Row
Music Square West Condos
Myrtlewood Estates
Nash Annex
Nashboro
Nashboro Village Fairways
Nashboro Woods
Natchez Pointe
Natchez Trace Estates
Neese Heights
Nevada Heights
New Hope Estates
New Hope Meadows
New Hope Point
Newport
Nob Hill
Nocturne Village
Nolen Heights
Normandy Place
North Nashville
Northcrest Commons
Northumberland
Oak Creek
Oak Haven
Oak Highlands
Oak Hill
Oak Hill Estates
Oak Park
Oakcrest
Oakhaven
Oakland Acres
Oakwood Park
October Woods
Old Buena Vista
Old Fairgrounds
Old Hickory Village
Old Town
Old Trinity Estates
Orchard Hills
Orleans Park
Otterwood
Overhill City
Overton Hills
Ozark Hills
Pagoda Condominiums
Paige Villa
Paragon Hills
Park Glen
Park Terrace Condos
Park West Court
Parklane
Parkview at Riverwalk
Parkwood
Parkwood Estates
Parkwood Glen
Parma Heights
Parthenon Place Condos
Pasquo Park
Patina
Patricia Heights
Peach Blossom Square
Pebble Creek
Peerman Heights
Pennington Bend
Percy Priest Woods
Perry Heights
Pine Forest
Plantation Walk
Pleasant Valley
Poplar Creek Estates
Poplar Glen
Poplar Ridge
Poplarwood
Porter Heights
Porter Terrace Condos
Postwood
Priest Lake Forest
Priest Lake Park
Providence Heights
Quail Creek Estates
Quail Ridge
Quail Valley
Rachels Retreat
Rachels Square
Range Heights
Ransom Park
Ransom Place
Ravenswood Court Conos
Raymond Heights
Rayon City
Rhythm at Music Row
Richardson Place
Richland
Richland House Condos
Richland Meadows
Richland Place Condos
Richland Woods
Richmeade Place
Ridgemere
River Bend
River Crest
River Glen
River Landing
River Meadows
River Park Estates
River Plantation
River Road Estates
River Trace Estates
River View
Riverbridge
Riverfront Condos
Rivers Edge
Riverside
Riverstone
Riverview
Riverwalk
Riverwood
Riverwood Heights
Rock Harbor Condos
Rockwood Estates
Roderick Square Condos
Rokeby
Rolling Acres
Rolling River Estates
Rose Hall
Rosebank Meadows
Rosebank Park
Rosebank Terrace
Rosedale Place
Rosemonte Nouveau
Rosewood Estates
Rosewood Heights
Roxborough
Royal Garden Estates
Royal Hills
Royal Oaks
Royal Oaks Towers
Russwood Heights
Rutledge House Condos
Rutledge Terrace
Saddlebrooke
Settlers Pointe
Seven Hills
Seven Oaks Estates
Shadow Glen
Shadow Lawn
Sharon Hill Circle
Sharondale
Sheffield
Sheffield on the Harpeth
Shelby Heights
Shelby Hills
Shelby Park
Shelby Village
Shepardwood
Sherry Acres
Sherwood
Sherwood Forest
Shiloh Park
Sigler Plan
Silverstone
Sky View
Skyline Village
Sneed Estates
Somerset Farms
South Harpeth
South Inglewood
Southampton
Southern Hills
Southfork
Southgate
Southlake
Southwinds
Spence Circle
Spence Enclave
Spence Manor
Spring Place
Spring View
Springdale
Springmont
Stacy Square
Stanford Country Club
Stanford Place
Stardust Acres
Steeplechase Farms
Steger Home Place
Sterling Heights
Still Spring Hollow
Stokes Tract
Stokeswood Place
Stone Creek
Stone Hedge
Stonemeade
Stoner Mill
Stoneridge
Stones River Estates
Stump Reserve
Sugar Valley
Sugartree
Sullivans Ridge
Summit Oaks
Summitt Hills
Sunny Acres
Sunnymeade
Sunnyside
Sunrise Heights
Sunset Oaks
Sunset View
Sutherland Heights
Swanns
Swinging Bridge Heights
Sylvan Heights
Sylvan Park
Temple Ridge Estates
Ten Ten on the Row
Terrazzo
The Adelicia Condos
The Albemarle
The Chesterfield
The Claridge
The Cloister at St Henry
The Colonies
The Craighead
The Elmington
The Enclave
The Exchange Lofts
The Knoll
The Park at Melrose
The Peninsula
The Reserve at Eagle Ridge
The Reserve at Stone Hall
The Residences at Stratton
The Rise at West End Park
The Row at 51st Street
The Valentino
The Villas of Lakemeade
The Whitney
Thornby Place
Thousand Oaks Estates
Timber Lake
Timber Ridge
Timbertrail
Timberwood Estates
Town Park Estates
Townhomes of Germantown
Townhomes of Truxton
Trace Creek Heights
Traceside
Traemoor
Trailwood
Treemont
Treppard Heights
Trevecca
Trimbles
Trinity Heights
Trinity Hills
Truxton Park
Truxton Village
Tuckahoe Square
Tuggle Heights
Tulip Cove
Tulip Grove
Tulip Grove Pointe
Tulip Grove Woods
Tulip Reserve
Turnberry Square Condos
Tusculum Fields
Twin Lakes Cove
Twin Lawn
Tyne Meade
Tynewood Estates
Una Manor
University Heights
University Square
Urbandale
Vailwood Heights
Valeria Place
Valley Green
Valley Grove
Valley View Meadows
Valley View Terrace
Vanderbilt
Versailles
Victoria Place
Victory Heights
Village at Grassmere
Village Hall
Village Manor
Village South Condos
Villager East
Villages of Brentwood
Vintage Place
Viridian
Wade
Walden Woods
Wallace
Walnut Grove
Walnut Hill Estates
Walnut Hill Manor
Warner Park
Warren Place
Watauga
Waterford
Waters Place
Waverly Place
Wedgewood Park
Welch Meadows
Wellington Arms
Wembley Downs
Werthen Mills Lofts
Wessex Towers
West End Circle
West End Close
West End Condos
West End Park
West End Park
West End Square Cond
West End Summit
West Hills
West Meade Condos
West Meade Estates
West Meade Farms
West Meade Highlands
West Meade Hills
West Nashville
West Park
Westbury
Westchase
Westdale
Westfield
Westhampton Place
Westlawn Green
Weston Way Condos
Westover
Westover Plantation
Westport Landing
Westwood
Wexford Downs
Whispering Hills
White Creek
White Pine Estates
Whitehall Condos
Whitland Court
Whitland Place Condos
Whitworth
Wildflower Place
Wilkerson Heights
William Hills
Williams Bend
Williamsburg
Willis
Willow Creek
Willow Pointe Condos
Willowcreek
Wilson Place Condos
Windsor Park
Windsor Terrace
Windsor Towers
Winfield Park
Winston Estates
Woodard
Woodberry Park
Woodbine
Woodbine Courts
Woodbury
Wooddale Grove
Woodlake Condos
Woodland Forest
Woodland Hills
Woodland in Waverly
Woodland Pointe
Woodlawn
Woodlea Place
Woodmont Acres
Woodmont Condos
Woodmont Estates
Woodmont Park
Woodridge
Woods at Highland Creek
Woods of West Meade
Woodside
Wrenwood
Wynbrook
Wyndham Place
Nashville City was incorporated in 1808 and became the seat of government for Davidson County in 1843, at which time it was designated the permanent capitol of Tennessee.
The Grand Ole Opry, the weekly country music program and concert, was established in 1925 and is the oldest continuously-broadcast radio show in the U.S., as well as the force behind Nashville's becoming known as Music City USA.
---

Warning: include(/Library/kw/livingplaces.com/footer.html): failed to open stream: No such file or directory in /Library/WebServer/livingplaces.com/TN/Davidson_County/Nashville_City.html on line 1045

Warning: include(): Failed opening '/Library/kw/livingplaces.com/footer.html' for inclusion (include_path='.:') in /Library/WebServer/livingplaces.com/TN/Davidson_County/Nashville_City.html on line 1045