Gallatin City
Gallatin City Hall is located at 132 West Main Street, Gallatin, TN 37066.
Phone: 615‑451‑5961.
---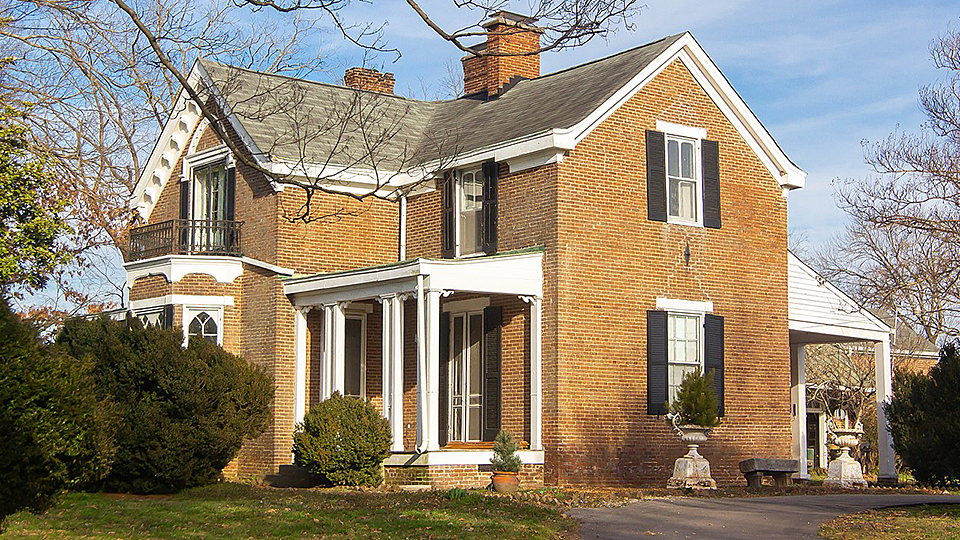 Photo: Oakley House, circa 1835, located at 2243 Nashville Pike, Gallatin. Listed on the National Register in 1985. Photographer: wikipedia username: rossograph, 2021, [cc-4.0]; accessed April, 2023.
---
Neighborhoods
Academy Acres
Albion Downs
Aqua Estates
Ashley Manor
Bagsby Farm
Baskerville Estates
Bay Point Estates
Baywatch Pointe
Baywood Pointe
Bel Air
Belle Breeze
Bellwood Estates
Bradley
Brookhaven Acres
Brush Hill
Cages Ford
Cairo Bend Farms
Cairo Landing
Cairo Plantation
Caitlin Way
Cambridge
Cambridge Condos
Cambridge Farms
Chapel RIdge
Chartwell
Clear Lake Meadows
Clearview
Clearview Height
Cottages at the Last Plantation
Country Estates
Courtney Cove
Cragfront Estates
Creekview
Culbreath Estates
Cumberland Place
Cypress Gardens
Deer Creek
Desha Hills
Deshea Estates
Deshea Meadows
Dogwood Terrace
Douglas
Douglas Heights
Eagle Creek
Eastland Addition
Eastmeade
Eastwood Estates
Elk Acres
Elmwood Estates
Emerald Point
Emilee Point
Fairvue at Foxland
Fairvue Plantation
Fairway Farms
Faraway Hills
Fields at Woodhaven
Five Coves
Ford Addition
Foxfire
Foxland at Fairvue
Foxland Hall
Grandview Estates
Grassland Chase
Grassland Downs
Grasslands Ranch
Gray
Green Acres
Green Hills
Green Meadow
Green Park
Green Wave Park
Greensboro Village
Greenwood Farms
Halewood Estates
Hamptons
Happy Hollow Farms
Hidden Woods
Highland Park
Hogin Addition
Holland Heights
Hollywood Hills
Hunt Club
Hunter Estates
Indian Hills
Jacobs Heights
Joe D Harsh Estate
Joslin Estates
Kemp Estates
Kennesaw Farms
Kirkpatrick Estates
Lake Breeze
Lake Charland
Lake Charland
Lake Grassland
Lake Point Estates
Lake Rise
Lakeside Park
Lakewood Estates
Langford Heights
Last Plantation
Laurelwood
Leeland Heights
Lennox Place
Lincoln Park
Longview Estates
Lori Lee Estates
Maple Hill Estates
Maplegrove Estates
Martins Vineyard
Meadowbrook Addition
Morningside Heights
Murphy Farm
Newman Downs
North Gallatin Farms
Oak Hill
Oakland
Park Estates
Payne Estates
Plantation Trace
Purnell Farm
Reece Farm
Rhea Estates
Ridley Farm
River View
Rivermont
Roberson Acres
Rockwood Terrace
Rolling Acres
Ronald Farm Estates
Roys Farms
Ruthledge Estates
Saddlebrook
Saliba
Savannah
Serenity Bay
Shadycrest
Shiloh
South Grasslands
Southmeade
Southpark
Southwind Estates
Spencer Springs
Station Camp Landing
Station Camp Run
Station Creek
Station Terrace
Stewart Farm
Stone Cottage Villas
Stone Creek
Stonehedge
Stratford Park
Summerwood Estates
Sunnymeade
Sunnyside Estates
Sunset Bay Resort
Sunset Park
Sunset View
Tanasi Shores
Tapestry Gardens
The Parks
Thoroughbred Crossing
Trammel
Turkey Ridge
Twin Eagles
Twin Oaks Estates
Urbandale
Villages of Gallatin
Villages of Plantation
Wakefield Estates
Wellington Farms
Westland Heights
Winston Place
Womack Estates
Wood Berry
Woodhaven
Woodhaven on the Lake
Woodlands
Woodlawn Estates
Wrebwood
Beginnings [1]
The City of Gallatin, Tennessee is a rapidly growing community located approximately 25 miles northeast of Nashville. Gallatin was established in 1802 as the permanent county seat for Sumner County and was surveyed and platted one year later. The first courthouse and jail were built in 1803. The town incorporated in 1815 and now functions under a charter established by a 1953 private act of the state legislature.
City of Gallatin, General Development and Transportation Plan 2008-2020, Gallatin On the Move, 2020, www.gallatinonthemove.com, accessed May, 2012.
---