Davis County, Utah
The Davis County Memorial Courthouse is located at 28 East State Street, Farmington, UT 84025; phone: 801-444-2300.
---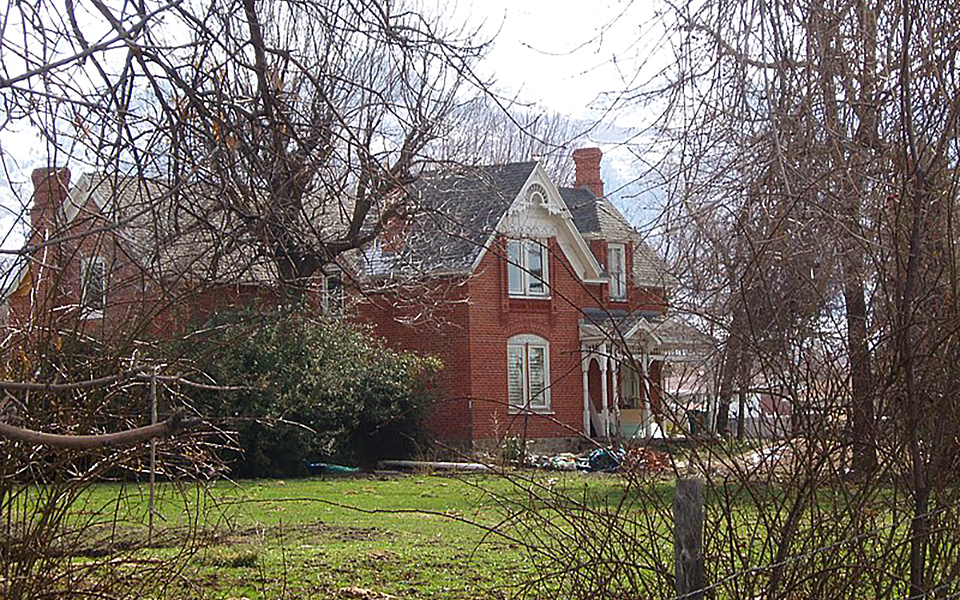 Photo: Joseph Adams House, circa, 1889, located at 300 North Adamswood Road, Layton. Listed on the National Register of Historic Places in 1978. Photo by wikipedia username: Ntsimp, 2009, [public domain]; commons.wikimedia.org, accessed October, 2022.
---
TOWNS
Clinton City
Fruit Heights City
Layton City
North Salt Lake City
South Weber City
Sunset City
Syracuse City
West Point City
Woods Cross City
Davis county was established in 1852 and was named for pioneer Daniel Coon Davis [1804-1850]. He was a captain in the Mormon Battalion during the Mexican War.
HISTORIC SITES
Adams, Joseph, House
Atkinson, James and Hannah, House
Barnard-Garn-Barber House
Barnes, John George Moroni, House
Barnes, John R., House
Blood, Henry, House
Bountiful Historic District
Brandon, Thomas and Margaret, House
Capener, William, House
Clark Lane Historic District
Deuel, Osmyn and Emily, House
Duncan, John, Harriet, and Eliza Jennett, House
Eldredge, James and Jane, House
Fielding Garr Ranch
Ford, Joseph N. and Algie, House
Ford--Rigby House
Green, James, House
Haight, Hector C., House
Harris, Thomas and Caroline, House
Harris--Tingey House
Holland-Smith-Brown House
Kilbourn-Leak House
Knowlton, George Quincy, House
Layton, George W., House
Layton, John Henry, House
Porter, Nathan T. and Anna, House
Porter, Nathan and Rebecca Cherry and Eliza Ford, Farmstead
Randall, Melvin Harley, House
Raymond, Grandison, Sr. House
Rich-Steeper House
Richards House
Roberts, B.H., Louisa Smith and Cecilia Dibble, House
Smith, Thomas J. and Amanda N., House
Smith, William R. and Amelia Cherry, House
Smith-Larsen House
Stayner-Steed House
Stewart, LeConte, House
Streeper, William Henry and Mary, House
Taylor, John W., Janet (Nettie), and May Rich, House
Thurston-Chase Cabin
Tingey, Thomas, House
Townsend-Palmer House
Walton, Franklin and Amelia, House
West Bountiful Historic District
Whitaker, Thomas and Elizabeth Mills, House
Wilcox, James D., House
Young Men's Hall--Tingey House
---
Home
Whats New
Site Index
LivingPlaces.com © 1997‑2023
Search
Contact
Privacy
Disclaimer