Warning: include(/Library/kw/livingplaces.com/menu.html): failed to open stream: No such file or directory in /Library/WebServer/livingplaces.com/UT/Utah_County/Alpine_City.html on line 34

Warning: include(): Failed opening '/Library/kw/livingplaces.com/menu.html' for inclusion (include_path='.:') in /Library/WebServer/livingplaces.com/UT/Utah_County/Alpine_City.html on line 34

Alpine City
Alpine City Hall is located at 20 North Main Street, Alpine, UT 84004.
Phone: 801‑756‑6347.
---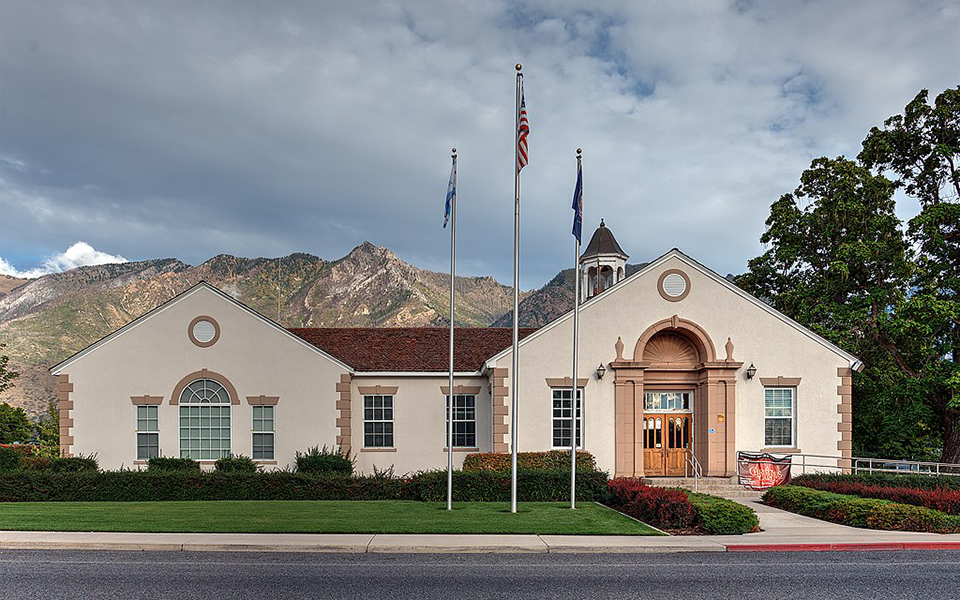 Photo: Alpine City Hall, circa 1936. Located at 20 North Main Street, Alpine. Listed on the National Register of Historic Places in 1991. Photographed by User: Blevinsmedia (own work), 2014, [cc-3.0], via Wikimedia Commons, accessed November, 2021.
---
Originally known as Mountainville, Alpine City was incorporated in 1855.
Beginnings [†]
The settlement of the City of Alpine began in September of 1850. The population continued to grow at a slow, steady pace. By 1900, the population had reached 520 people. At that time electric lights and a telephone system were built. Alpine continued as an agricultural community with a shift towards fruit orchards and fruit crops. By 1936 the town was encompassed within a two mile square area. In 2011, it has expanded to more than 7 square miles.
In 1933 Utah had an unemployment rate of 36 percent. Because Utah suffered so greatly in the Depression, New Deal programs were extensive throughout the state. The building of the Alpine City Hall, ca. 1936, was built by the Federal Works Progress Administration, one of the programs of the New Deal.
Neighborhoods
Alpine Cove
Alpine Estates
Alpine Valley View
Alpine View Estates
Alpine Village
Barney Acres
Box Elder
Dry Creek Orchards
East Mountain Estates
Falcon Ridge
Fort Creek
Healey Heights
Heritage Hills
High Bench Ridge
High Mountina Oaks
Hunt Club
Hunters Ridge
International Estates
Lone Peak Estates
Mill at Dry Creek
Moon Subdivision
Mountainville Heights
Moyle Estates
North Grove
One Peak Estates
Park at South Pointe
Pheasant Ridge Estates
Pierce Subdivision
Quincy Court
River Meadows
Sunrise Point
The Ranches
Twin Rivers
Westfield Meadows
Westfield Oaks
Whitby Woodlands
Willow Canyon
† Ula Hemingway, CLG and Julie Osborne, Alpine Historic Preservation Commission, Alpine City Hall, Alpine, Utah County, Utah, nomination document, 1991, National Park Service, National Register of Historic Places, Washington, D.C.
Nearby Towns: American Fork City • Cedar Hills City • Highland City • Lehi City • Pleasant Grove City •
---

Warning: include(/Library/kw/livingplaces.com/footer.html): failed to open stream: No such file or directory in /Library/WebServer/livingplaces.com/UT/Utah_County/Alpine_City.html on line 124

Warning: include(): Failed opening '/Library/kw/livingplaces.com/footer.html' for inclusion (include_path='.:') in /Library/WebServer/livingplaces.com/UT/Utah_County/Alpine_City.html on line 124