Warning: include(/Library/kw/livingplaces.com/menu.html): failed to open stream: No such file or directory in /Library/WebServer/livingplaces.com/UT/Utah_County/Lehi_City.html on line 34

Warning: include(): Failed opening '/Library/kw/livingplaces.com/menu.html' for inclusion (include_path='.:') in /Library/WebServer/livingplaces.com/UT/Utah_County/Lehi_City.html on line 34

Lehi City
Lehi City Hall is located at 153 North 100 East, Lehi, UT 84043.
Phone: 801‑768‑7100.
---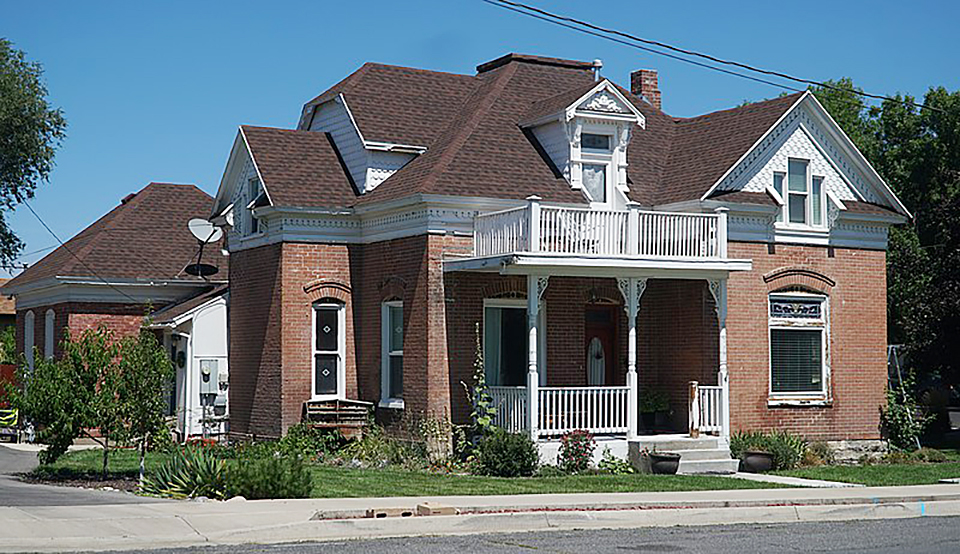 Photo: James H. and Rhoda H. Gardner House, circa 1907, located at 187 East 300 North in Lehi. Listed on the National Register of Historic Places in 1978. Image by wikipedia username:OrangeJedi, 2019, creative commons [cc 4.0], accessed December, 2021.
---
Beginnings [1]
The settlement of the Dry Creek/Sulphur Springs area of northern Utah County in late 1850 marks Lehi as one of Utah's oldest cities (pioneers first arrived in Utah in 1847). In 1850 a group of permanent settlers headed for the site of Lehi, a place passed over earlier because of the limited availability of water, a problem that would plague the community for several years. Fifty-two pioneers, all of them members of the Church of Jesus Christ of Latter-Day Saints (L.D.S., or Mormon Church) stayed in the area during the mild winter of 1850-51. They arrived as independent families, individuals, or small groups of families rather than a single, "called" colonizing party, as often happened in Utah's early settlement. Sometime in 1851, the little community was named "Evansville" after its most prominent figure, David Evans, who was appointed first bishop of the Dry Creek Ward. Farming commenced in 1851 and flourished after digging a seven-mile water ditch from American Fork Creek. Lehi's first public building (not extant), known as the Log School, was built in 1851. The town was incorporated as Lehi City in 1853. The first mayor, Silas Barnes, lasted only one year before being replaced by David Evans.
Neighborhoods
Alpine Vista Estates
Anthem Country Estates
Bellon Farms
Benny Estates
Boardwalk
Bridalwood
Bridle Creek Estates
Brookhaven
Brooks Meadows
Brooksfield
Browns Meadows
Bull River Ridge
Canyon View Estates
Carlson Heights
Carter Ridge
Cedar Hollow
Chapel Valley
Clubview
Colony Pointe
Coopers Hollow
Country Lane
Country Run
Courtyard Cove
Cranberry Farms
Cutler Crossing
Dairy View Estates
Davencourt
Deer Meadow Estates
Dwayne Rowley Estates
Eagle Ridge
Eagle Summit
East Park Estates
Evansville
Fox Run
Foxmoor Flats
Gables
Gateway
Grays Farms
Green Hills
Green Park
Greenfield Manor
Harvest Homes
Heather Moor
Heatherfield
Highland Springs
Hillcreek
Hillside Heights
Homestead Farms
Hunter Chase
Hunters Grove
Huntington Heights
Hurley Ridge
Ivory Ridge
Jordan Willows
Kensington Estates
Lehi Country Estates
Monument Park
North Bench Manor
Northlake
Oldham Acres
Parkside Estates
Pheasant Pointe
Pilgrams Landing
Pioneer Estates
Plymouth Rock
Point Meadows
Prett's Place
Promenade
Provence
Provence West
Quail Run
Raspberry Summit
Ridgepoint Estates
Saddle Ridge
Saddlebrook
Schnider
Shadow Ridge
Smithfield Ridge
Sommerset
Southtowne Estates
Spring Creek Ranch
Spring Heights
Stafford Estates
Stage Coach Crossing
Stonegate
Summercrest
Sunset Hollow
Thanksgiving Meadows
Thanksgiving Village
The Woods
Timpview Meadows
Traverse Mountain
Utah Highlands
Valley Vista
Vista Ridge
Ward Crossing
Westbury
Westview
Willow Brook
Willow Cove
Willow Creek Estates
Willow Haven
Willow Park
Winterhaven
Woodhaven
Woods Meadows
The year 1853 also saw the construction of a new toll bridge over the Jordan River and a large fort which provided protection to settlers during the Walker War with local native Americans. The 75 by 75 rod (1237.5 feet by 1237.5 feet) enclosure consisted of sixty log cabins moved in from scattered locations. The boundaries were: 3 rods (49.5 feet) north of Main Street, 3 rods (49.5 feet) west of 300 West, midway between 200 and 300 South, and midway between Center and 100 West. In 1854, a larger mud wall was erected to enclose the fort. It was six feet wide at the bottom, three feet wide at the top, and 8 to 12 feet high. That same year the town was surveyed and sixteen blocks were laid out, each twenty rods square (330 feet square) with streets 99 feet wide. In 1855, despite hardships such as a grasshopper invasion and a severe winter, construction commenced on the first church meetinghouse, a substantial adobe building.
Nelson W. Knight, Architectural Historian and Staff of the Utah State Historic Preservation Office, Historic and Architectural Resources of Lehi, Utah, nomination document, 1998, National Park Service, National Register of Historic Places, Washington, D.C.
Nearby Towns: Alpine City • American Fork City • Bluffdale City • Highland City •
---

Warning: include(/Library/kw/livingplaces.com/footer.html): failed to open stream: No such file or directory in /Library/WebServer/livingplaces.com/UT/Utah_County/Lehi_City.html on line 192

Warning: include(): Failed opening '/Library/kw/livingplaces.com/footer.html' for inclusion (include_path='.:') in /Library/WebServer/livingplaces.com/UT/Utah_County/Lehi_City.html on line 192