Warning: include(/Library/kw/livingplaces.com/menu.html): failed to open stream: No such file or directory in /Library/WebServer/livingplaces.com/VT/Orange_County/Thetford_Town.html on line 34

Warning: include(): Failed opening '/Library/kw/livingplaces.com/menu.html' for inclusion (include_path='.:') in /Library/WebServer/livingplaces.com/VT/Orange_County/Thetford_Town.html on line 34

Thetford Town
Thetford Town Hall is located at 3910 Route 113, Thetford Center VT 05075.
Phone: 802-785-2922.
---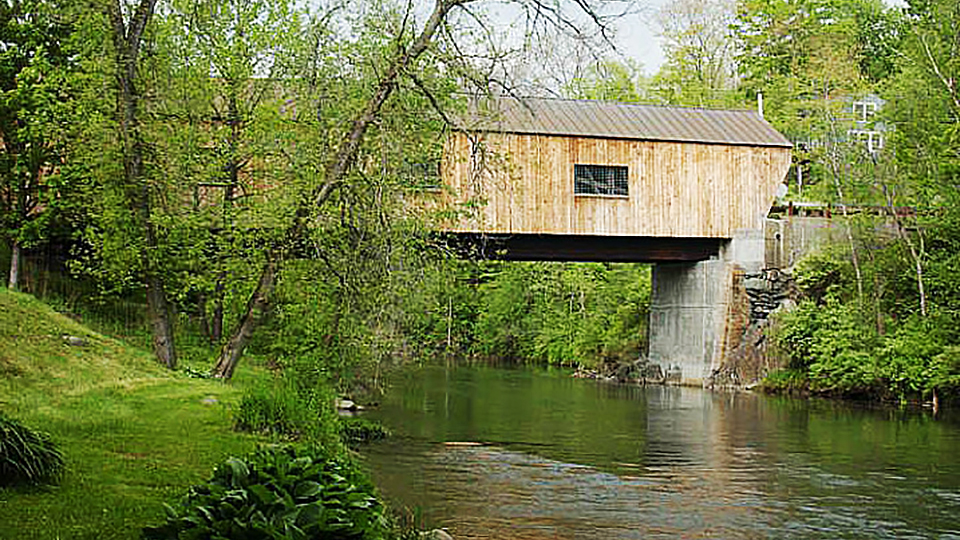 Photo: Union Village Covered Bridge, circa 1867, acress the Ompompanoosuc River, Thetford. Listed on the National Register of Historic Places in 1974. Photographed by Username: Jerrye & Roy Klotz MD (own work), 2013, [cc3.0], via Wikimedia Commons, accessed December, 2022.
---
The Town of Thetford [†] was one of sixty towns chartered by Governor Benning Wentworth in 1761, in the name of George III. The first known settlement in the town occurred in 1764 when John Chamberlain wintered in East Thetford. At a 1768 proprietor's meeting, land was offered to potential saw mill operators. As a result, John (or Jonathan) Strong built a saw and gristmill in East Thetford, the nucleus for that village, and David Avery set a mill on Zebedee Brook near John Chamberlain's and the first Thetford farms. Col. Alexander Phelps was given land for a mill on the falls of the Ompompanoosuc, at what is now Thetford Center. Isaac Fellows subsequently took over the land and in 1772 John Strong built a grist mill and later, a saw mill. Previous to the establishment of a local grist mill, Thetford's settlers had to transport grain as far away as Charlestown, New Hampshire, or to the falls on the Ottauquechee River in "Hartford, Vermont. By the time of the Revolutionary War at least fifty families from Connecticut and New Hampshire had settled in the eastern part of Thetford. By 1791 Thetford had 862 inhabitants and 159 families.
Like other Vermont and New England communities, Thetford grew with the mills. By the start of the 19th century, water-powered mills on several sites along the Ompompanoosuc had created the nuclei for the villages of Thetford. Eventually the town had seven villages: Thetford, East Thetford, North Thetford, Thetford Center, Post Mills, Rice Mills, Union Village, and later, Ely. The early generations of residents were mostly subsistence farmers, with the majority of settlers' needs such as food and clothing provided on the farm. It was during this early time that the dispersed, rural settlement pattern of farms was established. Some of the residences in the Thetford Center Historic District were originally part of farms of various sizes and represent the connections of these resources with the Agriculture area of significance. The variety of extant agricultural outbuildings in the district are testament to the ongoing importance of agriculture to the local economy.
† Deborah Noble, Preservation Consultant; Lisa Mausolf, Preservation Consultant, Deborah White Associates, Thetford Center Historic District, nomination document, 1997, National Park Service, National Register of Historic Places, Washington, D.C.
Neighborhoods
Ely
Post Mills
Rices Mill
Thetford Center Historic District
Union Village
Nearby Towns: Lyme Town • Norwich Town •
---

Warning: include(/Library/kw/livingplaces.com/footer.html): failed to open stream: No such file or directory in /Library/WebServer/livingplaces.com/VT/Orange_County/Thetford_Town.html on line 87

Warning: include(): Failed opening '/Library/kw/livingplaces.com/footer.html' for inclusion (include_path='.:') in /Library/WebServer/livingplaces.com/VT/Orange_County/Thetford_Town.html on line 87