Washington County, Vermont
The Washington County Courthouse is located at 65 State Street, Montpelier VT 05602; phone: 802-828-2091.
---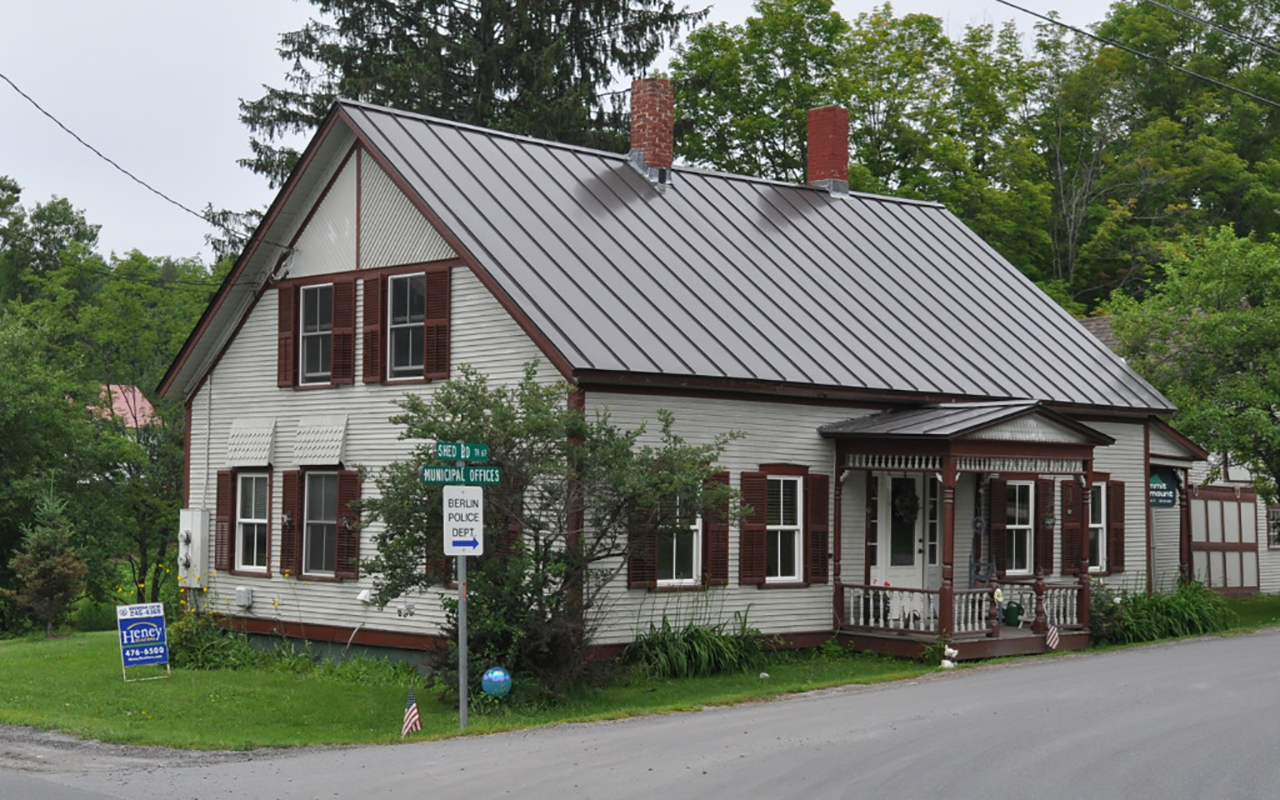 Photo: Chauncey B. Leonard House, circa 1845, located at Shed Road and Crosstown Road, Berlin, VT. Listed on the National Register of Historic Places in 1995. Photographed by User:Magicpiano (own work), 2015, [cc-3.0] via Wikimedia Commons, accessed August, 2021.
---
TOWNS
Barre Town
Berlin Town
Bridgeport Town
Bristol Town
Cabot Town
Cabot Vlg
Calais Town
Cornwall Town
East Montpelier Town
Fayson Town
Fayston Town
Ferrisburg Town
Goshen Town
Graniteville
Granville Town
Hancock Town
Leicester Town
Lincoln Town
Marshfield Vlg
Middlebury
Middlesex Town
Monkton Town
Moretown Town
New Haven Town
Northfield Vlg
Orwell Town
Panton Town
Plainfield Town
Ripton Town
Roxbury Town
Salisbury Town
Shoreham Town
South Barre
Starksboro Town
Vergennes City
Waitsfield Town
Waltham Town
Warren Town
Weybridge Town
Whiting Town
Woodbury Town
Worcester Town
Beginnings< [1]
The Indians exercised practical jurisdiction overall the lands now included in Washington county till 1781 or 1782, when Thomas Mead made the first permanent white settlement in Middlesex, a mile or more below Montpelier. White men had, however, before that taken to themselves paper or parchment title — what Col. Orange Fifield would call " a paper front" if describing their invasion — to a good many acres.
Child, Hamilton, Gazetteer of Washington County, VT 1783-1889, Syracuse Journal, Syracuse NY, 1889
HISTORIC SITES
Allenwood Farm
Athenwood and Thomas W. Wood Studio
Barre Downtown Historic District
Colby Mansion
Currier Park Historic District
Davis, Parley, House
Gale-Bancroft House
Joslin Farm
Kents Corner Historic District
Leonard, Chauncey B. House
Mad River Valley Rural Historic District
McLaughlin Farm
Mill Village Historic District
Montpelier Historic District
Nichols House
Plainfield Village Historic District
Vermont Statehouse
Waitsfield Common Historic District
Waitsfield Village Historic District
Warren Village Historic District
Waterbury Village Historic District
Wood, Theodore, House
---