Barre City
Barre City Hall is located at 6 North Main Street, Barre, VT 05641.
Phone: 802-476-0240.
---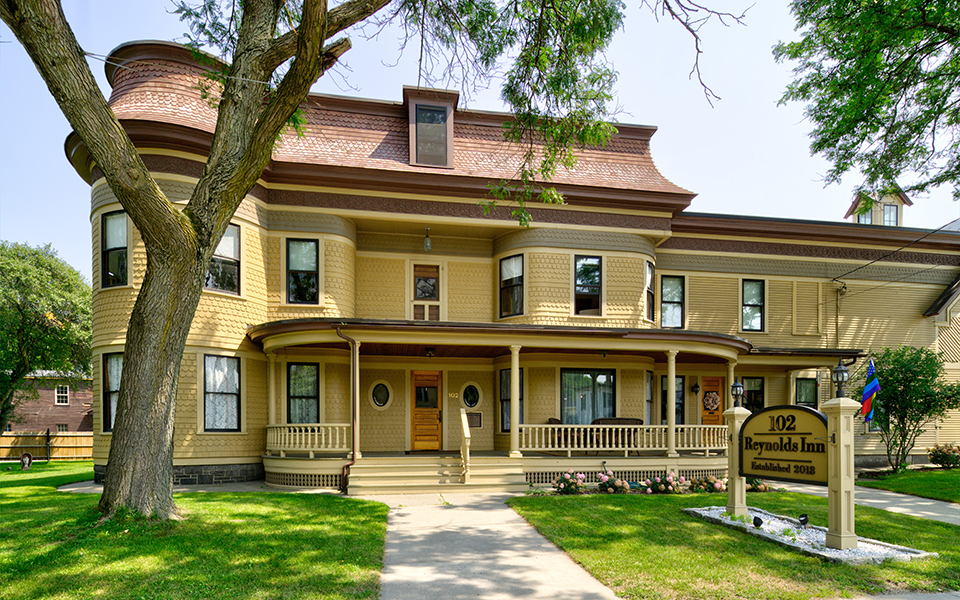 Photo: George J. Reynolds House, circa 1890s, located at 102 South Main Street, Barre. Listed on the National Register of Historic Places in 2020. Photographed by User: Kenneth C. Zirkel (own work), 2021, [cc-4.0], via Wikimedia Commons, accessed November, 2021.
---
Barre City [†], formed and separated out from Barre Town in 1895, is a community of four square miles and 8,500 residents located in Central Vermont. Our city developed and became known as the "Granite Center of the World" in the late-19th century when the arrival of the railroad in 1875 spurred the rapid growth of the granite industry. Between 1880 and 1890, Barre's population more than tripled as stoneworkers from around the world migrated here with their families. These skilled craftsmen extracted, cut, shaped, polished and sculpted our "Barre gray" granite into building materials, monuments and memorials that were exported around the country and world. The booming granite industry fueled the development of Barre City. As is the case with many American cities that relied on a single industry, our once vibrant community faced a challenging period of economic decline and stagnation when the granite industry began to contract in the mid-20th century.
Barre City is located at the junction of two valleys, carrying the Stevens and Jail Branches of the Winooski River. The Stevens Branch runs through our downtown, with the rail line and Route 302 sharing the relatively narrow valley. The valley floor is densely developed with residential neighborhoods extending up into the flat-topped, gently rolling hills surrounding downtown Barre City. To the north and west, where the terrain is steeper, the hillsides remain largely undeveloped and forested. The southwestern edge of the city has a more rural character, with farmland extending over the city line from a portion of Barre Town that remains largely agricultural.
Barre City is a 10-minute drive from both Exits 6 and 7 on Interstate 89, and is 15 minutes from Montpelier. U.S. Route 302, a major east-west route through New England brings travelers through downtown Barre City where the highway serves as our main street. These two access points in and out of the City allow for great flow of travelers to and from Barre. Vermont Rail runs through Barre City to Montpelier where it connects to New England Central Railroad. Many of our industrial properties abut the rail line and have the potential for rail service. The regional Knapp Airport is located four miles outside the city. There is public transit service linking Barre City to neighboring communities. The city's wastewater treatment plant has 900,000 gallons per day of uncommitted capacity, and our water treatment facility has nearly 2 million gallons per day of excess capacity.
Barre City continues its revitalization efforts for future growth and development, and we are actively working to encourage private investment in our city. We completed a $17.5 million reconstruction of North Main Street in 2011, that replaced the public infrastructure below and above ground in our downtown business district. This project was a complete face-lift for downtown Barre City and is the cornerstone of our revitalization plans. And it is working — only a few months after work was completed on North Main Street, construction of City Place which houses VTrans with a 15-year lease agreement, and rehabilitation of the Blanchard Block, that tenants include retail, medical and dental office, lawyers and accountants. Our successful pursuit of a TIF (tax increment financing) district in 2012 has made it possible for the city to fund other critical improvements downtown and keep our revitalization efforts moving forward.
† Barre City Council, 2020 City Municipal Plan, 2020, www.barrecity.org, accessed November, 2021.
Nearby Towns: Montpelier City •
---