---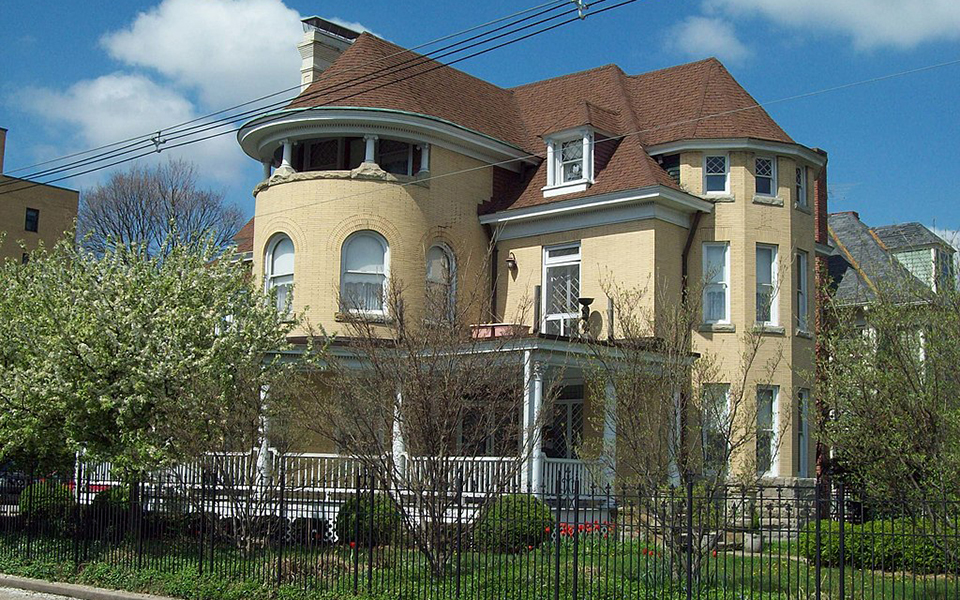 Photo: Smith-Giltinan House, circa 1888, located at 1223 Virginia Street East, Charleston, WV. Listed on the National Register of Historic Places in 2002. Photographed by User:Pubdog (own work), 2009, [cc-1.0] via Wikimedia Commons, accessed August, 2021. The house is located a block and a half east of the East End Historic District. It is within walking distance of the main business district of downtown Charleston, to the west. It is located in a neighborhood of large residences; many of which have been converted to commercial use, such as the Smith-Giltinan House. The yard has been heavily landscaped with trees and other plantings and a large fountain in the front yard. The rear yard consists of a small parking lot.
---
TOWNS
Belle Town
Cedar Grove Town
Dunbar City
East Bank Town
Glasgow Town
Handley Town
Jefferson Town
Marmet City
Nitro City
South Charleston City
St Albans City
The Kanawha County Courthouse is located at 407 Virginia Street East, Charlestown WV 25301; phone: 304-357-0100.
The county was created in 1789 from parts of Greenbrier and the former Montgomery Counties. The Kanawha (variously spelled Conoys, Conois) were a tribe of native Americans who once occupied the area.
The county once spread over one-third of the state; over the years land was lopped off to form 19 other counties, in whole or in part.
In 2000 Kanawha County had more than 10% of the population of West Virginia. Federal government projections predicted that share would fall to 6% by 2010.
Courthouse [1]
Kanawha County was formed by an act of the General Assembly of Virginia, effective October 1, 1789, from Greenbrier and Montgomery Counties. The new county covered an area of approximately 2,092 square miles, but did not have a courthouse in the county seat at Charlestown (Charleston). All necessary court proceedings were held in the home of William Clendennin at Fort Lee, site of the settlement of Charleston, until 1796. In that year the county acquired for George Alderson a lot where the first courthouse, a one-story log building, was erected. It served until 1817 when a brick, two-story edifice, 50 feet square, was built. This building was inadequate with the expansion of Charleston in the late 19th century and was torn down in two days time beginning on April 7, 1888.
County Commission President John S. Cunningham, and Commissioners W. S. Laidley and C.S. Young selected the plans of the Richmond, Virginia architectural firm of Shieff and Highnam for the new courthouse. The building was erected in 1892, at a cost of $153,000, in the Richardsonian Romanesque style and stood unaltered until 1917 when the Kanawha Street (Blvd.) addition was erected.
Collins, Rodney S., West Virginia Department of Culture and History, Kanawha County Court House, nomination document, 1978, National Park Service, National Register of Historic Places, Washington, D.C.
HISTORIC SITES
Abney-Alexander House
Barnes-Wellford House
Beeches, The
Bird Haven
Breezemont
Briarwood
Canty House
Cedar Grove
Charleston Downtown Historic District
Chilton House
Chilton, W. E. II, House
Clendenin Historic District
Cox-Morton House
Cox-Parks House
Craik-Patton House
Crawford-Gardner House
Dalgain
Danner-Fletcher House
Downtown Charleston Historic District
East End Historic District
Edgewood Historic District
Edwards William H. & William S., House
Elk City Historic District
Gilliland, William S., Log Cabin and Cemetery
Gilmore, Elizabeth Harden, House
Grosscup Road Historic District
Hansford, Felix G., House
Harriman, John, House
Holly Grove Mansion
Kanawha County Courthouse
Kanawha State Forest Historic District
Laidley-Summers-Quarrier House
Lee, Mattie V., Home
Littlepage Stone Mansion
Luna Park Historic District
MacFarland House
Malden Historic District
Maple Terrace Court and Walton Apartments
McAndrews-Gallaher House
Mohler, William E., House
Pratt Historic District
Shrewsbury, Samuel, Sr., House
Smith-Giltinan House
Spring Hill Cemetery Historic District
St. Albans Main Street Historic District
Starks, Samuel, House
Stoneleigh
Sunrise
Thomas-McJunkin-Love House
Weimer, James, House
West Virginia Capitol Complex
Wood, Col. Henry Hewitt, House
Young-Noyes House
---