Warning: include(/Library/kw/livingplaces.com/menu.html): failed to open stream: No such file or directory in /Library/WebServer/livingplaces.com/FL/Duval_County/Jacksonville_City.html on line 34

Warning: include(): Failed opening '/Library/kw/livingplaces.com/menu.html' for inclusion (include_path='.:') in /Library/WebServer/livingplaces.com/FL/Duval_County/Jacksonville_City.html on line 34

Jacksonville City
Jacksonville City offices are located at 117 West Duval Street, Jacksonville, FL 32202.
Phone: 904‑630‑1298.
---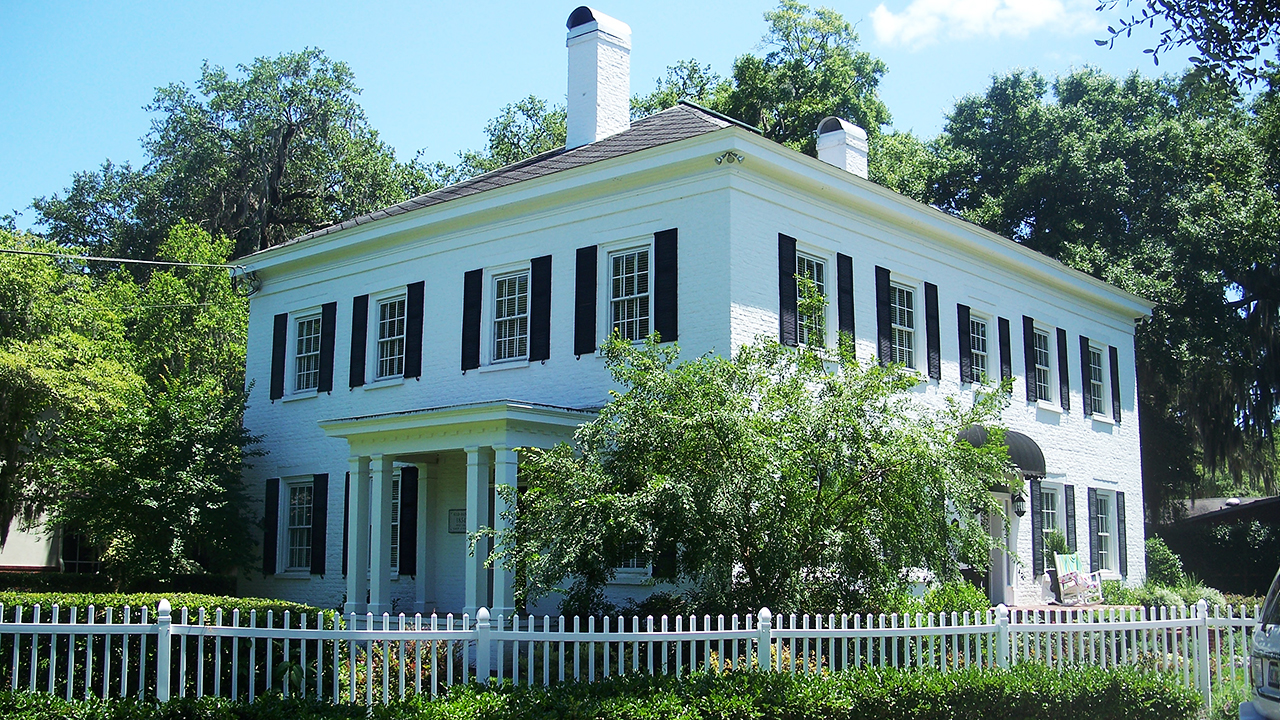 Photo:Red Bank Plantation House circa 1854, located 1230 Greenridge Road. Listed on the National Register of Historic Places in 1972. Photographed by wikipedia username:Ebyabe, 2-11, (own work) [cc-3.0], via Wikimedia Commons, accessed July, 2021.
---
Jacksonville as described in 1939 [1]
Jacksonville, the State's largest city and a leading commercial center of the South Atlantic seaboard, is sometimes referred to as a working son in the Florida family of playboys. It is in the northeast corner of the State, where the St Johns River turns eastward to the Atlantic. This broad stream divides Jacksonville from South Jacksonville, and dictates the layout of business and residential sections. Spanning the river is one of the Nation's largest vertical-lift bridges. A viaduct, branching west, leads above a web of railroad tracks to areas where landscaped estates extend to the water's edge. Eastward along the north bank, where the river twists into a lazy S, are five miles of wharves, terminating at municipal piers.
Neighborhoods
Aladdin Acres
Andover Place
Arbor Forest
Arrowwood
Ashton Hills
Autumn Glen Estates
Bayard
Baymeadows
Belle Rive
Beswick Island
Big Tree Townhomes
Boxwood at Baymeadows
Brawick
Brierwood
Brook Hollow
Brooklyn
Cameron Crossing
Carriage Crossing
Cayces Crossing
Cedar Glen
Centennial Towers
Centennial Townhouses
Clearwater Creek
Clearwater Oaks
Cormoran Creek Estates
Crown Point
Cumberland Forest
Cypress Bay
Danforth
Deer Park
Deercreek Country Club
Deerwood
Dixie Landing
Durkeeville
East Hampton
Eastisde
Englewood
Fountain Gate
Fox Chase
Fox Hill Farms
Foxwood Trails
Gateway
Georgetown Condos
Goodbys Creek
Granada
Grand Lakes
Greenland Estates
Greenland Hideaway
Hammacks of Oak Landing
Hammock Oaks
Hampton Chase
Hampton Glen at Deerwood
Hatton Chase
Hawks Landing
Heronview
Hideway at San Jose
Hillwood Condos
Hogan
Hogans Creek
Holiday Hill
Hood Landing Bluff
Hood Landing Pointe
Hood Road
Huguenot Park
Hunters Green
Huntington Forest
Indian Springs
Isle of Palms
Jeremys Landing
Johns Creek
Jullington Crossing
Jullington Forest
Jullington Landing
Kelnepa Drive
Killarny Shores
Lake Mandarin Garden
Lake Woodbourne
Lakemont
Lakewood
Larsen
Les Chenes
Linside at Baymeadows
Loretto Woods Court
Los Lagos Condos
Malald Cove
Mandarin Glenn
Mandarin Ridge
Mandarin Trails
Montreux
Moorings Condos
Moorings of San Jose
Moss RIdge
Murray Hill
North Brookside
North Springfield Heights
Oak Landing
Olde Mandarin
Oldefield Oaks
Oldfield Creek
Overlook COndos
Oxford Forest
Oxford Oaks
Pablo Bay
Pickwick Park
Pine Forest
Plummers Cove
Raintree
Ramsgate
Reedy Branch Plantation
Ridgewood
Rio Vista
Rivebrook at Glen Kernan
River Bay Plantation
River Enclave
River Oaks
Riverchase
Roosevelt Gardens
Rose Creek Condos
Royal Lakes
Sable Palms
Saddlebrook
San Jose Estates
San Jose Forest
Sans Souci
Secret Cove
Secret Harbor
Secret Woods
Shiloh Creek
Sienna Forest
Skylark RIdge
South Chase
South Riverside
South Shores
Southern Oaks
Southern Villas
Southwind Villas
Spring Park
Springfield Historic District
St Johns Quarter Historic District
St Josephs Landing
St Nicholas
Summer Field Crossing
Summer Have
Summer Lakes
Sutton Oaks
Sutton Place
Sweetwater
Sweetwater Creek
Tacito Creek
Tall Cypress Cove
The Gables
Tiffany Oaks
Timberlin Parc
Victoria Park
Village Green at Baymeadows
Walden Wood
Walnut Bend
Waterleaf
Waverly
Wilshire
Windy Hill
Woodland Forest
Woodland Station
Woodlands Station
Worthington Glen
Wyndham Forest
Wyngate Forest
Within four blocks of the city's palm-fringed square, ocean liners, banana boats, globe-girdling freighters, and occasionally noble four-masted schooners dock, and at the near-by fish house wharf, weather-beaten smacks and crab and shrimp boats discharge their cargoes. Purple flowering hyacinths clot the boat slips and basins, and out in midstream floating islands of them from the upper reaches of the river sail down to sea. A dozen or more streets of the business section, ending at the waterfront, afford a maritime vista of gleaming superstructures, towering spars, and wind-whipped flags of many nations.
Bay Street, paralleling the waterfront, was once a sandy trail lined with pine shacks. Despite paving and other attempts at modernization, the street retains much of the salty flavor that prevailed during the heyday of Jacksonville's river traffic. Here are the city's older commercial structures, and west of the bridge, where the street approaches the railroad terminals, is a succession of bars, pawnshops, and upstairs hotels. Few of these buildings have stood more than a third of a century, for the fire of 1901 swept away nearly all of this downtown area.
Rising from the waterfront is the modern business and shopping district, a six-block square area of metropolitan stores, lofty hotels, and office buildings that presents an impressive skyline. Yet within this section remain examples of once fashionable clapboard residences with dormer windows and rambling galleries supported by wooden columns, now converted into rooming and boarding houses. Many of their cramped yards are bright with jasmine, dogwood, and crape myrtle; flowering gardens edge brick walks, and coral vines and wisteria cover trellised nooks. Along some downtown streets evergreen oaks, camphor trees, and native palms relieve the stone and concrete backgrounds.
Plaques and tablets marking historic sites crop up unexpectedly on cornerstones and at street intersections. Mendicants are more plentiful than in tourist cities of Florida. Buses have replaced trolley cars, and an anti-noise campaign is responsible for the neon quiet sign that decorates overhead traffic lights.
The city is awakened each morning at 7 o'clock by Big Jim, a stentorian whistle atop the waterworks. It also proclaims the noonday respite, sounds again at five o'clock, and is a tocsin in times of disaster. The morning whistle is broadcast by a local radio station. This powerful, copper chime whistle was designed by John Einig and cast here in 1880 by James Patterson, for whom it was named. Funds for its manufacture were raised by public subscription through local labor unions, and it was donated to the city.
Main Street is a pioneer thoroughfare that marks the eastern boundary of the business area. Traversing residential districts on the outskirts, it runs between ramshackle buildings of faded brick and wood, threads a short neon-lighted stretch of chain stores, and halts amid a clutter of wharves and warehouses at the river. A boisterous street, its sidewalks are thronged far into the night, when the more sedate avenues adjoining are dim and deserted.
Jacksonville is a focal point of land, water, and air transportation in the South. A hundred passenger trains enter and depart daily in the winter season from the Union Terminal; 20 regularly scheduled commercial planes and numerous transient planes land every 24 hours at the municipal airport, and an average of 5 ocean-going and coastwise vessels tie up at the river piers during the same period. Three Federal highways converge at Jacksonville, and the greater number of tourists visiting the State pass through the city or remain overnight before scattering to resorts more typical of Florida's advertising literature. Twice each year — in early winter when the sun-trek South begins, and in early spring when the tourist exodus is under way — Jacksonville plays overnight host to more than half a million visitors. Shop windows display a limited amount of sporting togs, but local people do not wear whites in winter, although as near as St. Augustine, 40 miles south, this is the custom.
The city operates an educational project known as the Jacksonville Plan that has won wide repute. Through arrangements with employers and parents, pupils in the two upper classes at high school may enter various plants co-operating with the school. These apprentices, working 4 hours a day in a 5-day week, obtain practical training in chosen occupations under experts, but as the training is purely an educational project, the pupils receive no salaries.
The city has the a cappella choir of St. Johns Episcopal Church, the Friday Symphony Orchestra, and a Choral Guild of 300 voices. The Civic Music Association of more than 1,500 members offers a series of winter concerts.
In the literary field, George Dillon, a native, was awarded the Pulitzer prize in 1932 for his poem The Flowering Stone. Harriet Beecher Stowe wrote several accounts of the St. Johns River in the vicinity of Jacksonville, where she spent many winters after the War between the States, and Stephen Crane was a resident during 1896, soon after publication of his most successful novel, The Red Badge of Courage. One of his short stories, The Open Boat written here deals with his experiences in Florida. Prominent among the local Negro writers are Thomas H. B. Walker, author of Man without Blemish, and the late James Weldon Johnson, who wrote many books and memoirs and poetry, the best known being the Autobiography of an Ex-colored Man, and the lyrics of Lift Every Voice and Sing, a Negro anthem, nationally accepted, sung for the first time in Jacksonville, and written when he was principal of Stanton High School. His brother J.Rosamond Johnson, composer of many musical-comedy scores, and perhaps best known for his popular song, Under the Bamboo Tree spent the early years of his life in the city. Paul Laurence Dunbar and W.E. Dancer, Negro poets, were at one time Jacksonville residents.
The Florida Historical Society, originally organized in 1856, has for its objective the preservation of all material pertaining to the history of the State. The Society's library is in Jacksonville.
In 1816 Lewis Zachariah Hogans built a log cabin on his Spanish grant, overlooking the St. Johns River, and the field he tilled is now the heart of Jacksonville. In 1818, John Brady maintained a rowboat ferry across the river at the foot of present-day Liberty Street, where, years before, cattle were 'swum' across the stream. This ford had been named Wacca Pilatka (cows crossing over) by the Indians, but the spot was known as the Ferry of St. Nicholas by the Spanish who in about 1740 built Fort St. Nicholas on the south shore to guard the crossing. The English, however, called the settlement Cowford, a name that persisted until 1822.
Taking advantage of the ford, the Kings Road, built in 1765 and leading from St. Augustine to Georgia, crossed the river at this point. Fort St. Nicholas was burned in 1812 by the Patriots of Florida during their operations against St. Augustine.
Upon the purchase of Florida by the United States in 1821, order was restored in the province by General Andrew Jackson, Territorial Governor. A section of Cowford on the north bank of the St. Johns River, platted in 1822 by Isaiah D. Hart, his brother Daniel, and Zachariah Hogans, was given the name of Jacksonville in honor of Florida's governor, although the nearest Jackson ever came to the town was the Suwan-nee River. Streets were laid out and named, but it was eight years before the town claimed a population of 300. The city was incorporated in 1832, but the charter was repealed in 1840, and until a new one was drawn 11 months later, Jacksonville was without a city government.
The first newspaper, the short-lived Courier, appeared in 1835 with a sentimental poem occupying the first column. Several proposed railroads were incorporated, and although none was built, the town developed rapidly as a market for cotton and naval stores, and with the introduction of the steam sawmill, lumber became an important industry.
The Seminole War followed a series of Indian depredations that terrorized the Jacksonville area. Business was paralyzed, and to crown the succession of disasters, a freeze in 1835, with the mercury dropping to 7° above zero, killed the orange groves of the St. Johns River section. At the end of the war in 1842, a 20-year period of prosperity ensued. Steamship lines inaugurated weekly services to Savannah and Charleston, and as far up the St. Johns as Enterprise. The harbor, crowded with schooners loading longleaf yellow pine for domestic and foreign markets, was described as resembling a forest of towering masts, and Bay Street, with its bars, gambling houses, and dance halls, patronized by roistering, hard-bitten seafarers, became almost as notorious as San Francisco's Barbary Coast.
While transportation by water flourished, a visitor stated that he saw only two vehicles in the city, a dray and a secondhand hearse, each pulled by aged mules and driven by a Negro. In 1851 the State legislature authorized the construction of a plank toll road between Jacksonville and Lake City, then known as Alligator. Prior to the building of a railroad to that point, the sole means of transportation between Jacksonville and the State capital at Tallahassee was by stage, a four-day journey.
At the outbreak of the War between the States, although having many wealthy northern citizens, Jacksonville sympathies were largely with the South, and when the State joined the Confederacy the local light infantry was first to offer its services. Blockade runners made the city a base. On four separate occasions Jacksonville was occupied for brief intervals by Union forces. Upon withdrawal of the northern troops in 1863, refugees returning to the city found their homes burned, trenches instead of streets, and outlying farms desolate. All ferry and dock facilities were destroyed; there was no commerce, no currency, no river transportation. At one time, according to the report of a Union officer, the town had less than two dozen inhabitants. During the Reconstruction period, however, Jacksonville grew into a popular winter-resort city. The first theater and several large hotels were built. The St.James, referred to as the Fifth Avenue Hotel of Florida, opened in 1869, and 14 years later the first electric lights in the State were installed on the premises—8 in the lobby and 8 outside. Population in 1870 reached 6,912, an increase of 300 per cent in a decade.
It was during this period that newspaper ventures showed signs of permanency, and predecessors of the two present Jacksonville dailies were established. The early 1880's marked progress in the development of the port of Jacksonville, when the channel was deepened and jetties built at the mouth of the river, an undertaking aided by Federal funds and supervised by Government engineers. The volume of river traffic soared; by 1885 upwards of 74 vessels were in port service, accounting for an annual business of $2,000,000. The peak value of bottoms and cargoes was estimated in excess of $38,000,000.
It was not until 1883 that a railroad began operation southward from the city. This was a narrow gauge line with a terminal on the south shore of the St. Johns River, running a daily combination passenger and freight train to St. Augustine. Until the completion of a bridge in 1890, passengers from Jacksonville and northern points were ferried across the river.
Prior to the Spanish-American War, Jacksonville became a refuge for many Cuban exiles. Filibustering vessels, among them the tugboat Three Friends, repeatedly smuggled arms and men into Cuba, eluding U.S. Revenue cutters and Spanish cruisers. Upon declaration of war, 40,000 American troops encamped near the city, and the river was mined as a precaution against raids by enemy gunboats.
The city's greatest catastrophe, the fire of 1901, swept an area of 148 blocks, destroyed 2,368 buildings and left 9,000 homeless; but upon the devastated area a new Jacksonville was built, and within a decade more than $25,000,000 had been expended to replace the burned structures. Rebuilding followed sounder standards of design and construction. The city is predominantly one of single-family frame dwellings and there is an absence of the hybrid type of architecture known as Florida-Mediterranean.
Federal Works Agency, Works Progress Administration, Federal Writers' Program, Florida: A Guide to the Southernmost State, American Guide Series, Florida Department of Public Instruction, 1939.
---

Warning: include(/Library/kw/livingplaces.com/footer.html): failed to open stream: No such file or directory in /Library/WebServer/livingplaces.com/FL/Duval_County/Jacksonville_City.html on line 299

Warning: include(): Failed opening '/Library/kw/livingplaces.com/footer.html' for inclusion (include_path='.:') in /Library/WebServer/livingplaces.com/FL/Duval_County/Jacksonville_City.html on line 299