Rockland County, New York
The Rockland County Courthouse is located at 1 South Main Street, New City NY 10956; phone: 845‑638‑5000.
---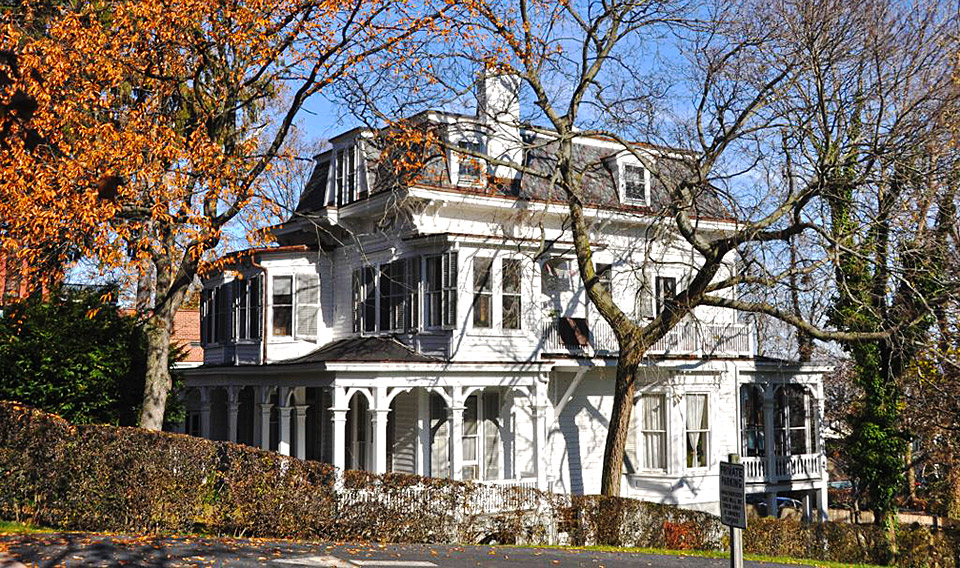 Photo: Carson McCullers House, circa 1880, located at 131 South Broadway, South Nyack. Listed on the National Register of Historic Places in 2006. Photographed by wikipedia username: Magicpiano own work, 2012, [cc-3.0], accessed September, 2022.
---
TOWNS
Chestnut Ridge Vlg
Hillburn Vlg
Kaser Vlg
New Square Vlg
Nyack Vlg
Pomona Vlg
Sloatsburg Vlg
South Nyack Vlg
Spring Valley Vlg
Stony Point Town
Upper Nyack Vlg
Wesley Hills Vlg
West Haverstraw Vlg
Beginnings [1]
Rockland was formed from Orange County February 23, 1798. It is about 208 square miles, some 105 miles south of Albany. The county seat is New City, a hamlet within the Town of Clarkstown. The first settlers were Dutch who came in numbers from 1690-1710 and located in what is now the southeastern part of the county. Among them were Captain Cornelius Cuyper, Captain Cornelius Harring, Johannes Meyer, Gerhardus Clowes, Derrick Straat, Jacobus Swartnot, Jonathan Ross, Thomas Pulling, John Gaile, Cornelius Smith, Jacob King, William Kurtrack, John Ellison, Rinear Kisarike, Colonel Vincent Mathews, Hendrick Ten Eyck and Guylbery Crom, and others.
Located 15 miles (24 km) northwest of Manhattan, Rockland County [2] is designated as a Preserve America Community, and roughly one-third of the county is parkland. he county has the largest Jewish population per capita of any U.S. county, with 31.4%, or 90,000 residents, being Jewish.
French, J.H., Gazetteer of the State of New York: Embracing a Comprehensive View of the geography, Geology, and General History of the State ..., Ira J. Friedman Inc., Port Washington, NY 1860
www.ny.gov/counties/rockland, accessed September, 2022.
HISTORIC SITES
Big House
Blauvelt House
Cliffside
Closter Road-Oak Tree Road Historic District
Concklin, Abner, House
De Wint House
Dederer Stone House-Stonehurst
Fraser-Hoyer House
Garner, Henry, Mansion
Haddock's Hall
Haring-Eberle House
Homestead
Hopper, Edward, Birthplace and Boyhood Home
Hopson-Swan Estate
Little House
McCullers, Carson, House
Neiderhurst
Onderdonk House
Peck, Henry M., House
Perry, Jacob P., House
Rose, William H., House
Ross-Hand Mansion
Salyer, Edward, House
Salyer, Michael, Stone House
Seven Oaks Estate
Sloat House
Sloat, Jacob, House
Stevens, H.R., House
Tappan Historic District
Terneur-Hutton House
Torne Brook Farm
Van Houten's Landing Historic District
Washington Spring Road-Woods Road Historic District
---