Doylestown Borough
Doylestown Borough municipal offices are located at 57 West Court Street, Doylestown PA 18901.
Phone: 215‑345‑4140.
---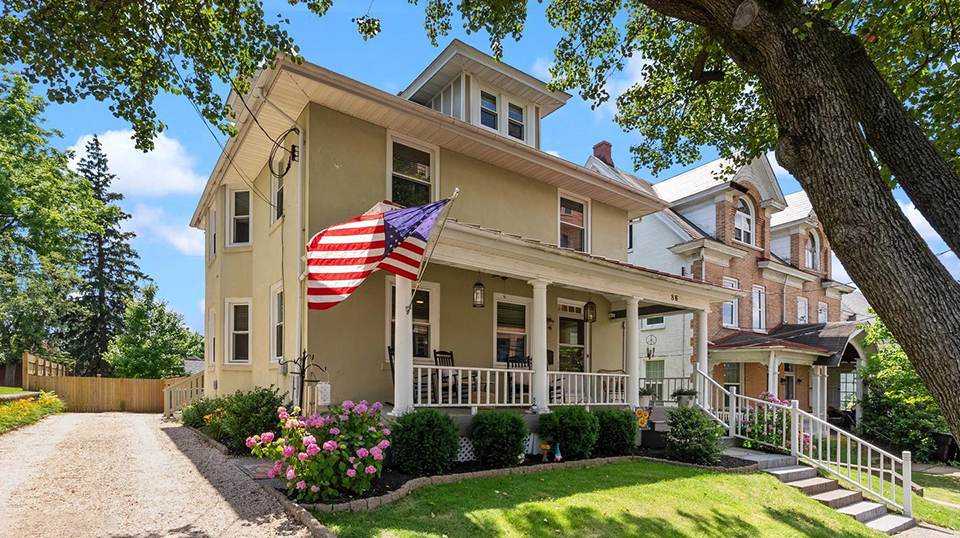 Photo: The "Center of Town" (Main and State Steets, Doylestown) wikipedia username:Dough4872, own work, 2017, [cc-3.0], via wikimedia commons, accessed August, 2022.
---
Neighborhoods
Barnes Court Condos
Doylestown Pointe
Hamilton Square
Bucks County Courthouse is located at 55 East Court Street, Doylestown PA 18901; phone: 215-348-6000. The borough is part of the Central Bucks School District. Its library is the headquarters and main branch of the Bucks County Library network. There are a dozen, distinct residential neighborhoods throughout the borough, with homes of most types; among the neighborhoods are found residences that were built in virtually every decade of the 18th through the 21st centuries.
The economy, history and cultural aspects of Doylestown cast a large and valuable shadow across the small (population approximately 9,000 as of 2008) borough's streets and alleys. Boutiques, restaurants, museums, bookstores, and myriad other commercial and places of culture one would not expect to find in such a compact place roughly 30 miles from Center City Philadelphia. Novelist James A. Michener considered Doylestown to be his home. Anthropologist Margaret Mead lived for a time on Court Street in the Borough.
Doylestown has a fair number of properties that have been listed on the National Register of Historic Places, most of which are documented separately on the site — follow these links:
The Fountain House has been the center of Doylestown life for over 200 years. Of the early taverns (seven in number) it is the oldest and the only one now standing. William Doyle built the first section of the tavern in 1758 and successive owners and taverns occupied the House for 175 years until the 1960s.
The James-Lorah House ... "has been a center of public service with its history of law, medicine, religion, music, and literature," — Fred A. Martin, A.I.A., Doylestown architect and historian.
Fonthill gains its fame as the home of the noted archeologist and anthropologist, Dr. Henry C. Mercer who was noted for (among other accomplishments) his collection of rapidly vanishing artifacts of the pre-industrial Pennsylvania crafts and household utensils.
The Mercer Museum is home to the Bucks County Historical Society and the Spruance Library; 84 South Pine St, Doylestown PA 18901; phone: 215-345-0210. Built in 1916, the museum is also a National Historic Landmark. It is essentially a museum of pre-industrial American tools, trades and crafts, the vision of Dr. Mercer.
The Francis B. Shaw Block Historic District was a section of Shaw's "Underhill Farm" until 1830 when it was divided into building lots.
Located just outside the Borough limits, in Doylestown Township, is The Oscar Hammerstein House; it accurately reflects its period of significance: the twenty years during his ownership when he wrote his most popular and influential works here. The nineteenth century house was renovated under the direction of Oscar and Dorothy Hammerstein.
Nearby Towns: Buckingham Twp • Chalfont Boro • Doylestown Twp • Dublin Boro • Montgomery Twp • New Britain Boro • New Britain Twp • Plumstead Twp • Warwick Twp •
---