East Lampeter Township
East Lampeter municipal offices are located at 2250 Old Philadelphia Pike, Lancaster PA 17602.
Phone: 717‑393‑1567.
---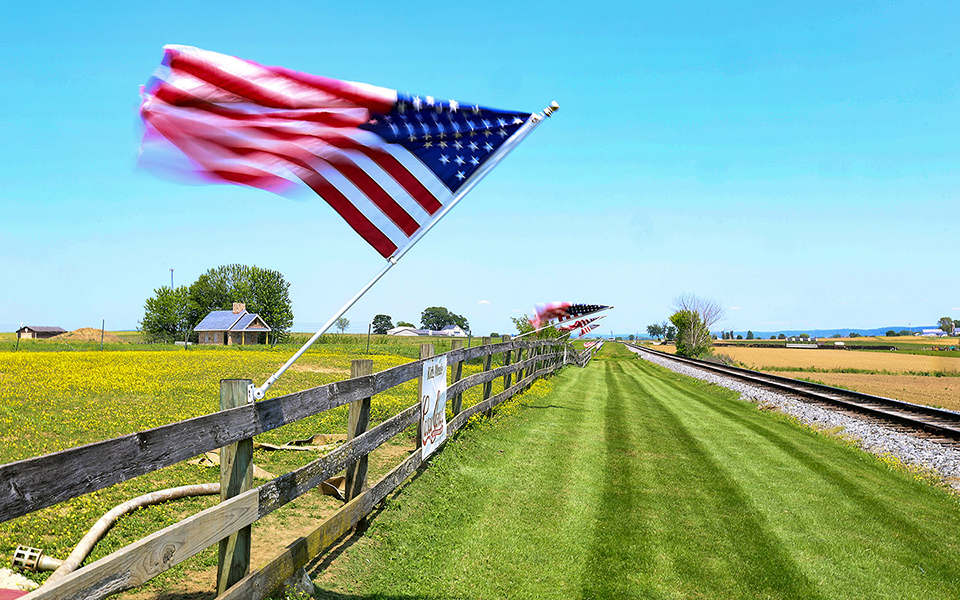 Photo: A patriotic expression along the Strasburg Railroad Track (May, 2023) in East Lampeter Township. Copyright © by Philip "Flip" Krugler flipspix.smugmug.com.
---
Neighborhoods
Bentley Ridge
Brook Farms
Brookfield
Country Meadows
Creek Hill
Cripple Creek Estates
Devon Creek
Dorothea Park
East Pointe
Eastland Hills
Eastwood Village
Eden Manor
Fairfield Acres
Falls at Olde Mill
Fertility
Gordonville
Greenfield Estates
Greenland
Hamlet at Bird in Hand
Hartman Station
Harvest Meadows
Highland Acres
Holland Heights
Hornig
Horseshoe Heights
Kolbacre Ridge
Lap Ridge East
Leaman Acres
Lynwick Village
Mallard Landing
Meadow Ridge
Meadows of Highland
Millcross Estates
Oak View Village
Pine View Place
Prospect Gardens
Regents Park
Smoketown
Soudersburg
Southridge Farm
Stumpf Hill Estates
The Crossings
The Oaks
Walcroft
Waterford
Waterfront Estates
Willow Acres
Winding Oaks
Witmer
Zooks Corner
Beginnings [†]
Lampeter Township, one of Lancaster County's original townships, was divided in 1841 into East and West Lampeter Townships by a line running almost from southeast to northwest. East Lampeter has long been known for its excellent farms. Its fertile limestone soil, well-watered by local creeks, early attracted settlers who were English, Welsh, German-speaking and Huguenots. The soil was of particular interest to the Amish farmers; their many descendants still carry on farming to this day. Crops by the late 19th-century included wheat, corn, potatoes and, to a large extent, tobacco. Dairying was also important. There were early mills and craftsmen in the area, later some small businesses and light industry. The township was described in 1883 in Ellis and Evans, History of Lancaster County, Pennsylvania: "East Lampeter is one of the most populous and wealthy townships in the County. It has not great beauty of landscape ... but for richness of soil and general good character of its people, it is unsurpassed by any other township in the County." [‡]
† David B. Schneider and Gloria O. Becker, Ph.D., Historic Preservation Trust of Lancaster County, Bird-in-Hand Hotel (Village Inn of Bird-in-Hand and/or Rhoad's Hotel, East Lampeter Township, Lancaster County, PA, nomination document, 1992, National Park Service, National Register of Historic Places, Washington, D.C.
Nearby Towns: Akron Boro • East Petersburg Boro • Ephrata Twp • Lancaster City • Lancaster Twp • Lititz Boro • Manheim Twp • Millersville Boro • Pequea Twp • Strasburg Boro • West Lampeter Twp •
---