---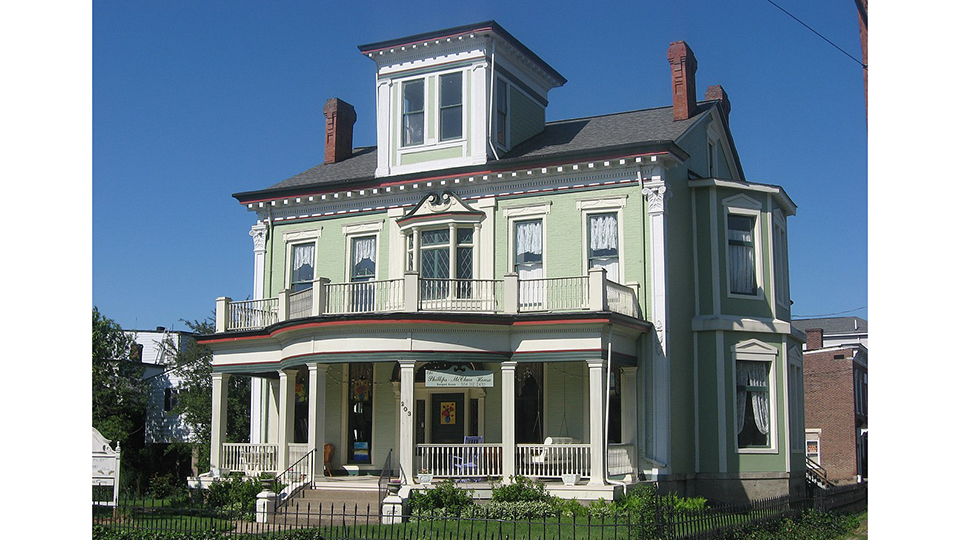 Photo: John McLure House (Hans Phillips House, Lawrence Sands House, Daniel Zane House), ca. 1853, located at 203 South Front Street (Island Historic District), Wheeling, WV Listed on the National Register of Historic Places in 1991. Photographed by User:Nyttend (own work), 2013, [cc-by-1.0 ], via Wikimedia Commons, accessed June, 2021.
---
TOWNS
Ohio County administrative offices are located at 1500 Chapline Street, Wheeling, WV 26003; phone: 304-234-3628.
The county was formed in 1776 while still a part of the State of Virginia. It is named for the Ohio River which forms its western boundary.
HISTORIC SITES
Burkham, Isaac, House
Carter Farm
Centre Market Square Historic District
Chapline Street Row Historic District
East Wheeling Historic District
Edemar
Elm Hill
Feay, Rachel, House
Fischer-Lasch Farmhouse
Franzheim, Harry C. and Jessie F., House
Good, L. S., House
Hazlett, Robert W., House
Highland Park Historic District
Lang-Hess House
List, Henry K., House
McKinley, Johnson Camden, House
McLure, John, House
Monroe Street East Historic District
National Road Corridor Historic District
North Wheeling Historic District
Ogden, H. C., House
Purcell, James, House
Reed's Mill and House
Russell, Charles W., House
Shields, Dr. Thomas K., House
Springer, Benjamin, House
Stewart, David, Farm
Thompson, Josias, House
Tiernan, William Miles, House
Weiss, Herman A., House
Wheeling Historic District
Wheeling Island Historic District
Wheeling Warehouse Historic District
Whitham, George D., House
Woodridge
Woods, Robert C., House
Woodsdale-Edgewood Neighborhood Historic District
---