Wheeling City
Wheeling City Hall is located at 1500 Chapline Street, Wheeling, WV 26003.
Phone: 304‑234‑3617.
---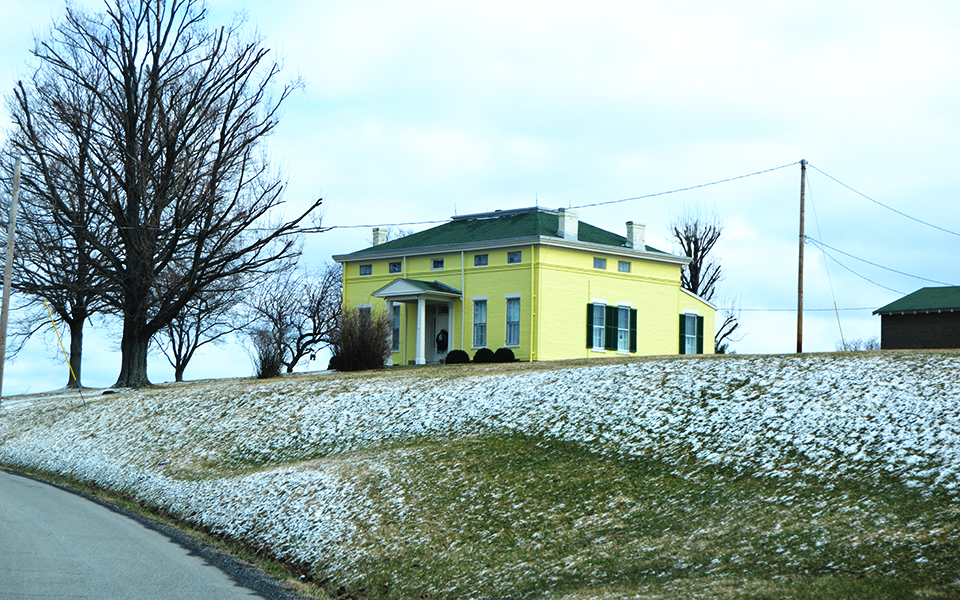 Photo: Carter Farmhouse, circa 1898, located on Boggs Hill Road. Listed on the National Register of Historic Places in 1983. Photographed by User:Nyttend (own work), 2015, via Wikimedia Commons, public domain, accessed July, 2022.
---
Established as a town in 1795, Wheeling was incorporated in 1836.
Neighborhoods
Centre Market Square Historic District
Edgwood
Elm Grove
Fulton
Leatherwood
Park VIew
Pleasant Valley
Wheeling Historic District
Wheeling Warehouse Historic District
Woodsdale
Woodsdale-Edgwood Neighborhood Historic District
Beginnings [1]
The first white men came to Wheeling in the l 740's claiming the Ohio River and its watershed for France. The first permanent settler, Ebenezer Zane, arrived in 1769 and built his cabin in the area that is now Wheeling. Other early settlers included the Tomlinson's, The Shepherds, the Wetzel's and the Van Meters. Most of these settlers originated from what is now West Virginia's Eastern Panhandle. While still part of Virginia, this area became the chief industrial and commercial center of northwestern Virginia and served briefly as the capitol of a restored Virginia government. After becoming the separate state of West Virginia, Wheeling served twice as the capital city of the state.
From the beginning, the Ohio River has been the dominant factor in nearly every aspect through Wheeling's history. Transportation on the Ohio River was the focus of growth of Wheeling from a small settlement to a prominent place in industry, commerce and politics. Access by land was dangerous and slow. The original road, Nemacolin's Trail, was followed by a toll road constructed by Ebenezer Zane who received congressional authorization to build a "wagon road" in 1796. The National Road, planned by western expansionists, was completed in 1818 and was one hundred forty-two miles long and had toll booths every fifteen miles. The arrival of the National Road brought with it more settlers and industry and resulted in the construction of a bridge across the Ohio River from Wheeling to Wheeling Island to alleviate the long wait for ferry transportation across the river. The Wheeling Suspension Bridge opened in 1849 and was the first bridge to span the Ohio River. The bridge was blown down in a violent storm in 1854 and was rebuilt in 1856. The 1010 foot long span was the longest suspension bridge in the world at the time of its construction.
During this time period the Baltimore and Ohio Railroad from Cumberland, Maryland, to Wheeling, by way of Fairmont and Grafton was completed in 1852. The completion of this long awaited line was called the "Marriage of the East and West" because it was the first continuous railroad between the Atlantic Ocean and the Ohio River. With this additional avenue of transportation, Wheeling industry began to boom.
Michael Gioulis, Historic Preservation Consultant, Wheeling Warehouse Historic District, Ohio County, WV, nomination document, 2002, National Park Service, National Register of Historic Places, Washington, D.C.
---