Cape May government offices are located at 4 Moor Road, Cape May Court House, NJ 08210 (Middle Township); phone: 609‑465‑1000.
---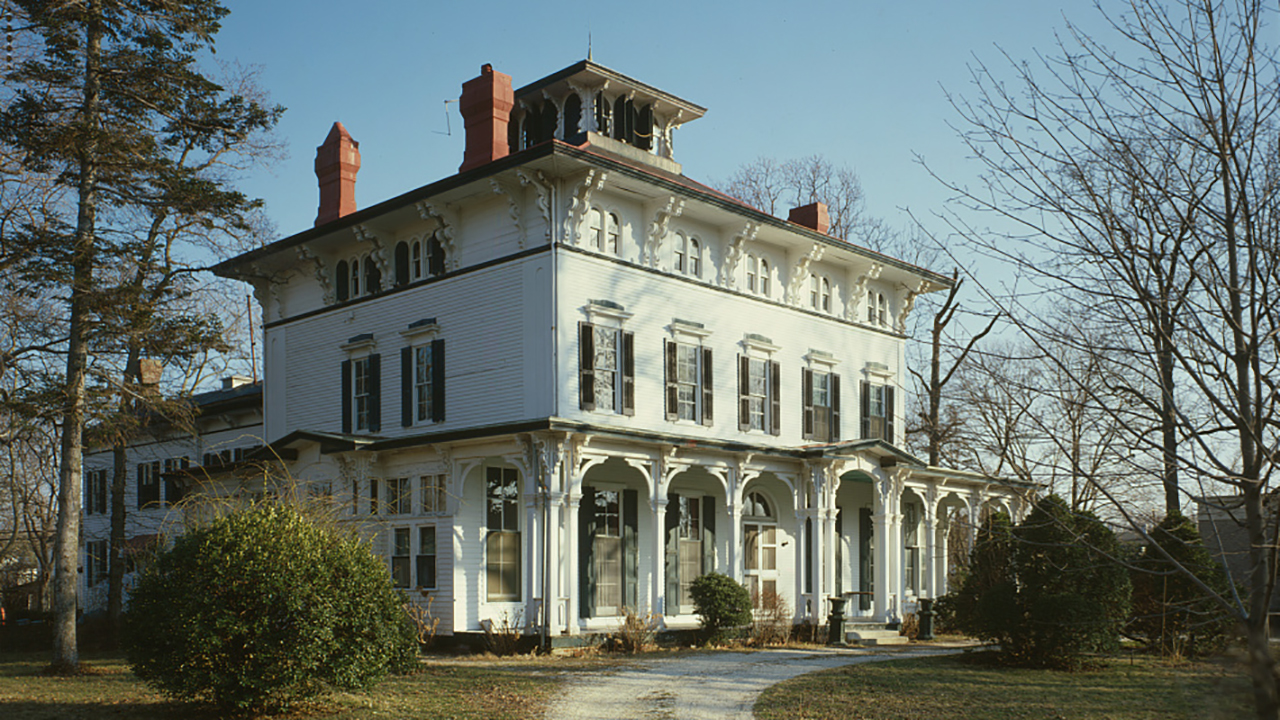 Photo: George Allen House, circa 1860, located at 720 Washington Street, Cape May, NJ. Photographed by Jack Boucher, not dated, Historic American Buildings Survey [HABS NJ-945], memory.loc.gov, accessed November, 2015.
---
TOWNS
Cape May Point Boro
North Wildwood City
West Cape May Boro
West Wildwood Boro
Woodbine Boro
See also:
Cape May County is about 260 square miles of area (excluding water bodies) forming the southern tip of New Jersey. It is a peninsula bounded by the Atlantic Ocean, the Delaware Bay, two rivers, and the Great Egg Harbor Inlet. Distances from: Philadelphia, 80 miles; Washington D.C., 130 miles; New York City, 150 miles.
Native Lenni Lenape Indians first saw European settlers in the person of Cornelius Mey (Cape May namesake), ca. 1623. Whales were plentiful and whaling settlement was formed ca. 1640 in what is now Lower Township. Up though the American Revolution the county was essentially a territory of spread-out fishing villages. Whale population began diminishing two decades before the Revolution, and through the next 100 years Cape May farmers were the primary economic engine. The Cape May County Comprehensive Plan (2002) details what happened next ...
" The County's first resort, Cape May City (Cape Island until 1869) was known as a resort destination since 1800, but experienced considerable growth during this period. Nearby in 1875, Sea Grove, later to be named Cape May Point, began as a summer religious retreat. In 1879, Ocean City was founded by four ministers as a family resort. Sea Isle City, Wildwood (Holly Beach), North Wildwood (Anglesea), and West Cape May followed in 1885. In 1887, Avalon was founded by a land development company. Woodbine, atypical of the resort development trends of the time, was established in 1891 as an agricultural settlement for Russian Jews fleeing persecution in their homeland. Late comers in the line of family resorts included Wildwood Crest, incorporated as a Borough in 1910, and Stone Harbor which was laid out in 1914. Mainland sections, developed later as alternative resort areas, include North Cape May and the Villas in Lower Township (approximately 1927), and Rio Grande in Middle Township (throughout the 1940's). "
HISTORIC SITES
Cape May Historic DistrictCape May Historic District
Dennisville Historic DistrictDennisville Historic District
Ocean City Residential Historic DistrictOcean City Residential Historic District
Marshallville Historic DistrictMarshallville Historic District
South Tuckahoe Historic DistrictSouth Tuckahoe Historic District
Avalon Life Saving Station
Baker, J. Thompson, House
Beesley, Thomas, Jr., House
Beesley, Thomas, Sr., House
Coachman, Owen, House
Corson, John, Jr., House
Falkinburg, Joseph, House
Gandy, John Wesley, House
Hildreth, George, House
Holmes, John, House
Leaming, Thomas, House
Ludlam, Henry, House
Ludlam, Thomas Jr., House
Pyne, Jonathan, House
Reeves--Iszard--Godfey House
Townsend, William S., House
Whilldin-Miller House
Wiley, Dr. John, House
---