Salt Lake County, Utah
The Salt Lake County Government Center is located at 2001 South State Street, Salt Lake City UT 84190; phone: 801-468-3531.
---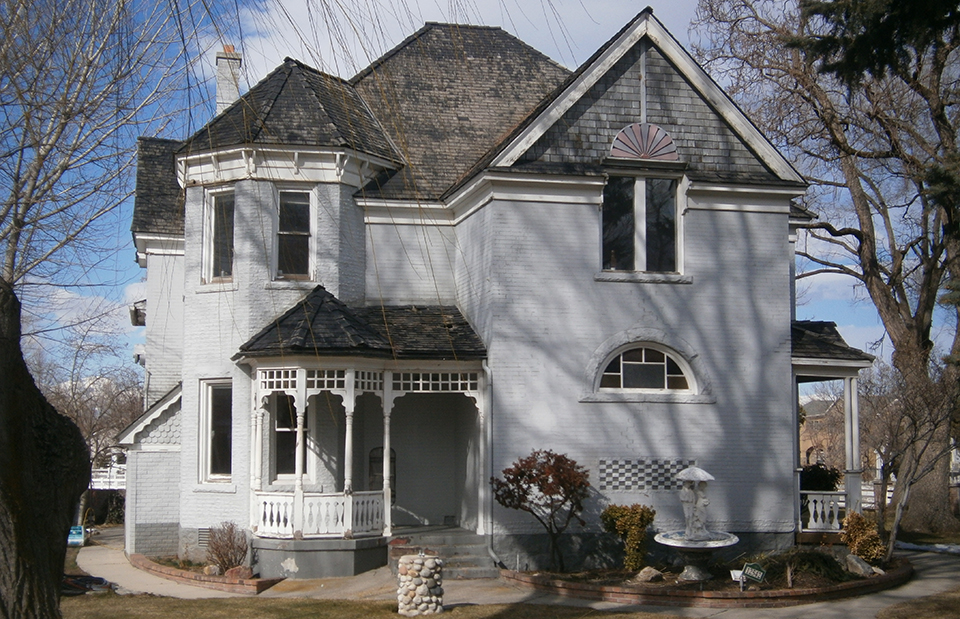 Photo: Reid Beck House, circa 1899, located at 12542 South 900 East, Draper, UT. Listed on the National Register of Historic Places in 2012. Photographed by User:Ntsimp (own work), 2013, [public domain], via Wikimedia Commons, accessed September, 2021.
---
TOWNS
Alta Town
Emigration Canyon Twp
Herriman Town
Kearns Twp
Midvale City
South Salt Lake City
West Valley City
White City
Beginnings
Prior to Utah statehood in 1850, what are now the county and city of Salt Lake were well-developed. Salt Lake City was the capitol of the "Utah Territory" and became the seat of Utah County which was formed in 1897.
In 2001 the county changed it's governing structure and is now ruled by a mayor with a 9-member County Council.
Prior to the arrival of the Mormons, Shoshone, Ute, and Fremont Indians variously claimed areas of Utah for fishing, hunting and gathering.
The county's primary posture of agriculture in the Brigham Young days, has given way to a new economy that finds cities and suburbs spread across much of Salt Lake County.
HISTORIC SITES
Allen, J. R., House
Allsop-Jensen House
Anderberg, Thomas & Beda, House
Anderson, Alfred C. and Annie L. Olsen, House
Anderson, Charles M. and Fannie M. Allsop, House
Anderson, Frederick C. and Anna, House
Anderson, John A., House
Anderson, Y. Martin and Hannah Nelson, House
Anne P. Marriott House
Anselmo, Fortunato, House
Arbuckle, George, House
Armista Apartments
Armstrong, Francis, House
Ashby Apartments
Avenues Historic District
Baldwin, Charles, House
Baldwin, Nathaniel, House
Bamberger, Simon, House
Beattie, Jeremiah, House
Beehive House
Beer, William F., Estate
Beesley, Ebenezer, House
Benworth-Chapman Apartments and Chapman Cottages
Bertolini Block
Best-Cannon House
Bigelow Apartments
Brady-Brady House
Brinton, David B., House
Brinton-Dahl House
Broadway Hotel
Butler-Wallin House
Butler-Wallin House
Cahoon, John P., House
Cannon, George M., House
Capitol Hill Historic District
Casto, Santa Anna, House
Centennial Home
Central City Historic District
Central Warehouse
Cheesman, Morton A., House
Christopherson, William, House
City Creek Canyon Historic District
Clark, Isaac C. and Dorothy S., House
Cluff Apartments
Cohn, Henry A. and Tile S., House
Copperton Historic District
Cornell Apartments
Corona Apartments
Covey, Almon A., House
Covey, Hyrum T., House
Cramer House
Culmer, William, House
Cummings, Byron, House
Cushing, Arthur and Ellen, House
Cushing, Ernest and Sadie, House
Cushing, James and Maria Long, House
Daft Block
Dansie, George Henry, Farmstead
David McDonald House
Deaconess, Davis, Home
Devereaux House
Dininny, Harper J., House
Dinwoody, Henry, House
Dobbs, Emma Olive, House
Dowding, Hannah Nash, House
Dowding-Rasmussen House
Draper-Steadman House
Evergreen Avenue Historic District
Exchange Place Historic District
Fairbanks, J. Leo, House
Farrer, Benjamin and Jane Cook, House
Farrer, John William, House
Fisher, Albert, Mansion and Carriage House
Fitzgerald, Perry and Agnes Wadsworth, House
Fritsch, J. A., Block
Gardner Mill
Gardner, Archibald R. and Violet Clark, House
Garside-McMullin House
Gibbs-Thomas House
Gilmer Park Historic District
Graves, Riley H. and Sarah Ann Russell, House
Green, Alvin and Annie, House
Hall, Nels G., House
Hansen, Nephi J., House
Hardcastle, Orlando H. and Emma H., House
Harris Apartments
Hawarden
Hawk, William, Cabin
Henderson Block
Hepworth, Thomas and Mary, House
Highland Park Historic District
Hills, Lewis S., House
Hintze-Anders House
Hintze-Anders House
Hollywood Apartments
Holman, Abba R., Block
Holt, Samuel and Geneva, Farmstead
Ivanhoe Apartments
Jacobson, Hyrum and Selma Erickson, House
Jensen, Amos and Ida, House
Jensen, James B. and Ellen May Cushing, House
Jensen, Joseph F. and Isabelle, House
Jensen, Michael, House
Jensen-Clark House
Jensen-Jensen House
Johnson, David and Hattie S. Rasmuson, House
Johnson, John A. and Annie C. Olsen, House
Jordan High School
Jordan School District Administration Building
Judd, John W., House
Kahn, Emanuel, House
Karrick Block
Kearns, Thomas, Mansion and Carriage House
Kearns-St. Ann's Orphanage
Keith, David, Mansion and Carriage House
Kelly, Albert H., House
Kelly, John B., House
Keyser-Cullen House
Landenberger, John C. and Mary, House
Langton, James and Susan R., House
Lewis, Dr. David and Juanita, House
Lincoln Arms Apartments
Livingston, William and Annie, House
Lollin Block
Louis E. and Florence Jensen Van Dam House
Luce, Henry, House
Lyne, Walter C., House
Mabry-Van Pelt House
Magna Downtown Commercial Historic District
Malin, Millard F., House
Mattson, John and Mary, House
McAllister,James G., House
McCune, Alfred W., Mansion
McDonald, David, House
McIntyre House
McLachlan, William, Farmhouse
McRae, Joseph and Marie N., House
Meek, Benjamin and Olivia, House
Meyer, Frederick A. E., House
Mickelsen, Joseph E. and Mina W., House
Mickelson, Hyrum and Mary A. Terry Peterson, House
Mitchell, Alexander, House
Morris, Richard Vaughen, House
Morton A. Cheesman House
Murray Downtown Historic District
Murray Downtown Residential Historic District
Nelden, William A., House
Nelson, August M. and Mabel Jensen, House
Nelson, Nels A., House
Nelson-Beesley House
Neuhausen, Carl M., House
Oakwood
Oldham, John and Elizabeth Brown, House
Orem, Frank M., House
Orton-Malstrom House
Ostler, John Thomas and Myrtle Bodell, House
Parmley, Mary Ellen, House
Pearsall, Clifford R., House
Perkins Addition Streetcar Suburb
Peterson, Charles, House
Pierson, Peter and Ingrid C. Larson, House
Platts, John, House
Price, Lorenzo and Emma, House and Barn
Pugh, Edward, House
Ramsey, Lewis A., House
Riverton Historic District
Royle, Jonathan C. and Eliza K., House
Rumel, Eliza Gray, House
Salt Lake City East Side Historic District
Salt Lake City Northwest Historic District
Sandy City Bank
Sandy Co-Op Block
Sandy Historic District
Sandy LDS Stake Recreational Hall
Sandy Second Ward Chapel
Sandy Tithing Office
Santa Anna Castro House
Sarah Daft Home for the Aged
Smith Apartments
Smith, Albert, House
Smith, George Albert, House
Smith, Joseph M. and Celestia, House
Smith, Lauritz H. and Emma, House
Smith, Lauritz, House
Smith, Mary, House
South Temple Historic District
Stairs Station Hydroelectric Power Plant Historic District
Sugar House Monument
Temple Square
Tenth Ward Square
Third Presbyterian Church Parsonage
Thompson, Niels and Mary Ann Fitzgerald, House
Ulmer, Frank M. and Susan E., House
Union Fort and Cox, Jehu and Sarah, House
University Neighborhood Historic District
University of Utah Circle
Utah Copper Company Mine Superintendent's House
Vincent, William Tyler and Amorilla Gammet, House
Walbeck, Glen M. and Roxie, House
Walton, Wesley and Frances, House
Warehouse District
Warenski-Duvall Comerical Building and Apartments
Weeks, Charles H., House
West Jordan Ward Meetinghouse
Westminster College President's House
Westmoreland Place Historic District
Wheeler, Henry J., Farm
Whipple, Nelson Wheeler, House
Whitaker, John M., House
William D. Kuhre House
Wilson, William W. and Christene, House
Woodruff Villa
Woodruff, Asahel Hart, House
Woodruff, Wilford, Farm House
Woodruff-Riter House
Yalecrest Historic District
Yardley, Thomas, House
Young, Brigham, Complex
Young, Brigham, Forest Farmhouse
---