Columbus City
The Columbus Government Center, 100 10th Street, Columbus, GA 31901.
Phone: 706‑653‑4029.
---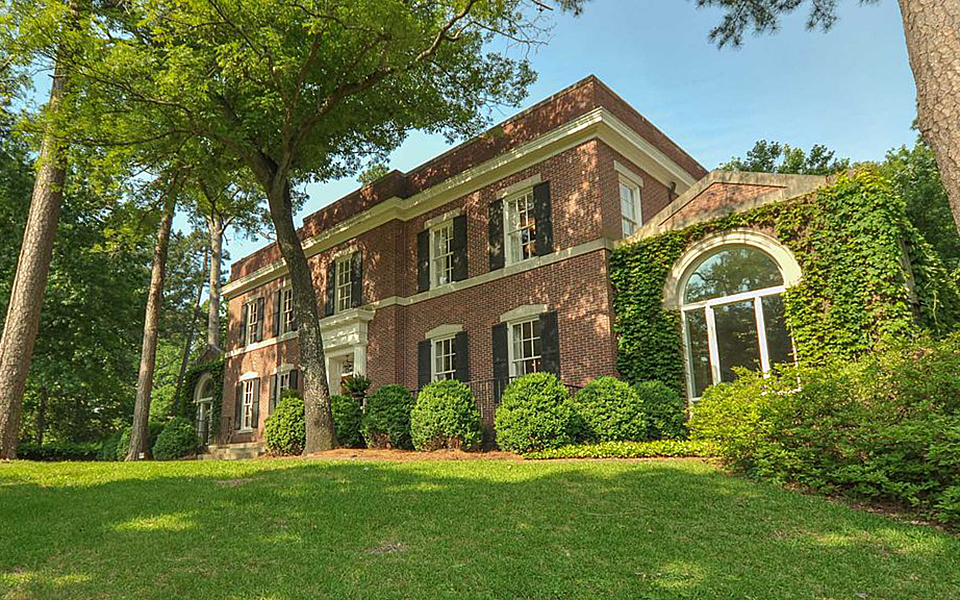 Photo: Robert E. Dismukes Sr. House, circa 1920s, located at 1617 Summit Drive, Columbus. Listed on the National Register of Historic Places in 1979. Photographed by User: Ken Owens (own work), 2014, [cc-3.0], via Wikimedia Commons, accessed October, 2021.
---
The City of Columbus (founded 1828) and the County of Muscogee (founded 1825) formed a consolidated government in 1971.
Neighborhoods
Cedar Ridge
Columbus Historic District
Columbus Historic Riverfront Industrial District
Cottonwood Plantation
Dinglewood Historic District
Edgewood
Green Island
Green Island Hills
High Uptown Historic District
Hillcrest-Wildwood Circle Historic District
Holly Hills
Liberty Heritage Historic District
Midtown
Oakland Park
Peacock Woods-Dimon Circle Historic District
Regency Park
Riegle Point
Roosevelt Heights
Rose Hill Heights
Shaw Heights
Sonoma Point
Springlake
Starmount Forest
Stonewood Farms
Stoneybrook
Summer Grove
Timber Creek
Torch Hill
Waverly Heritage Historic District
Waverly Terrace Historic District
Welborn Woods Addition
Weracoba-St-Elmo Historic District
Wildwood Circle-Hillcrest Historic District
Wyndham Village Historic District
Wynns Hill-Overlook Historic District
Wynns Hill-Overlook-Oak Circle Historic District
Wynnton Village Historic District
Columbus as described in 1978 [1]
John Forsyth, governor of Georgia, camped on the Chattahoochee River at the site of Columbus early in 1828 as the city was about to be surveyed and laid out. Accompanying the governor were five specially appointed commissioners and a surveyor/planner. The five commissioners were Ignatius A. Few, Ellias Beall, Philip H. Alston, James Hallam and Dr. Edwin L. de Graffenried, who was actually already settled there, in the Coweta Reserve, administering to the Creek Indians; the surveyor/planner was Edward Lloyd Thomas. If it were possible for those seven early-19th-century Georgians to return now and look down on Columbus from the 12th floor of the new Columbus-Muscogee Consolidated Government building, they would see what would appear to be an essentially 19th-century town overlaid with early-20th-century developments. Juxtaposed to their observation tower, they would see the latest practices of historic preservation being used in the rehabilitation of multiple resource in the historic 1,200 acre township they had surveyed, planned and laid out according to a gridiron pattern in 1828.
To the west they would see the main reason the State of Georgia had caused the town to come into being at that location: the Chattahoochee River with its fall-line rapids. They would see several bridges crossing over to the west bank to meet the State of Alabama at the high-water mark — Alabama, which at the time of the original settlement of this western Georgia frontier had been inhabited largely by Creek Indians. Along the river, on Front and Bay Avenues, they would see a complex of 19th-century industrial buildings still functioning as factories, mills, warehouses, and other businesses. They would see a 164-foot-wide commercial avenue, Broadway, with a park-like median and 2-story shops forming a long cornice line from south to north.
To the south they would find block after block of broad, tree-lined residential streets, along with a historic industrial strip along the river. They would see the Salisbury Park median on the southern end of Broadway with its distinguished Confederate Monument and 19th-century houses facing the streets and avenues, the whole ensemble a historic district, completely rehabilitated. In that same area, just south of the old Columbus Iron Works, they would see gazebos, gardens, walks, and outdoor "history" displays along the east bank of the river on land set aside for such purposes in the original town plan — land called The Promenade then, as it is today.
Looking north, these observers would see an entire city block of Victorian commercial buildings being rehabilitated as Rankin Square, and a restored Victorian theater, the Springer Opera House, with a new addition for theatrical activities next to the stage end of the building. They would see tall spires on fine old churches located on lands set aside in the original plan; an excellent Beaux Arts period post office and the only other "skyscraper," a ca. 1915 hotel in the process of being adapted as a home for the elderly; and still further north they would see a number of distinguished 19th-century houses, several already listed on the National Register, in an area which used to be called the "High Up-Town," and now, with some notable exceptions (for example, the Rankin and the Illges houses) losing its original neighborhood character. Then, at the very edge of this northern prospect, these observers would see the original city cemetery, which in 1828 received the surveyor's young son as its first burial. And to the northwest, on the river banks, they would see the still-functioning City Mills at 9 Eighteenth Street, sited where the town's first grist mill (1828) was located.
Finally looking east, they would see Fourth Avenue, now U.S. 27, and bordered by 20th-century strip-development, but originally a good residential street. Further east, they would see an extensive railroad complex, the Swift Manufacturing Company, and Golden's Foundry, all located on property set aside as greenbelt or Commons in Edward Lloyd Thomas' original layout.
These observers would be able to see spreading out from their vantage point above Courthouse Square a county-wide 20th-century municipality which grew from a river, a railroad and textile-oriented 19th-century town, a nucleus now much valued for its historical and architectural resources, a city which observed its Sesquicentennial in 1977-1978.
The most common architectural styles found in Columbus local historic districts. [2]
English Vernacular Revival
Spanish Colonial Revival
Cape Cod
California
Neo-Colonial Revival
Neo-Georgian
William R. Mitchell, Jr., consultant, Historic Columbus Foundation, Inc., Columbia Multiple Resource Area, Muscogee County, GA, nomination document, 1978, National Park Service, National Register of Historic Places, Washington, D.C.
MACTEC, prepared for the City of Columbus, Design Guidelines, 2010, www.columbusga.gov, accessed October, 2021.
Nearby Towns: Phenix City •
---