---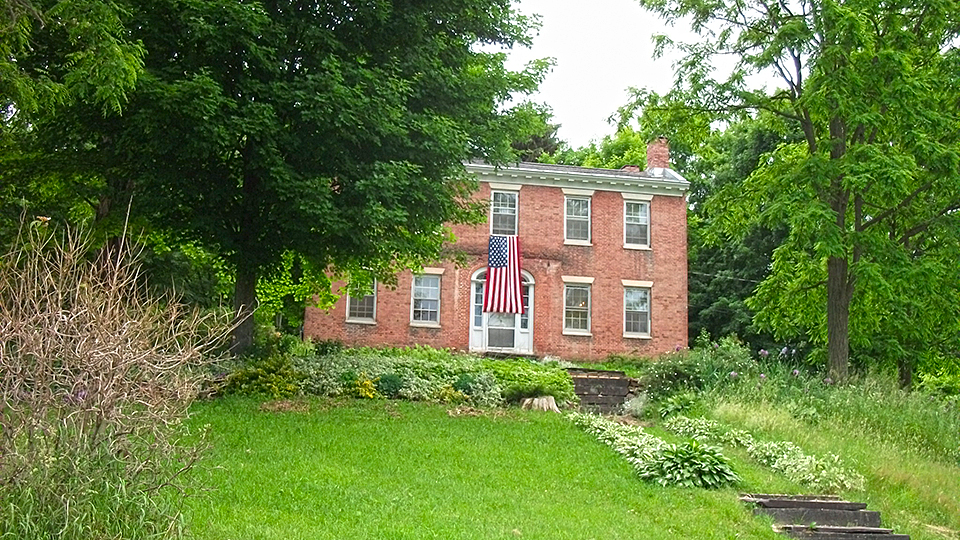 Photo: Dayton-Williams House, circa 1820, located at 65 Dayton Hill Road, Middle Granville. Listed on the National Register of Historic Places in 2006. Photographed by User:Doug Kerr (own work), 2011, [cc-2.0] accessed January, 2023.
---
The County Seat was moved from Hudson Falls to Fort Edward in 1994.
Photo: Hudson River from village park located off Broadway, north of Bridge Street. July, 2010.
Overview [1]
Washington County is located within the Capital/Saratoga District of New York State. In addition to Washington County, this area includes Saratoga, Rensselaer, Fulton, and Schenectady Counties. The 837 square mile County is home to approximately 61,042 people distributed between seventeen (17) Towns and nine (9) Villages.
The County is the nineteenth (19th) fastest growing county by population (out of 62) in New York. Washington County has long been a leader in dairy production, maple syrup, and apples. The past 50 years has brought a decrease in manufacturing and related employment opportunities. However, many of Washington County's manufacturers remain strong as a result of its unique location.
Washington County is part of the Glens Falls Metropolitan Statistical Area 50 miles north of Albany. It is adjacent to Saratoga and Warren Counties and forms part of the eastern border of New York State.
As compared to its adjacent neighboring counties, Washington County has experienced the slowest growth, excluding Rensselaer, which had a decline over the same time period.
Washington County not only has a prime location for commerce, but it has much of the needed infrastructure to make inter-regional commerce cost-effective. It is equidistant from Montreal, New York City, and Boston. Within a day, products manufactured or delivered to Washington County can be in the hands of 52% of the United States and Canadian Populations. This is partially possible due to their transportation infrastructure. The County is minutes away from Interstate 87, the Adirondack "Northway," which provides fast access to Montreal in the north and New York City in the south.
Rail freight service is also directly accessible in the Villages of Fort Ann and Whitehall, and the Towns of Fort Edward, Kingsbury, Hartford, Fort Ann, Whitehall, Dresden, and Putnam. The mainline of the Canadian Pacific Railways even bisect an industrial park within Fort Edwards.
Washington County New York, Economic Development Strategic Plan, 2007, www.co.washington.ny.us, accessed January 2008.