Dallas City
Dallas City Hall is located at 1500 Marilla Street, Dallas, TX 75201.
Phone: 214‑670‑3296.
---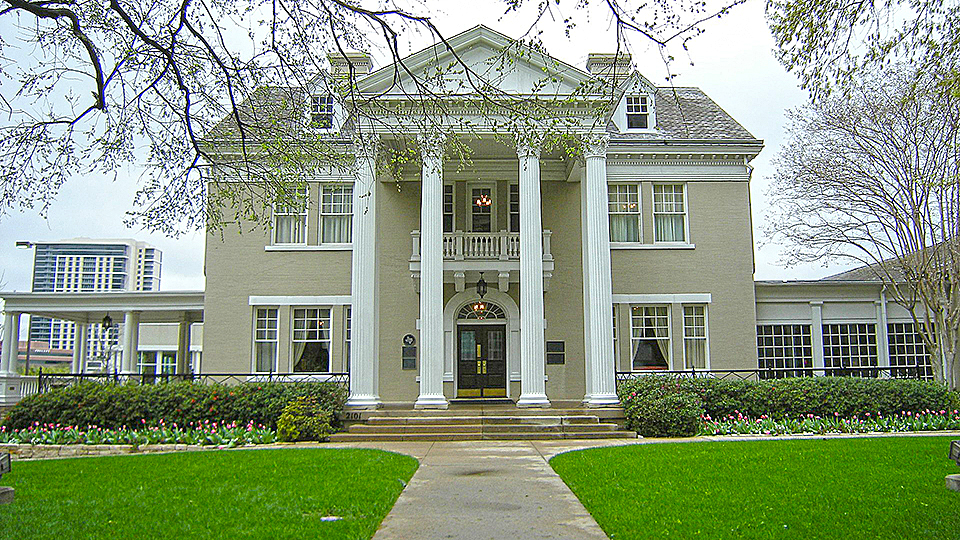 Photo: Alfred Horatio Belo classical revival style house, circa 1888, located at 215 Ross Avenue. Listed on the National Register of Historic Places in 1975. Photographed by Joe Mabel, 2009, (own work) [cc-3.0], via Wikimedia Commons, accessed May, 2021.
---
Beginnings [1]
While the first settlement at "the Forks of the Trinity River" was made about the 1840s, Dallas was, for it first 3 decades, on or close to the "frontier" and had only the ordinary activities of the inland Texas town. In 1870, when the total population of the county was a little more than 13,000, the precinct which contained the Town of Dallas had 2,960 inhabitants. It was during the decade of the 1870s that Dallas became a city in point of population and commercial enterprise. In 1880 its population was 10,356. By 1920 the population had grown to more than 125,000.
Neighborhoods
Abbey on Preston
Addison Park
Adrienne Estates
Airway Heights
Alameda Heights
Alexander Heights
Alexander Park
Alger Park
Almaden Condos
Alta Mesa Park
Alta Vista Estates
Altadena
Amanda Estates
Ambassador House
Amber Trails
American Mount
Amherst Condos
Andover Hills
Andover Meadows
Anita Heights
Apple Gate
Arbor Court Condos
Arbor Ridge
Arbor Trail
Arcadia Gardens
Arcadia Park
Archer Estates
Arden Terrace
Arlington
Ascot Court
Ascot Place Condos
Ash Creek Estates
Ashley Manor Condos
Athena Condominiums
Au Courant
Avalon
Avangard Estates
Avanti On Avondale Condos
Avenue Heights
Averill House Condos
Avondale Gardens
Avonshire
Bachman North
Barbara Heights
Barkley Square
Batesons
Bear Creek Ranch
Beaulieu Condos
Beckley Club
Beckley Estates
Beckley Gardens
Beckley Heights
Beckley Hills
Beckley Terrace
Beckley View
Beckleywood
Beeman Estates
Bel Aire Estates
Bella Gardens Condos
Bella Rosa
Belle Meadow Condos
Bellevue
Belmar
Belmead
Belmont
Belvedere Condos
Benavides Meadows
Bennett Lofts
Benson Place
Bent Trail
Bent Tree
Bent Tree North
Bent Tree Royal
Bent Tree Terraces
Bent Tree Village
Bent Tree West
Bergfeld Place
Berkshire
Berries Acres
Berthurm
Beverly Hill
Beverly on Turtle Creek
Beverly Terrace
Bexar Street North
Big Thicket
Birchbrook
Bishops
Blackbird
Blaines
Blair Estates
Blair House Condos
Blanton Estates
Bledsoe
Bluebonnet Acres
Bluebonnet Heights
Bluebonnet Lawn
Bluff Ridge
Bluff View Estates
Bluffs of Lakewood Condos
Bluffview Estates
Bob O Link Downs
Bob O Link Estates
Bohannon 02
Bois Du Chene
Bois Du Lac Condos
Bon Air
Bon Ton Heights
Bon View
Bonaventure
Bonds
Bonnie View Gardens
Bonnie View Heights
Bordeaux Village
Boulder Ridge
Boundbrook Oaks Estates
Bradford Estates
Bradley
Braeburn Glen
Brairwood Estates
Breezy Acres
Brendan Estates
Bretton Woods
Brettonwoods
Briar Cliff
Briar Ridge Estates
Briarwood
Briarwood Estates
Brierwood Heights
Briggs Park
Brightside
Briorwood Estates
Bristle Cone
Broadmoor
Broadview
Bronx Park
Brookdale
Brookfield
Brookshire Park
Brookside Acres
Brookside Estates
Brownwood
Bruton Estates
Bruton Heights
Bruton Lake
Bruton Ridge Estates
Bryan Heights
Bryan Place
Bryan Place 02
Bryan Square
Buckner Boulevard Estates
Buckner Heights
Buckner Park
Buckner Terrace
Buena Vista Condos
Burgundy Condos
Caddo Street Townhomes
Cambrick Place Condos
Cambrick Square North
Cambrick Square South Condos
Cambridge Condos
Cambridge Court Condos
Cambridge Gate
Cambridge House Condos
Cambridge Place at Preston Trails
Camp Wisdom Estates
Campbell Creek
Campbell Road Condos
Campus Heights
Candlenut Lane
Canterbury Crossing
Canton Lofts
Cantura
Canty Street Townhomes
Capella
Capella Park
Caribbean Estates
Caribou Estates
Caribou Estates North
Carlton Corner
Carlton House Condos
Carondelet Condos
Carpenter
Carreras Townhome Condos
Carriage House Condos
Carriage Park Condos
Carriage Square
Carter Square
Caruth Court
Caruth Hills
Caruth Homeplace
Caruth Meadows
Caruth Place
Caruth Terrace
Caruth Village
Carver Estates
Carver Heights
Casa Blanca Condos
Casa Linda Estates
Casa Linda Forest
Casa Linda Highlands
Casa Linda Park
Casa Loma Estates
Casa Rio
Casa Terrace
Casa Vale
Casa View Crest
Casa View Heights
Casa View Hills
Casa View Oaks
Casa View Oaks 02
Casablanca Condos
Casas Del Sol
Cascada at Turtle Creek
Cazen Condos
Cedar Brook Addition
Cedar Cliff
Cedar Creek Ranch
Cedar Crest
Cedar Crest Country Club Estates
Cedar Crest Heights
Cedar Crest Village
Cedar Forest
Cedar Haven
Cedar Heights
Cedar Lake
Cedar Oaks
Cedar Ridge
Cedar Run
Cedar Springs
Cedar Springs Heights
Cedar Springs Lofts Condos
Cedar View Estates
Cedars
Cema Village
Centerville Terrace
Central Ave
Central Park Condos
Central Park East
Central Park North
Centrum Condos
Challedon Estates
Chamberlains Addition
Chantilly Island
Chapel Downs
Chapel Forest
Chapel Hill Estates
Chapel Valley
Charles Landing
Charleston Square Condos
Chartwell on the Green
Chateau Blois
Chateau Condos
Cheatham
Chenaults
Cherry Valley
Cherrywood
Chesterfield
Chesterfield Heights
Chestnur Hill
Cheyenne
Cheyenne Gardens
Chimney Hill
Chimney Lane Townhomes
Christian Heights
Churchill Downs
Churchill Pointe
Churchill Way Estates
Cielo Vista
Cimarron Court Condos
Cimmaron
Cimmaron Ridge
Circle Estates
Cirque
Citta Townhomes
Cityville at Greenville
Claremont Park
Clarendon Heights
Clarendon Hills
Clarendon Park Estates
Claridge Condos
Clark Ridge
Classic Estates
Claymore Park Condos
Clearview
Clearview Park
Cliff Country Club Estates
Cliff Park
Cliffbrook Condos
Cliffwood
Clifton Place
Cloisters Condos
Clover Lawn
Cloverdale
Club Manor
Club Oaks
Club Oaks Estates
Cobblestone Square
Cochran Chapel
Cochran Chapel Circle
Cochran Chapel Heights
Cochran Heights
Cochran Heights Annex
Cochran Hollow
Coit Commons
Cole Ave Condos
Cole Avenue Commons
Cole Estates
Cole Homestead Place
Cole House Condos
Coleridge Condos
Coles Oak Grove
College Hill Addition
College Manor
College Park
College Terrace
Colliers Annex
Colonial Hill
Colonial Terrace
Colonnade at Turtle Creek
Colony Ridge
Colony Square
Columbia Place
Community Place
Compound Condos
Concord House Condos
Condo Country Creek
Condo Fontainbleau
Conner Heights
Coombs Bridge Condos
Copperfield
Copperfield Condos
Copperfield Homes
Coral Hills
Corinth Heights
Corona
Coronado
Coronado Court
Coronado Hills
Coronado Townhomes
Corrigan Gardens
Country Brook
Country Club Estates
Country Club Fairways
Country Club Manor
Country Club Park
Country Creek
Country Creek Condos
Country Forest
Courts of Walnut Hill
Courtyard at Preston Trails
Courtyard Condos
Covington Place
Crawford Park
Crawford Park Terrace
Creek Cove Villas
Creekbend Condo
Creekbend Townhomes
Creeks of Preston Hollow
Creekside
Creekside at Carter Square
Creekside Collection Condos
Creekside Place Addition
Creekwood Estates
Crescent Lane
Crest Haven Place
Crest Manor Estates
Crest Meadow
Crest Meadow Estates
Crest View Park
Cresta Blanca
Cresthollow
Crestline Meadow Estates
Crestmeadow Estates
Crestpark
Crestview
Crestview East
Cromwells Village
Crow Creek Heights
Dal Cliff Terrace
Dallas City Gates
Dallas Gardens
Dallas Park
Dalview Summit
Danbury Condos
Davenport Meadows
Davilla Drive Estates
Davis
Dealey Corners
Deerpath Village
Delcambre
Delmar
Delmar Heights
Dentwood
Detienne
Devonshire
Dewberrys
Diamond Head
Diceman Annie
Dickason
Dickeys
Dicksons
Diplomat Condos
Ditmarr Place
Dolphin Heights
Donnells
Dorset Heights
Dover Heights
Downs of Hillcrest
Drexel Bandera Addition
Drexel Highlander Condos
Drexel Montane
Drexler
Druid Hills
Duncans
Dutch Creek Condos
Dwellings at Haskell Condos
Dwellings at Munger Condos
Dwellings at Rusk
Eagle Ford
Eakins
East Columbia Place
East Inwood Estates
East Kessler
East Side Acres
East Side Lofts
Easterview
Eastfield Meadows
Eastridge
Eastridge Park
Eastridge Terrace Condos
Eastside
Eastwood
Eastwood Estates
Eastwood Park
Ector Place
Eden at Avondale
Edgefield
Edgefield Heights
Edgemere on the Parkway
Edgemere Place
Edgemont
Edgemont Park
Edgewood
Edgewood Place
El Camino Real Condominium
El Camino Real Condos
El Parado Addition
El Tivoli Place
Elam Heights
Elberta
Elderado
Elderwoods Townhouses
Elizabeth Heights
Elizabeth Square
Elk Hill
Elkins Forrest
Ellis
Ellsworth
Elm Place Residences
Elm Street Condos
Elmdale
Elmolino
Elmspring
Elmwood
Elsmere
Embassy Oaks Condos
Emerald Isle
Emily Lane Condos
Empire Addition
Enchanted Villas
Encino Hills
Encinos Park
Enclave at Ash Creek
Enclave at Bluffview
Enclave at Grove Hill
Enclave at Midway
Enclave at White Rock
Enclave at Wooded Creek
Enclave at Wyrick Estates
Encore
Energy Lane
English Place
Eriksson
Ervay Cedars
Ervay Place Addition
Ervay Street Heights
Ervay Terrace
ErvinS Addition
Esperanza Del Sol
Estancia Townhomes
Estates at Grady Niblo
Estates of Avalon
Estates of Bent Tree West
Estates of Cedro Place
Eudora Estates
Eureka Addition
Evelyn Heights
Everglad Park
Everglade
Everglade Park
Evergreen Acres
Evergreen Meadows
Everwood Apartments
Ewatto Square
Exall Park Brownstones
Exline Ellis Addition
Fair Grounds
Fair Oaks
Fairground Heights Addition
Fairview
Fairway at Remington Park
Fairway Estates
Faith Addition
Faith Temple Estates
Fakes Park Place
Farmers Market Townhome
Farmers Market Townhome 2
Farmers Market Twnhms Condos
Farrell
Fawn Ridge
Fenstermachers
Ferguson Heights
Ferguson Highlands
Filling Station
Firestation Condos
Fisher Road
Fisher Road Heights
Fitzhugh Condos
Fitzhugh Heights
Flair Rev
Flair South
Flanders Heights
Florence Street Lofts
Flowers
Floyd Lake Estates
Fordham Heights
Foremans Addition
Foresite
Forest Creek
Forest Crown
Forest Glen
Forest Grove
Forest Heights
Forest Highlands
Forest Hills
Forest Hills Estates
Forest Knoll Estates
Forest Meade
Forest Meadows
Forest Oaks
Forest on the Creek
Forest Place
Forest Point
Forest Ridge North
Forest View
Forest West
Forestcrest Estates
Forestridge
Forestridge North
Forestwood on the Creek
Fountainhead
Fourakers
Fox Hollow
Foxfire
Frankford Lake
Frankford Meadows
Freeland Heights
Freeman Country Club
Freemont
Frenchmans Creek
Friendship
Fruitdale Acres
Gables at Royal Lane
Garden Grove
Garden Heights
Garden homes of Preston Place
Gardenside
Garrett Addition
Garrett Park Condos
Gaston Park
Gaston Place
Gaston Terrace
Gastonwood
Geneva Heights
Georgetown Court
Gibbs Williams
Gilbert Oaks Condos
Gilbert Square Condos
Gilbert Terrace Residences
Glad Tidings Addition
Glass House By Windsor
Glen Abbey
Glen Abbey at Ash Bluff
Glen Cove
Glen Cove East
Glen Cove Park
Glen Hills
Glen Lakes
Glen Oaks
Glen Oaks North
Glencove East
Glencrest Park
Glendale
Glendale Acres
Glendale Heights
Glenn Cove
Glenn Hills
Glenridge
Glenridge Estates
Glenrose
Glensneed
Glenview
Glenview Addition
Glenwick Place Condos
Glenwood
Glenwood Estates
Glnridge Estates
Goldcrest Condos
Goldmine
Golf Park
Gorman Estates
Grammercy Place
Grand Avenue
Graves Heights
Green Acres
Green Cove Estates
Green Hill
Green Meadows
Green Park
Greenbrier Place
Greenhill Park
Greenlan Hills
Greenland Heights
Greenland Hills
Greenleaf Village
Greenville Crest
Greenville Heights
Greenville Oaks
Greenville Wood
Greenway Crest
Greenway Parks
Greenway Place Condos
Greenway Terrace
Greenway Village
Greenwood Terrace
Greers
Gregory Townhomes
Grenadier
Grisham
Grove Haven
Grove Mound
Grove Oaks
Grovecrest
Grovedale Heights
Grovelawn
Guggenheim Acres
Hacienda Del Sol
Hamburg
Hamilton
Hamilton Park
Hampton Hills
Hampton Place
Hampton Square
Hampton Terrace
Hancocks
Harbor Glen
Harbor Oaks Estates
Harbour Court
Harcourt House
Harlem
Harris
Hartford Place Condos
Harvest Acres
Haskell Place
Haupte Estates
Haven Condos
Havencreek Court
Haverwood Meadows
Hawkins
Hawthorne House Condos
Haymarket Acres
Hazelcrest
Hearthwood
Hearthwood North
Hedgerow Park
Heidelberg Court Condos
Heider
Heritage Place
Heritage Square
Hermitage Condos
Herschel Avenue Condos
Hibernia
Hickory Creek
Hideaway Valley
High Hollows Condos
High Meadows
High Oaks
Highland Acres
Highland Creek Estates
Highland Creek Manor
Highland Estates
Highland Green
Highland Hills
Highland Hills West
Highland Meadows
Highland North
Highland North Villas
Highland Oaks
Highland of McKamy
Highland on the Creek
Highland Park
Highland Park West
Highland Place Condos
Highland Square
Highland View
Highland Vista Estates
Highland Woods
Highlands
Highlands Condos
Highlands Creek Court
Highlands North
Highlands of McKamy
Highlands Parkway
Highlands West
Highlandwood Acres
Highway Estates
Hilandale
Hilburn Park
Hill Crest
Hill Haven Heights
Hill On Park Lane
Hill Pointe
Hill Top Terrace
Hillburn Park
Hillcrest Estates
Hillcrest Havens
Hillcrest Hollows Condos
Hillcrest Homes
Hillcrest Manor
Hillcrest Oaks Estates
Hillcrest Park
Hillcrest Park Estates
Hillcrest Villa Condos
Hillcrest Wood
Hillridge
Hillside
Hillside Oaks
Hilltop Homes
Hillview
Hillview Terrace
Hines Park Place
Hockaday Manor
Hockaday Square
Hoffmans
Holland
Holland Avenue
Holland Oaks Condos
Holland Townhomes
Hollowbrook
Hollows North
Hollows North Condominium
Hollows North Condos
Holly Glen Condos
Holly Hill Place
Holly Oaks
Holly Park Condos
Holly Ridge
Hollywood
Hollywood Heights
Home Court Condos
Home Estates
Home Gardens
Homeland Estates
Homeplace
Homestead Gardens
Homestead Manor
Honey Crest Heights
Honey Springs
Honeycutts
Hood Street Condos
Hoopers
Hope Street Commons
Hope Terrace
Horizon Estates
Horizon West Condos
Horton Estates
Hudson Street Condos
Huffhines Hill
Huffines Hill
Hunters Bend
Hunters Run
Hyams
Hyde Park Estates
Idlewild Acres
Idlewild Annex
Imperial House Condos
Imperial Valley Plantations
Independence
Independence Park
Interurban Hills
Inwood
Inwood Commons Condos
Inwood Crossroads
Inwood Estates
Inwood Gardens
Inwood North Estates
Inwood Road Estates
Inwood Terrace
Iron Castle
Irwindell
Jackson Heights
Jackson Highlands
Jackson Ma
Jackson Meadows
Jackson Terrace
Jamestown
Jan Mar Circle
Josephine Court
Jubilee Marsh Estates
Juli Addition
Junius Heights
Kalani Place
Karma
Keeneland Parkway Estates
Keist Valley
Keller Springs
Kelly Park Studio Condos
Kelman Heights
Kelsey Square
Kenilworth Estates
Kensington Court Condos
Kensington Village
Kenwood
Kessler Downs
Kessler Heights
Kessler Highlands Addition
Kessler Lake Estates
Kessler Oaks
Kessler Springs
Kessler Square Addition
Kessler Woods
Key Terrace
Kidd Springs Heights
Kienast
Kiest Forest
Kiest Park
Kiest Park Estates
Kiest Valley
Kiestview
Kiestwood Estates
Kimball
Kimball Acres
Kimball Estates
Kimball Ranch
Kimball Square
Kimball Square East
Kinglsey Highlands
Kingsley Courts
Kingsley Creek Estates
Kingsley Crossing
Kingsley Manor
Kingsley Meadows
Kirby Estates
Kirkdale
Kirkwood Estates
Kissell Homes
Kleberg Villas
Knight Street Condos
Knox
Knox Park Heights Condos
Knox Village Garden Homes
Korgans Homestead
La Buena Vida
La Escondiada Condos
La Espada Condominiums
La Espada Condos
La Favorita Addition
La Fontaine Condominiums
La Fontaine Condos
La Foy Place
La Posada Condos
La Strada
La Tour Condominium
La Tour Condos
La Valencia
Lafayette Heights
Lafayette Square
Lafoy Place
Lagow Heights
Laguna Townhomes
Lake Cliff Tower Condominiums
Lake Cliff Tower Condos
Lake Como Place
Lake Crest
Lake East Estates
Lake Estates
Lake Forest
Lake Gardens
Lake Highlands
Lake Highlands
Lake Highlands Estates
Lake Highlands North
Lake Highlands Pointe
Lake Highlands Square
Lake Highlands Village
Lake June Park Estates
Lake June Terrace
Lake Line Park
Lake North Estates
Lake North Park
Lake Park Estates
Lake Ridge Estates
Lake Terrace
Lake Way Addition
Lake Wood Estates
Lakeland Hills
Lakeland Manor
Lakeland Terrace
Lakemont
Lakeridge Estates
Lakes of Bent Tree Condos
Lakes of Preston Hollow
Lakeshore Hills
Lakeside Hills
Lakeside Park
Lakeview
Lakeview Heights
Lakeview Lofts Condos
Lakeway
Lakewood
Lakewood Estates
Lakewood Heights
Lakewood North Estates
Lakewood Park Estates
Lakewood Place Condos
Lakewood Point Condos
Lakewood Trails
Lakewood West Condos
Landmark
Lane Park
Lansdowne Estates
Las Brisas
Las Casas Vagas
Las Colonitas
Las Colonitas Condos
Las Haciendas
Las Palmas
Las Villas De Oak Cliff
Latin Calvary
Latour Condominium
Latour Condos
Laurel Valley
Lawson Estates
Lawther Drive Estates
Lawtherwood
Le Dubonnet Condos
Le Parc Condos
Le Rochelle Condos
Lea Crest
Ledbetter Gardens
Ledbetter Hills
Lee Crest Addition
Legendary Hollow
Leonard Steinberg
Lerochelle Condos
Les Chateaux
Les Jardins
Levingston Place
Lewis Court
Liberty Annex
Liberty Heights
Liberty Hill
Liberty Place
Lifescape Villas
Light Pointe Place
Lincoln Heights
Lincoln Manor
Lincoln Park
Linda Heights
Linda Terrace
Lindenshire Condos
Lindenwood Park
Lindwood Park
Lindwood Place
Linwood Villas
Lisbon Heights
Little Acres
Little Forest Hills
Little Town Creek
Live Oak Lofts Condos
Llanno Place
Lloyd Addition
Lobello Estates
Lochwood
Lochwood Estates
Lochwood Meadows
Lochwood North
Lockheed Hills
Lodens
Lodges at Congress
Lofts at Mockingbird Station
Lofts Condo
Lofts On Oaklawn
Lomas Park
Lomax
Lontos Heights
Los Arboles Addition
Los Nogales Condos
Los Palacios Estates
Los Ranchitos Estates
Loughmillers
Loupot Heights
Love Bird
Lovedale
Loveland
Lover Lane Condos
Lovers Lane East
Lovers Lane Heights
Lovers Lane Village
Luna Park Estates
Lyndhurst
M Street Townhomes
Magnolia Hill
Mahanna Condos
Mahogany Homes
Majestic Heights
Malaga Townhomes
Manchester Downs
Manchester Place
Mansion Residence
Maple Lawn Terrace
Maplewood
Marc Condo
Marcus Estates
Marie Thomas Estates
Marin Way
Marquita
Marsalis Club
Marsalis Manor
Marsalis Park
Marsalis Park Rev
Marsh Lane
Marshall Terrace
Martin Addition
Mason
Matilda Condo
Matilda Park
Matt'S Green Acres
Mayfair at Turtle Creek Condos
Mayflower Estates
Maylee
Mayo'S Addition
Mays
Maywood Estates
McCommas Place
McCormick
McCullah
McElveen
McGraw Estates
Mckinney Condos
McNabb
Meaders Lane
Meaders Place
Meadow Crest
Meadow Glen
Meadow Nest
Meadow Park
Meadow Place
Meadow Springs
Meadow Wood
Meadowbrook Terrace
Meadowcliff Estates
Meadowcrest Park
Meadowdale
Meadowlark
Meadowmere
Meadowood Estates
Meadows
Meadows North Condos
Meadowwood Estates
Meandering Heights
Mediterranean Gardens
Melrose
Melshire Estates
Mercer Square Condos
Merrifield Manor
Merriman Manor
Merriman Park
Merriman Park Estates
Midawy
Middlebrook Place
Middlefield Village
Midway Crossing
Midway Estates
Midway Forest
Midway Highlands
Midway Hills
Midway Hills Terrace
Midway Hollow
Midway Manor
Midway Meadows
Midway Villas
Milimo Terrace
Military Park
Millennium Park
Mirabelle Condos
Mobile Home Villas
Mockingbird Hill
Mockingbird Manor
Mockingbird Meadows
Mockingbird Park
Monaco On McKinney
Monarch Place
Monfort Townhomes
Montclair
Montclair Acres
Montebella
Montebello Park
Montfort Towhhomes
Monticello
Monticello Crossroads
Moody Estates
Morningside
Morrison Condos
Moser Residential
Moss Creek
Moss Creek Estates
Moss Creek Estates North
Moss Farms
Moss Meadows
Mount Auburn
Mount Vernon Heights
Mountain Creek
Mountain Creek Meadows
Mountain Hollow
Mountain Lake Estates
Mountain Lake Heights
Mountain Ridge
Mountain Ridge Estates
Mountain Terrace
Mountain Valley Estates
Mountain Vista
Munger Place
Munger Place Heights
Munger Square
Munson
Murdocks
Nadinea
Nantucket Village
Nantucket Village North
Netherlands Estates
Newbury Square Condos
Newman Park
Newport Condos
Newton North
Newton Place Condos
Newton South
Niblo Estates
Nicole Place
Nineteen Gilbert Condos
Nob Oak Condos
Nodinia Place
North Dallas Woodlands
North Davila Drive Estates
North Hall Townhomes
North Haven Place
North Highlands Estates
North Hill
North Hill Estates
North Lake Estates
North Oak Lawn
North Ridge
North Ridge Estates
North Ridge Park
North Ridge Park Estates
North Stonewall Terrace
Northaven Estates
Northaven Hills
Northaven Manor
Northaven Meadows
Northaven Park
Northaven Place
Northcrest
Northcrest Park
Northern Heights
Northern Hills
Northhaven Park
Northpark Garden Townhomes
Northpointe
Northridge Addition
Northridge Estates
Northtown Square
Northview
Northway Estates
Northway Hills
Northwest Estates
Northwest Heights
Northwest Hills
Northwest Park
Northwood Estates
Northwood Heights
Northwood Hills
Northwood Homes
Northwood on the Creek
Northwood Park
Northwood Place
Northwood Square
Northwood Terrace
Norton
Nortridge Estates
Norway
Oak Cliff Estates
Oak Cliff Forest
Oak Cliff Gardens
Oak Forest Estates
Oak Grove Condos
Oak Grove Estates
Oak Highlands Estates
Oak Hill Lake Estates
Oak Hill Park
Oak Knoll
Oak Lawn Heights
Oak Lawn Place
Oak On Monfort Condos
Oak Park Estates
Oak Park North
Oak Trail Villas
Oak Tree Colony
Oak Tree Village
Oakdale
Oakhollow Condos
Oakhurst
Oakland Hills
Oakland Place
Oakland Terrace
Oaklawn Place
Oaks
Oaks of Lakewood Condos
Oaks of Preston Ridge
Oaks On Montfort
Oaks on the Bend Condos
Oaks on the Lane Condos
Oaktree
Oakwood Park
Oates Drive Estates
Old Indiana Plantations
Old Kentucky Hills
Old Mill Court
Old Preston Place
Old South Plantations
Old Vickery Square Townhomes
Old Virginia Plantation
Olde Farms Estates
Olivedale
Oliver Court Condos
Oliver Street Lofts
One Arts Plaza Condos
One Holland Place Condos
One Orleans Place Condos
One Steppington Place Condos
Oram Court
Oram Heights
Oram Homestead
Overlands
Overlook Heights
Owenwood
Oxbridge
Pagewood Townhomes
Pall Mall
Palm Court
Palm Plaza
Palo Alto
Pannell
Paradiso
Parc Du Lac Estates
Park Carillon Condos
Park Central Conds
Park Central Estates
Park Deville Condos
Park Estates
Park Fontaine Condos
Park Forest
Park Highlands
Park Indenpenence
Park Lane North
Park Lane Place Townhomes
Park Lane Townhomes
Park Meadow Condos
Park Oaks
Park Place Townhomes
Park Preston
Park Royal Condos
Park South
Park Sovereign Condos
Park Towers Condominiums
Park Towers Condos
Park View Place
Park Vista
Parkdale
Parkdale Club
Parkdale Heights
Parklawn
Parks Estates
Parks On Travis Condos
Parkside
Parkside Cedar Springs
Parktown Collection Condos
Parkway Estates
Parkway Lake Estates
Parkway Lane Condos
Parkway Quarter Condos
Parkway Village
Parkwood Condos
Parkwood Creek Condos
Parkwood Place Condos
Parkwood Summit Condos
Parkwood Townhomes
Parrish
Parry Heights
Pasadena
Pattons Addition
Peacock Terrace
Peacock Woods
Peaks
Peavy Forest
Peavy Park
Pebble Brook Estates
Pebble Creek
Pebblebrook
Pecan Acres
Pecan Crest
Pecan Heights
Pecan Plaza
Pedersons
Pemberton
Pemberton Hills
Pepperwood Estates
Perry Hall
Perry Heights
Perry Throckmorton
Peston Del Norte Villas
Phoenix Tall House Condos
Pickens Place
Piedmont
Piedmont Hills
Piedmont Park
Pierremont
Pioneer Ridge
Pittman Place
Plaza at Forest Park Condos
Plaza at Turtle Creek
Plaza Parks
Pleasant Dale
Pleasant Grove
Pleasant Grove Estates
Pleasant Grove Heights
Pleasant Heights
Pleasant Home Estates
Pleasant Manor
Pleasant Meadow
Pleasant Mound
Pleasant Mound Estates
Pleasant Oaks
Pleasant Oaks Estates
Pleasant Valley
Pleasant View
Pleasantview Plantations
Pleasantwood
Point Turtle Creek Condos
Polk Terrace
Polk Terrace Heights
Portico Condos
Portobello By The Creek
Prairie Creek
Prairie Creek Estates
Prescott
Prestige Plaza Addition
Preston Bend
Preston Bend Village
Preston Brook
Preston Brook Estates
Preston Club
Preston Club Estates
Preston Creek
Preston Creek North
Preston Del Norte Villas
Preston Dell
Preston Dell Estates
Preston Downs
Preston Estates
Preston Gateway
Preston Green
Preston Green North
Preston Haven
Preston Haven Estates
Preston Highlands
Preston Highlands
Preston Highlands North
Preston Hills
Preston Hills Condos
Preston Hills Estates
Preston Hollow
Preston Manor
Preston Manor Estates
Preston Meadow Estates
Preston Oaks Crossing
Preston on the Creek Condos
Preston on the Lake Condos
Preston Park
Preston Park Square
Preston Parkside Estates
Preston Place
Preston Port
Preston Port Estates
Preston Racquet Club Condos
Preston Road Condos
Preston Road Estates
Preston Road Highlands
Preston Road Highlands West
Preston Road North
Preston Road North Estates
Preston Royal
Preston Square Townhomes
Preston Tower
Preston Trails
Preston Trails Fairways
Preston Valley
Preston Village
Prestonbend
Prestonshire
Prestonshire Estates
Prestonville
Prestonway
Prestonway Estates
Prestonwood
Prestonwood Country Club
Prestonwood Creek
Prestonwood Estates
Prestonwood Gardens
Prestonwood Green Condos
Prestonwood West
Prestwick Manor Condos
Prestwood Green Condos
Princeton Square Condos
Promontory Ridge
Quail Ridge Condos
Queen City
Queen City Heights
Radbrook Estates
Ragsdale
Ranchita Acres
Ravinia
Ravinia Heights
Ravinia Terrace
Rawlins Park Condos
Reagan Condos
Reaves Place
Reaves South Side
Rector Place
Red Bird Meadows
Redwoods Condos
Reeder
Reeds Royal Oaks
Regal Plaza Condos
Regency at Lakewood
Regency City Homes
Regency Park
Regency Place
Regents Park
Remington Park
Renaissance On Turtle Creek
Residence at Jackson Street
Residences at Hotel Palomar
Residences at Ritz Carlton
Revere Heights
Rich Acres
Richalnd Trace Condos
Richardson Heights
Richardson Heights Estates
Richardson Heights Estates West
Richardson Square Southside
Richland Circle
Richland Corners
Richland Hills
Richland Meadows
Richland Park
Richland Park Estates
Richland Park Westchase Condos
Richland Trace
Richmond Hill
Richmond Place Condos
Ridgecrest Village
Ridgedorf
Ridgewood Park
Rienzi Condos
Riggs
River Oaks Condos
Riverstone Court
Riverway Estates
Robinson Park Place
Rochester Park
Rockbrook Acres
Rockbrook Estates
Roehampton Court
Roland Dale
Roland Hills
Rolling Creek
Rolling Hills Estates
Rolling Meadows
Rolling Trails
Roosevelt Manor
Roper Heights
Rosedale
Rosehaven
Roselawn
Roseman
Rosemeade Place
Rosemont
Rosemont Acres
Rosemont Crest
Rosemont Place
Ross Avenue Condos
Ross Avenue Heights
Rosser Terrace
Rosser Village
Rowland Heights
Roxbury Grove
Roxbury Park
Royal Arms Condos
Royal Central Condo
Royal Chapel
Royal Chapel Estates
Royal Creek Acres
Royal Crest
Royal Gardens
Royal Haven
Royal Highlands
Royal Highlands Place
Royal Highlands Village
Royal Hills
Royal Homeplace
Royal Knoll Condos
Royal Lane Condos
Royal Lane Highlands
Royal Lane Village
Royal Marsh Estates
Royal North Estates
Royal Oaks Condos
Royal Oaks Park
Royal Orleans Condos
Royal Park Condos
Royal Park Estates
Royal Ridge
Royal Springs Estates
Royal Square
Royalhaven
Royl Lane Highlands
Russwood Acres
Rustic Hills
Ruthmeade Place
Sable Ridge Condos
Saint Anne Hills
Saint Augustine
Saint Augustine Estates
Sale Street Townhomes
Sam Dealey Estates
Sam Houston Heights
San Gabriel Estates
San Jacinto Lawn
San Jacinto Lofts
San Juan Heights
Sandhurst Manor
Sandhurst Plaza Condod
Sandlewood
Sandyland Estates
Saner Heights
Santa Clara
Santa Fe On Hudson Condos
Santa Monica
Santa Monica Park
Saragosa Condos
Schofield Village
Schreiber Manor
ScottS Subdivision
Scruggs
Scurry
Seagoville Heights
Seagoville Villas
Sedgwick
Seegar Row Townhomes
Seville Condos
Seymour Place
Shadow Brook North Condos
Shady Hills
Shady Hollow Townhomes
Shady Oaks Estates
Shady Wood
Shalimar at Preston Trails
Shamrock Shores
Shannon Estates
Sharon Estates
Sharron Park
Sheffield Place
Shelby Place Condos
Shelby Street Townhomes
Shelterwood
Shelton Condos
Sheraton Estates
Sherwood East
Sherwood Glen Estates
Shiloh Park
Shiloh Terrace
Shiremont
Shore Acres
Shore Crest Estates
Shore Crest Terrace
Sierra Way
Silver Meadow
Silver Meadow Terrace
Silver Shade Park
Silverman Meadow
Silvertree Square
Silvestre Villegas
Simms Estates
Singing Hills
Skibell
Skillman Bend
Skyline Heights
Skyline Park
Snowden Heights
Soco Urban Loft Condos
Soho Square Condos
Solo Lofts at Perry Heights
Somerset Heights
South Annex
South Dallas
South Lawn
South Marsalis Park
South Oak
South Park
South Side
South Tower Residences
Southcliff Heights
Southern Crest
Southern Enterprises
Southern Hills
Southern Terrace
Southgate
Southgate Grove
Southgate Manor
Southgate Village
Southland
Southwood Estates
Spakes Addition
Sparkman
Sparkman Club
Sparkman Club Estates
Spencer
Spring Creek
Spring Valley Falls
Spring Valley Park
Springdale Addition
Springmont Condos
Springs Addition
Springstead Condos
Springtree
Springtree Crossing Condos
St Andrews
St Andrews
St Augustine
St Augustine
St Augustine Heights
St Augustine Highlands
St Augustine Park
St Augustine Park Estates
St Augustine Townhomes
St Augustines Park Estates
St Francis Place
St Marks Circle
St Michaels Court
Starr Row
State Street Brownstones
Stefani Addition
Stefani Estates
Stellar Court
Stellar Estates
Steuerwalds
Stevens Forest Park
Stevens Park
Stevens Park Estates
Stevens Park Village
Stevens Woods
Stonebriar Court
Stonebridge Terrace
Stonegate at Forest Hills
Stonehill
Stoneport Villas
Stones Throw Condos
Stonewall Park
Stonewall Terrace
Stoneway Terrace
Stratford at Lakewood
Strickland Acres
Studio Condos
Stutz Road Condos
Sugarberry Hill
Sullivan On Gilbert Condos
Summerset Village
Summit
Summit Hill
Summit Lawn
Summit Parc
Sundial
Sunny Acres
Sunny Slopes
Sunnybrook Estates
Sunnyside
Sunnyvale
Sunrise Acres
Sunrise Heights
Sunrise Slope
Sunscape Condos
Sunset Annex
Sunset Crest
Sunset Heights
Sunset Hills
Sunset Summit
Sunset View
Surrey Square
Sutton Place Condos
Swanson F V
Swansons
Swiss Aveune Condos
Swope Estates
Sylvania Dells
Tall Tree Condos
Tamarack
Tanbark Row Condos
Tangelwood
Taylor Estates
Teagarden Place
Teals Subdivision
Tealwood on the Creek
Terrace Condos
Terrace Gardens
Terrace Home
Terry Heights
Terry Place
Tetrakam Village
The Bridge
The Cedars Condominiums
The Claridge Condos
The Cliffs Condos
The Courtyard Condos
The Creeks at Preston Hollow
The Esplanade
The Gables at Royal Lane
The Highlands
The Hill On Park Lane Condos
The House
The Lawn at Bluffview
The Meadows
The Modern On Williamson
The Monterey Uptown
The Oaks of Lakewood
The Parks On Hudson
The Parks On Travis Condos
The Plaza at Forest Park Condos
The Regency
The Renaissance On Turtlecreek
The Shelton Condominiums
The Tower
The Villas By West Village
The Villas of Midway
The Vine Townhomes
The Warrington
The Woods
Thicket Condos
Thomas Court
Thornton Heights
Three Holland Place Condos
Three Thousand Fairmont Townhomes
Throckmorton
Thunderbird Condos
Tiffany Trails Condos
Timber Glen
Timber Trail Park
Timberbrook
Timberlake Gardens
Timberleaf Lane Townhomes
Timberline Condos
Timberloam Estates
Tinsley
Tioga
Tioga East
Tonawanda
Topaz
Topaz Estates
Topaz Townhome Condos
Toungate Acres
Tower and Regency Row Residence
Town Creek
Town House Row Condos
Town House Villas
Town North Townhomes
Town Oaks
Towne Oaks Terrace Condos
Townes of Highland Park
Townhouse Condos
Towns at Throckmorton
Travis at Katy Trail
Travis at Knox Condos
Travis Avenue Condos
Travis Street Condos
Travis Terrace City Homes
Treetops Condos
Trianon By Windsor
Tribeca
Trinity Forest Condos
Trinity Forest Estates
Trinity Heights
Trinity Meadows
Trinity Royal
Trinity Townhomes
Tubberville
Turtle Creek Bend
Turtle Creek Circle
Turtle Creek Condos
Turtle Creek Estates
Turtle Creek Gardens
Turtle Creek North
Turtle Creek Park
Turtle Creek Terraces
Tuscany Condos
Tweeter Addition
Twenty-one Turtle Creek Condos
Twin Bridges Addition
Twin Creek Collection Condos
Twin Creek Estates
Twin Creeks
Twin Oaks Collection Condos
Twin Villas Townhomes
Uhl Estates
Uhl Gardens
Underwood Estates
Underwood Mobile Home Park
Unity Estates
University Boulevard Terrace
University Crossroads
University Heights
University Manor
University Meadows
University Park
University Place
University Place Condomimium
University Terrace
Urban Reserve
Urban View Condos
Urban Villas Condos
Urbandale
Urbandale Heights
Valencia
Valencia Townhomes
Vallera Condominiums
Vallera Condos
Valley Ridge
Valley View Condos
Vendome On Turtle Creek Condos
Veneto
Veranda
Versaille Condos
Versailles Parkway Revised
Vickery Park
Vickery Place
Vickery Village Condos
Victoria at Oram
Victorian Forest Estates
Victory Gardens
Victory Park
Views at Newton Condos
Villa Bellamini
Villa Del Mar
Villa Del Mar Estates
Villa Royale Condos
Villa Serena Condos
Village By The Creek
Village Oaks Condos
Village of Runyon Springs
Village Trail Duplex
Villages at Frankford
Villas at Ash Creek
Villas at Montclair
Villas By West Village
Villas Condos at Pkwy Village
Villas Midway
Villas of Bryan Place
Villas of Commerce
Villas of Midway
Villas of San Jacinto
Villas On Versailles
Villiages at Frankford
Villlas Midway
Vine Condos
Vine Lane Place
Virginia Plantation
Virginia Square
Vista Del Cielo
Vista Real
Waggoner Place
Waldrum
Walkers
Walling-northwest
Walnut Creek
Walnut Creek Estates
Walnut Crest
Walnut Estates
Walnut Gardens
Walnut Hill Estates
Walnut Hill Highlands
Walnut Hill Manor
Walnut Hill North
Walnut Hill Park
Walnut Hill Ridge
Walnut Hills
Walnut Meadows
Walnut Park
Walnut Preston
Walnut Woods
Walton Street Studios
Warrington
Washington Row
Washington Street Townhomes
Watkins
Webb Chapel Park
Webster Grove
Webster South Dallas
Wedglea Creek
Wedglea Manor Condos
Wedglea Place Condos
Weisenberger Gardens
Welborn Street Condos
Wellington on the Creek
Wentworth
West Cliff
West End Plaza
West Kessler
West Kessler Heights
West Oxbridge
West Ridge Park
Westbury Park
Western Hills
Western Park
Westglen Park
Westhaven
Westlake Park
Westmoreland
Westmoreland Park
Westmoreland Village
Westmount
Westridge Park
Westside Condos
Westwood
Westwood Park
Wheatland Hills
Wheatland Meadows
Wheatley Place
Wheelers
Whispering Cedars
Whispering Hills
Whispering Springs
White Creek
White Rock
White Rock Crossing
White Rock Forrest
White Rock Highlands
White Rock Meadows
White Rock North
White Rock Village
White Rock Villas
White Rock West Condos
Wilkes
Williamsburg
Williamsburg at Preston
Williamsburg Condos
Williamsburg Place
Williamsburg Square
Willow
Willow Estates
Willow Greene
Willow Lane
Willow Ridge Condos
Wilshire Estates
Wilshire Heights
Wilshire Park
Wilshire Summit
Wilson Estates
Wimbledon Place
Winchester Place
Wind Ridge
Windosr Place
Windsor Crest
Windsor Park
Windsor Place
Windtree
Wingate Condos
Winnetka Heights
Winnetka Summit
Wisdom Creek
Wisdom Terrace
Woodberry Creek
Woodbridge
Woodcrest
Woodhaven
Woodland Canyon
Woodland City
Woodland Estates
Woodland Park
Woodlawn Terrace
Woods of Phoenix Condos
Woods On Park Lane Condos
Woodside
Woodvale
Worthington Corners
Wright Farms
Wunderlick
Wycliff Place Condos
Wyndemere Condos
Wynnewood
Wynnewood Hills
Wynnewood Park
Yocham
York Park Addition
Yorkwood Estates
For 2 years after the establishment of the county seat (in 1846) there were only 2 stores in the village, and in 1849 the inhabitants numbered 50 people. At that time all merchandise, groceries and supplies of all kinds were hauled from Houston and Jefferson with ox teams. Trading became a regular business, and the charges were from 3 to 5 dollars per hundred weight. When the roads were good it required about 4 weeks to make the trip from Houston. A genial Dallas historian, Philip Lindsley, has said: "Life in Dallas in the early 1850s moved on primitive lines. An old fashioned hand mill, brought by one of the settlers in 1852 to grind the corn with, was in such demand that it was allotted to the applicants one day at a time. The principal meat was chicken, prairie hen and wild turkey. Wild hogs were killed in winter. Deer were plentiful, so were quail. A hundred quail could be caught in nets at almost any time. The old beef tallow candle was much in evidence, with scissors for snuffers. The was an abundance of wild honey and the wax obtained from it was melted and skeins passed through it until it would absorb no more. The skeins were then wrapped around bottles with one end sticking up over its top, which when lighted gave a good light and was called wax tapers. One sewing served the village for years. The pioneers of this decade were of the better class of farmers, chiefly from Kentucky, Illinois, Indiana, Missouri, Ohio, Tennessee, Alabama, Georgia and Mississippi with a few from nearly every state in the Union and Europe. Peace, law, order and neighborly kindness characterized them. A more kind or law-abiding people did not exist."
The main line of the Texas and Pacific Railroad was completed to Dallas in 1873, and as a result of the financial panic of that year, its westward progress was halted until 1876.
It was the railroads that gave the first great impetus to Dallas' growth. Improvement came rapidly, and the population of the City doubled during the year 1872. In that year a new iron bridge was constructed over the Trinity River; a street railroad was in operation from the public square to the Union Depot, each of its 2 cars drawn by 2 small Mexican mules; the beginning of the construction on the Dallas and Wichita Railroad was made in November of that year and in 1876 the line penetrated Denton County. At that time the importance of Dallas as a wholesale center became firmly established, and the business district about the public square was filled with freighting wagons loaded with supplies for all parts of North and West Texas. A new courthouse was completed in 1873.
In 1877 Dallas had six flour mills, two cotton compresses, two grain elevators and two foundries. There were six banks. By 1890 Dallas had a letter carrier system, a salaried fire department, and a uniformed police.
A state publication in 1882, containing a report on Texas counties, said of Dallas: "The City of Dallas is eligibly located on the east bank of the Trinity River, and has many large and imposing churches, and other public buildings and handsome private residences. It is the great railway center of North Texas, and has an estimated population of 18,000.
Frank W. Johnson, Eugene C. Barker, Ph.D., editor and assisted by Ernest William Winkler, M.A., A History of Texas and Texans, Volume II, The American Historical Society, Chicago and New York, 1914.
Nearby Towns: Highland Park Town •
---