Monmouth County Courthouse is located at 1 East Main Street, Freehold New Jersey 07728; phone: 732‑431‑7387.
---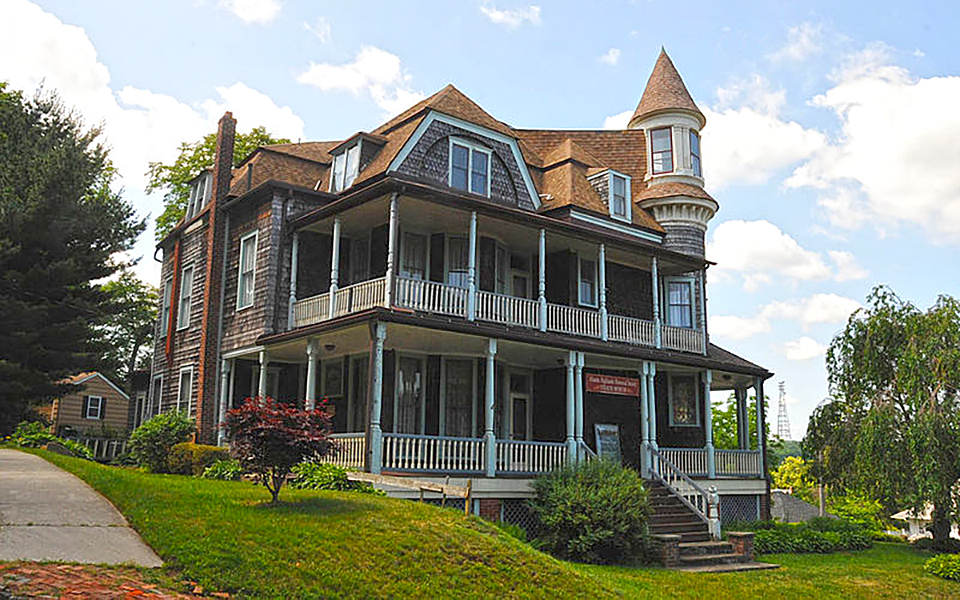 Photo: "The Towers (Adolph Strauss Mansion), circa 1893, located at 27 Prospect Circle, Atlantic Highlands. Listed on the National Register of Historic Places in 2012. Photographed by User:Jerrye & Roy Klotz MD (own work), 2008, [cc-4.0], via Wikimedia Commons, accessed August, 2022.
---
TOWNS
Avon-by-the-Sea Boro
Fair Haven Boro
Interlaken Boro
Keansburg Boro
Loch Arbour Vlg
Matawan Boro
Monmouth Beach Boro
Neptune City Boro
Oceanport Boro
Union Beach Boro
West Long Branch Boro
Beginnings [1]
Monmouth County was first established in 1675, but its boundaries were definitely settled in 1709-10 and 1713-14. Its extreme length is 65 miles, and extreme breadth 32 miles; it is bounded N. by Raritan Bay, E. by the Atlantic Ocean, SW. by Burlington County, and NW. by Middlesex and Mercer Counties. The soil is generally light, and the middle and southern part mostly covered with pines. The surface is level, excepting in the township of Middletown. Agriculture is the chief business of the upper part of the county, and there are there many farms under the highest state of cultivation. Marl abounds in this region, and land, once comparatively valueless, has been rendered very productive by this manure. Peat, mixed with a small portion of lime, is growing into use in the western part of the county for fertilizing the land, and this material, fortunately, is in most cases found where most required, viz., without the limits of the marl formation. In the central and southern portions of the county, there are a few settlements and furnaces scattered among the pines. Along the sea-coast are several flourishing villages, from which large quantities of wood and charcoal are exported. From these places sail many coasting vessels, manned by skillful seamen, unsurpassed by any in the Union. This county was originally settled by Dutch, Scotch, and some New England emigrants, who removed here about the year 1664. Twenty years later, it was the most wealthy county in the province, and paid the greatest amount of taxes. In the war of the revolution it suffered severely. Its easy access from New York, and the safe anchorage for vessels within Sandy Hook, rendered it a favorite resort of the royalists for forage and plunder. Some of its inhabitants were awed into submission to the crown, and took up arms against their former neighbors, between whom occurred many sanguinary conflicts. Within its borders occurred one of the severest battles of the war.
Barber, John W. and Howe, Henry, Historical Collections of the State of New Jersey, S. Tuttle, New York, 1846.
HISTORIC SITES
Allaire Village
Allen House
Allenhurst Residential Historic District
Allentown Historic District
Allgor-Barkalow Homestead
Anderson House
Audenried Cottage
Burrowes, Maj. John, Mansion
Camp Evans Historic District
Coward-Hendrickson House
Coward-Smith House
Fortune, T. Thomas, House
Grover House
Guggenheim, Murry, House
Hankinson-Moreau-Covenhoven House
Holmes-Hendrickson House
House at 364 Cedar Avenue
Imlaystown Historic District
Jersey Homesteads Historic District
Kovenhoven
Lauriston
Longstreet Farm
MacGregor-Tallman House
Maloney, Martin, Cottage
Merino Hill House and Farm
Middletown Village Historic District
Navesink Historic District
Ocean Grove Camp Meeting Association District
Palace Amusements
Probasco-Dittner Farmstead
Reckless, Anthony, Estate
Seabrook-Wilson House
Shadow Lawn
Shrewsbury Historic District
Taylor, George, House
Tinton Falls Historic District
Twin Lights
Walker-Combs-Hartshorne Farmstead
Walnford
Wardell House
Water Witch Club Historic District
Wurts, George, Summer Home
---