Kansas

Warning: include(/Library/kw/livingplaces.com/menu.html): failed to open stream: No such file or directory in /Library/WebServer/livingplaces.com/KS.html on line 46

Warning: include(): Failed opening '/Library/kw/livingplaces.com/menu.html' for inclusion (include_path='.:') in /Library/WebServer/livingplaces.com/KS.html on line 46

---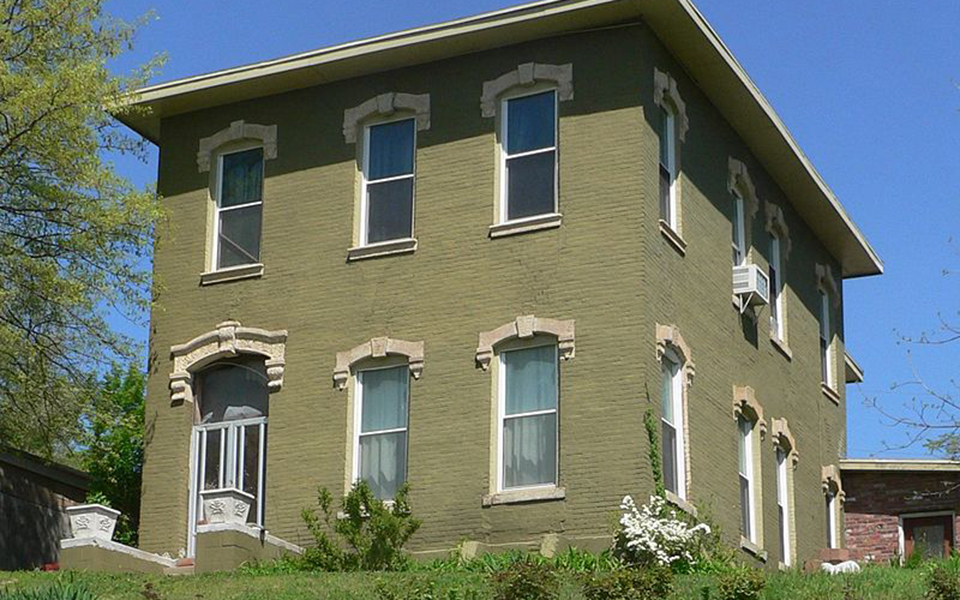 ---
Kansas was admitted to the Union in 1861. The name derives from a native Sioux word meaning "people of the south wind."
[ continued ]
Kansas Counties & County Seats
Allen • Iola
Anderson • Garnett
Barber • Medicine Lodge
Bourbon • Fort Scott
Brown • Hiawatha
Chase • Cottonwood Falls
Chautauqua • Sedan
Cherokee • Columbus
Cheyenne • Saint Francis
Clark • Ashland
Clay • Clay Center
Coffey • Burlington
Comanche • Coldwater
Crawford • Girard
Dickinson • Abilene
Doniphan • Troy
Douglas • Lawrence
Edwards • Kinsley
Elk • Howard
Ellsworth • Ellsworth
Ford • Dodge City
Franklin • Ottawa
Geary • Junction City
Gove • Gove
Graham • Hill City
Grant • Ulysses
Gray • Cimarron
Hamilton • Syracuse
Harper • Anthony
Haskell • Sublette
Hodgeman • Jenmore
Jackson • Holton
Jefferson • Oskaloosa
Jewell • Mankato
Kearny • Lakin
Kingman • Kingman
Labette • Oswego
Lane • Dighton
Lincoln • Lincoln
Linn • Mound City
Logan • Oakley
Marion • Marion
Marshall • Marysville
Meade • Meade
Miami • Paola
Mitchell • Beloit
Montgomery • Independence
Morris • Council Grove
Morton • Elkhart
Nemaha • Seneca
Neosho • Erie
Ness • Ness City
Norton • Norton
Osage • Lyndon
Osborne • Osborne
Ottawa • Minneapolis
Pawnee • Larned
Phillips • Phillipsburg
Pratt • Pratt
Rawlins • Atwood
Reno • Hutchison
Republic • Belleville
Rooks • Stockton
Russell • Russell
Saline • Salina
Scott • Scott City
Seward • Liberal
Sheridan • Hoxie
Sherman • Goodland
Smith • Smith Center
Stafford • Saint John
Stanton • Johnson City
Stevens • Hugoton
Sumner • Wellington
Thomas • Colby
Trego • Wakeeney
Wabaunsee • Alma
Wallace • Sharon Springs
Washington • Washington
Wichita • Leoti
Wilson • Fredonia
Woodson • Yates Center
[ continued ]
Given that it took Kansas [†] nearly fifty years (1861–1910) to register more than one fourth urban population, the rural stereotype understandably held until after the World War II acceleration of urban settlement. Sometime in the 1950s Kansas passed over the 50 percent urban threshold. From that point to the present, the urban reality has clashed with the romantic myth of rural Kansas in the minds of state residents. It is almost as though Kansans do not want to see themselves as urban, or even suburban, but rather enjoy clinging to the pioneer prairie myth.
Since Kansas has been so frequently interpreted as a rural environment, the large number of books published during the past 150 years celebrating the growth of cities and towns comes as something of a surprise. Admittedly the vast majority of these are heavily promotional or commemorative books written by supportive members of the respective communities involved. This essay attempts to call attention to many useful, but limited, older works. Since almost none of them provides any statewide context for the development of Kansas cities and towns, this essay also seeks to put forth the need for city and town histories that interpret their total community history including the newcomers and immigrants who have more recently shaped much of Kansas urban life. The trend toward suburban life and the changes in human existence brought by that rarified atmosphere also requires additional attention. The tendency in the past has been to concentrate on the "traditional" town founders and to ignore the depth and texture brought by the nonconforming groups.
Fortunately, James R. Shortridge of the University of Kansas geography faculty has recently published a fine and readable analytical book that closes this gap. His Cities on the Plains: The Evolution of Urban Kansas is a much‑needed volume that focuses on the economic basis for the development of cities in the state. While it does little to describe life in Kansas cities and towns aside from their economic reasons for existence, it helps one make sense of why some towns became cities while others have since lost their urban status altogether. The social history of urban Kansas has yet to be written.
†William J. Worley, Urban History of Kansas, 2006, Review Essay Series, Kansas Historical Society, www.kshs.org, accessed March, 2021.
---

Warning: include(/Library/kw/livingplaces.com/footer.html): failed to open stream: No such file or directory in /Library/WebServer/livingplaces.com/KS.html on line 202

Warning: include(): Failed opening '/Library/kw/livingplaces.com/footer.html' for inclusion (include_path='.:') in /Library/WebServer/livingplaces.com/KS.html on line 202