Levittown
---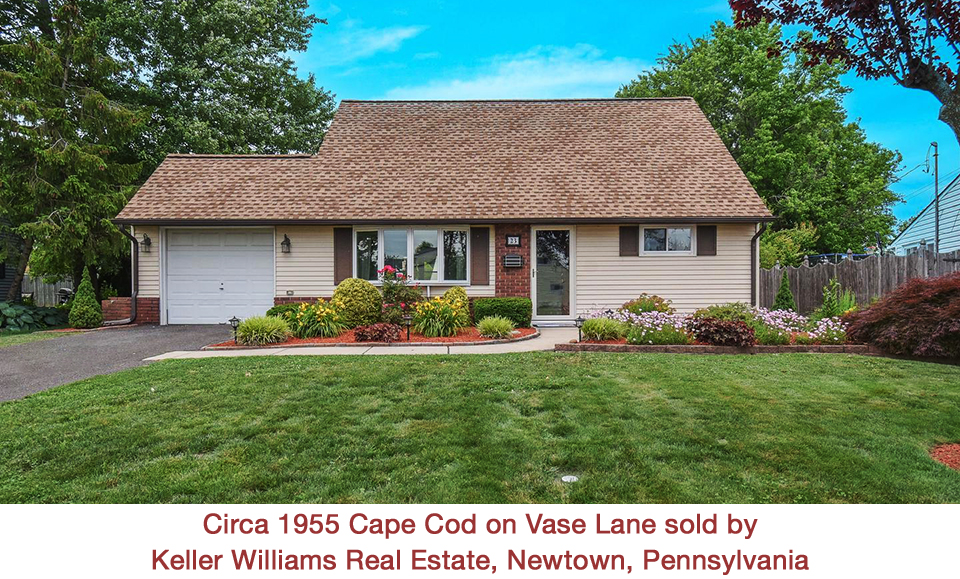 Circa 1955 Cape Cod on Vase Lane in the Vermilion Hills section. Sold by The John McClintock Team, Keller WIlliams Real Estate, Newtown, PA. Contact.
---
Picture Window Paradise [1]
On Monday, June 23, 1952, John and Philomena Dougherty packed up their belongings, and with their two daughters in tow, drove from a government housing project in northeast Philadelphia to their new home in the suburbs. Their journey was not unusual. Between 1950 and 1960, twenty million Americans moved from cities to the suburbs. It was the largest internal migration in the country's history, outstripping many time over the legendary westward migration of the nineteenth century. What made the Doughertys' journey newsworthy – and, in retrospect, historic – was their objective: to be the first official residents in the new development of Levittown in Bucks County.
The 40 "Sections" of Levittown
Beginnings [2]
"The brainchild of developer William J. Levitt, Levittown, Pennsylvania was the largest planned community constructed by a single builder in the United States. By the time it was completed in 1958, the development occupied over 5500 acres in lower Bucks County and included churches, schools, swimming pools, shopping centers and 17,311 single-family homes.
"To its 70,000-plus residents, Levittown represented the American Dream of homeownership. To many others, Levittown epitomized postwar suburbia -- a place often criticized but widely copied." -- State Museum of Pennsylvania.
Names of each section, and names of all the streets within, respectively, share the same first letter. (i.e., all street names in Highland Park begin with the letter 'H'). Parts of some sections (Lakeside, Stonybrook) are located in Tullytown Borough. Levittown is served by five separate Zip Codes: 19054, 19055, 19056, 19057 and the non-delivery 19058.
Miner, Curtis, Picture Window Paradise, in Pennsylvania Heritage Magazine, Spring, 2002
State Museum of Pennsylvania
---